For where two or three are gathered together in my name, there am I in the midst of them." Matthew 18:20
Take some time out of the busy fall season to reconnect with the Lord; enjoy the faith and friendship of others and recharge your soul with prayer, wine and chocolate!
Let's tour the shrine . . . then pour the wine!
*The Saint Katharine Drexel Shrine is located in Bensalem, PA (right outside Philadelphia)!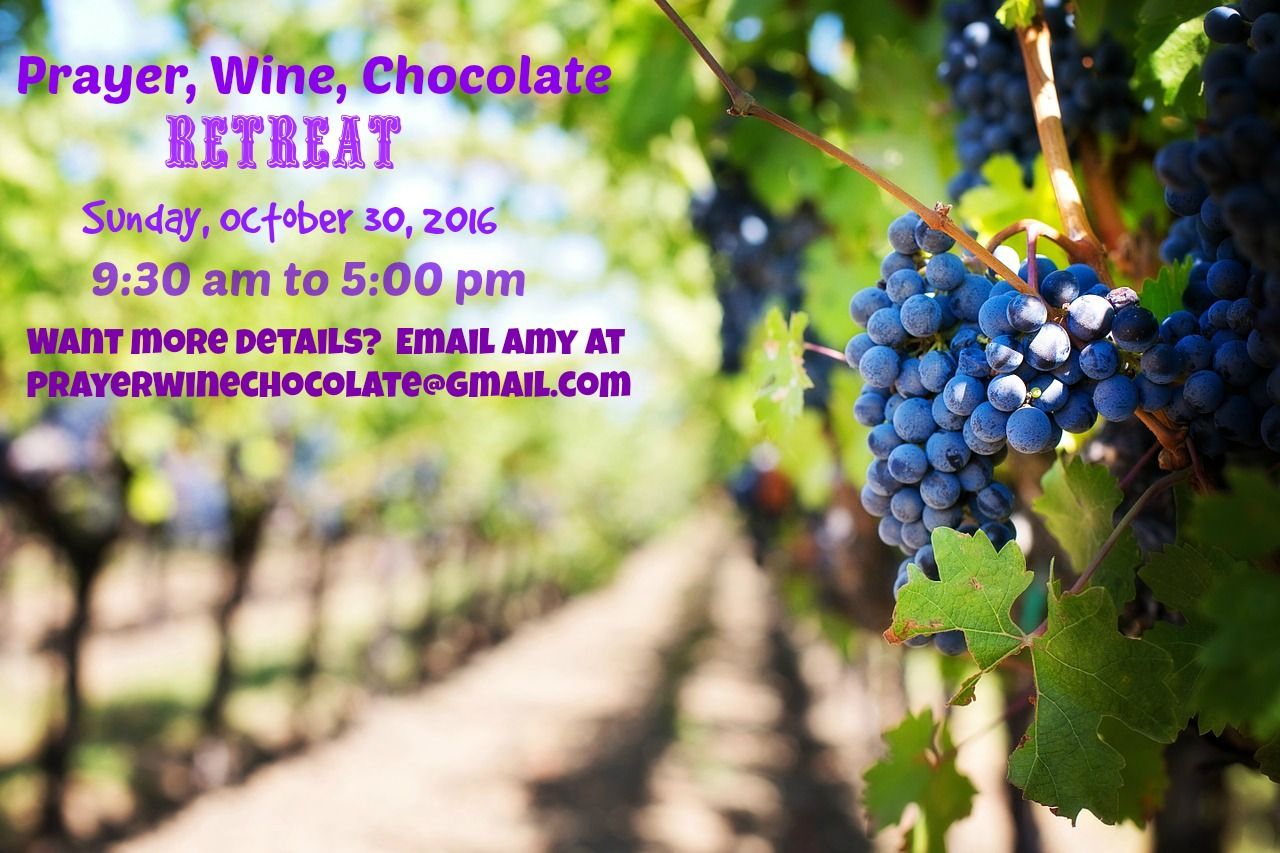 Save the Date:  Sunday, October 30, 2016
Time:  Mass begins at 9:30 am
Where: Saint Katharine Drexel Shrine; then Tastings and Tours will bring us to wine tastings at two local vineyards.  We will return to the Saint Katharine Drexel Shrine by 5:00 pm.
Price: $17.00 for Shrine tour and lunch; $58.57 per person for transportation to and from vineyards and wine tastings.*
*price does not include gratuity for driver
The Details
The National Shrine of Saint Katharine Drexel is located on the grounds of the Motherhouse of the Sisters of the Blessed Sacrament.  Saint Katharine opened the Motherhouse in 1891 and lived, worked and prayed there. Starting at 9:30 we will participate in the Sacrifice of the Mass inside the 19th century chapel.
After Mass there will be time to reflect on the life of St. Katharine, visit  her final resting place and request her intercession for our personal intentions. We can walk the grounds and reflect upon her devotion to the Eucharist, the Gospel message of God's love for all peoples, and the need for evangelization and service to the poor. The quiet atmosphere of the Shrine allows people a haven of peace and an environment conducive to personal devotion.
As a part of our group tour, we will watch a video about St. Katharine Drexel and visit the Gift Shop.
Lunch will be served at the shrine around 12 noon.
At 1:00 pm; a driver from Tastings and Tours will arrive to take us on a wine tasting tour. We will visit and have tastings at two Bucks County Wineries!
Parking at Saint Katharine Drexel Shrine is free.  The employees there know we will be leaving our cars to enjoy the wine tour and returning around 4:30 – 5:00.
How to Register
There are 14 seats available for the entire, "tour the shrine, pour the wine" Retreat.  Once those 14 seats (based on transportation and the size local vineyards can accomodate) are taken; spots will open for those who would like to join us for the morning and lunch at Saint Katharine Drexel's Shrine.  For those who want to be guaranteed a spot on the Tastings and Tours bus; you must register online by October 10th.  Details on how to do so below:
Our reservation number is: 2057
Seats must be reserved by October 10th. 
Go to the website – tastingsandtours.com
Click on the reservations tab and go to the section that says "Booking a seat with an existing reservation"
Enter the reservation number (2057) to get in and then the number of seats you are paying for
Once that is entered you will go to a secure screen to enter your credit card information
Cost is $58.57 per person which includes your transportation, tastings, snack and tour guide/driver.   Gratuity for your driver is NOT included in the package price, it is payable in cash to the driver at the conclusion of the tour.  We suggest 10% to 20%.
The Giveaway
Tastings and Tours has offered to give one free tour to a Prayer, Wine, Chocolate reader!
Tastings and Tours is a Bucks County based business that started July 2009
by husband and wife team Glenn & Linda Jeffreys.  The company desires to support local agriculture and the local economy while demonstrating how anyone can positively impact local businesses while having a lot of fun!   Tastings and Tours' guests enjoy meeting the owners of local vineyards and are treated to behind the scenes tours.
Tastings and Tours partners with wineries, breweries and distilleries in order to offer tourists, groups and local residents a unique way to experience locally grown and produced wine, brews and spirits.
If you like wine tasting – and so do your friends – I highly recommend you plan a day with this company!  Click here to see more details: Tastings and Tours
In order to enter this giveaway, you must comment below this article – tell me who you want to invite to the first Prayer, Wine, Chocolate Retreat!  There are additional ways to enter – click on the Rafflecopter Giveaway icon below and enter, enter, enter!
I do recommend you pay for your spot first, then enter the contest.  There are only 14 seats available for the wine tour portion of the day.  Since this is the first "Prayer, Wine, Chocolate Retreat", I wanted to plan cautiously.  If you win, and you already paid, you will be reimbursed!
Remember, once the entire day registrants are signed up, there will be room for 10 more guests to join us at the National Shrine of Saint Katharine Drexel for a morning of faith, friendship and lunch!  Details on how and when to pay the $17.00 for the Shrine and lunch portion of the day will be announced at a later date.
If you have any questions at all, please email me (Amy) at prayerwinechocolate@gmail.com
This giveaway will end when the 14 seats fill up or on September 30, 2016 – whichever comes first!
I certainly hope you will join me!  It will be a wonderful day!  God Bless You!