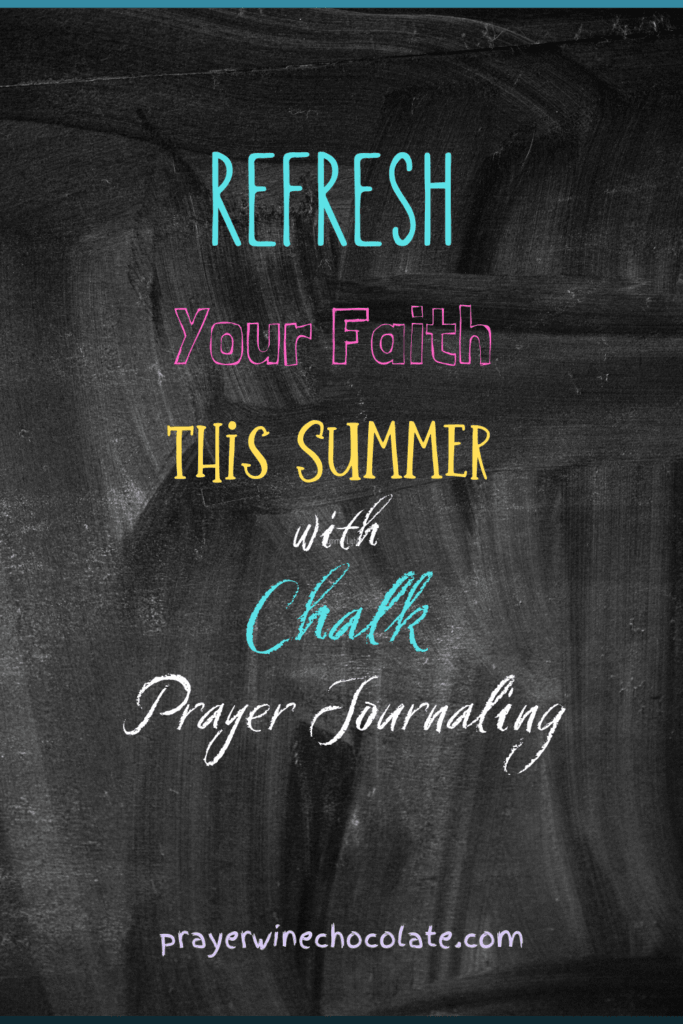 This post contains affiliate or associate links with several businesses (which means if you shop through the links, I earn a small commission). As an Amazon Associate I earn from qualifying purchases.
Chalk and Prayer
Around the feast of Saint Patrick, I came across a post in a Facebook group that stopped me in my tracks.
I was in awe.
Sonia J. Summers, who is clearly a talented artist, had drawn on a driveway or some outside surface with chalk, a portrait of Saint Patrick and written the prayer known as The Breastplate of Saint Patrick.
The artist's name is Sonia Summers. These words and photograph are from her Instagram account which you can view and follow here.
Sonia Summers shared her work in the Catholic Working Mothers group on Facebook. These are her words:
"Chalked the entirety of this prayer today in between playing and snacking with the kids. St. Patrick is an important patron of our family. This is more text than I have ever chalked in one sitting. The whole thing took about 4 hrs and measures almost 12ft square.
It's worth noting that when I chalk I'm laboriously thinking and meditating on whatever it is I'm chalking, whether it's a person's portrait or a favorite movie, or a Saint in the Madonnari tradition.
To chalk words I usually have to do 2 layers, a darker color and a lighter color on top. It probably took over 2 hrs to chalk a prayer that takes about 2-3 minutes to recite. The process even hurts, so it is truly fulfilling to internalize the words as they are physically grinding on my hands and even sometimes scraping at my skin.
The Breastplate of St. Patrick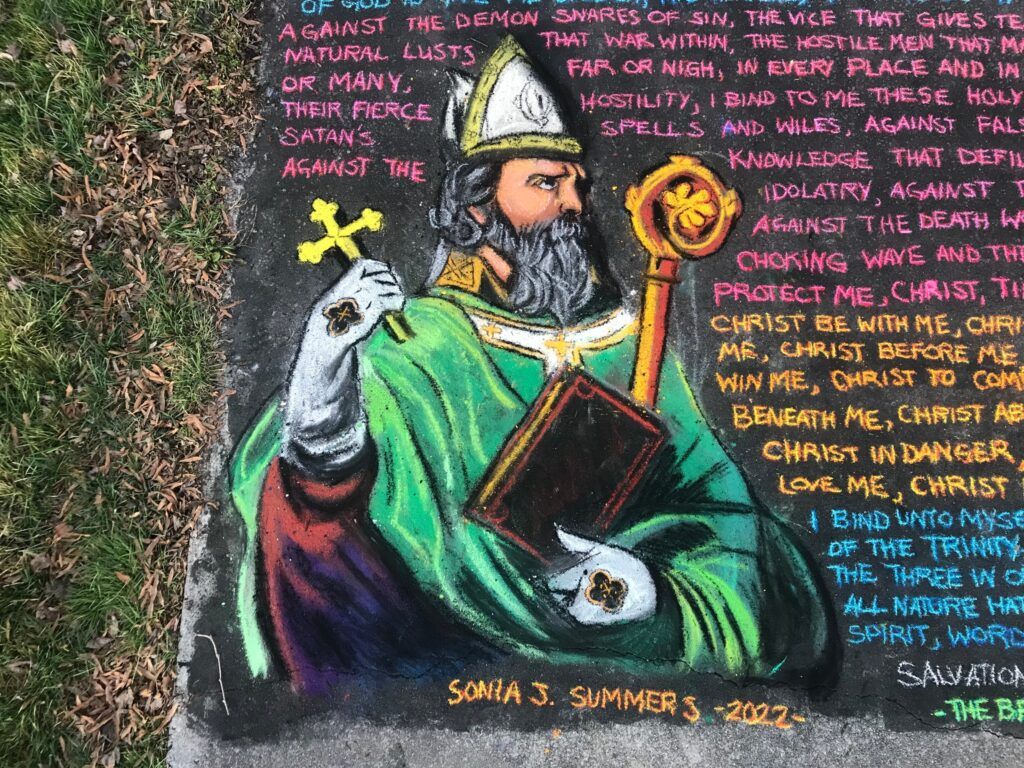 When I saw this image and read her words I couldn't help but think, "wow, this is a form of prayer journaling. I would love to share this with the world!!"
I commented under Sonia's Facebook post about how impressed I was, and asked permission to one day share this in a blog post. Sonia gave me permission, just asked that I credit her work share her website and Instagram account!
Someone in the group where she posted questioned Summers about why she chose a canvas that would not preserve her hard work.
She reiterated how when she chalks, she is "laboriously thinking and meditating on whatever it is I'm chalking . . . the process even hurts, so it is truly fulfilling to internalize the words as they are physically grinding on my hands and even sometimes scraping at my skin."
I found the conversation – so let me share it with you!
Why work with chalk on surfaces that will wash away?
Q: This is astoundingly beautiful! Can I ask about why you like to work in chalk, on surfaces that will wash away? It seems like there must be something meaningful in that, that I would love to understand. Thank you for sharing this picture!!
Sonia Summers answers in this way:
A: I actually love this question. Multiple things: 1) I already paint and have too many paintings to store. Literally I need to sell more to make space. Especially large ones. I've run out of wall space in our home.
2) it's incredibly cathartic. Like a performance art. It's very physically demanding. The urge to chalk is like the urge to work out or compete in a sport but mixed with the creative drive.
3) if I do mess up, and I've had a few doozys that make me wanna crawl under a rock until they wash away, it's not permanent.
4) it allows me to try out large scale mural type art without committing to it
5) the ones like this at home are practice for competitions which I actually am blessed enough to win semi-regularly in the smaller circuit. I have yet to break into the "big leagues" of Madonnari chalk festivals.
Feel free to ask more. I love talking about it. It's actually one of my most recent types of art (been painting and drawing most of my life, but chalking only since about 2016).
QUESTIONS FOR THE ARTIST? You can see of Sonia J. Summers art by checking out her website: Art by Sonia Summers or following her on Instagram at soniajsummers.
Sonia describes herself on Instagram as a "Catholic Artist, Wife, Mother, rock climber, & runner"
Thank you so much Sonia for permitting me to share your faith and talent with the world!
Shopping ideas inspired by this post:
Saint Patrick Breastplate Prayer Flag
Chalk Art and Lettering 101 Book
Chalk Prayer Journaling Prompts
Keep it simple – clearly, Sonia is an extremely talented artist. Most of us could not create the beauty she is able to create, but we can simply write the words, "Jesus, I trust in You" and draw a heart.
Include the kids. Last year my son would request that I chalk the alphabet on our driveway and he would trace it and attempt to copy it. This year, maybe I will write the Sign of the Cross in chalk and encourage him to trace that or ask the kids to draw a cross for me. You could do the same – or add to a child's drawing with a Saint quote or "God keeps his promises" next to a pre-schooler's rainbow sketch!
Draw a Rosary and pray as you draw!
Let's stay connected! Subscribe to my newsletter and get posts emailed to you!
Yes, let's stay connected! (and yes, I want your free resources too!)