What am I going to do with this very active child all summer?  I was asking myself just that question when I was presented the opportunity to review (affiliate link)  KIDFUN: 400 Fun and Easy Ideas for Kids Ages 2 to 8. Hope Horwitz sent me Sharla Felscher's ebook in the hopes that I would share it with you. I'm happy to tell you it has provided a rolling start to a very fun summer ahead!
As a woman who became a mom "later in life" and who spent her career educating teenagers, I often feel like a fish out of water with my young son.  There is so much I don't know about early childhood. I want to make sure I am giving him all the opportunities he needs to grow and develop in the healthiest ways. This ebook helped calm my anxiety. KIDFUN reassured me that there are plenty of things to do – and that most of them are super easy to set up and initiate!  I love easy!
My son, his friend Jared, and I had a great time trying out some of Sharla's suggestions. Reading through the book I was reminded of how simple childhood can be – and how much joy can come from the simplest objects.  Here is a glimpse of Sharla's book!
5 Games to Play to Play with a Bucket or a Ball!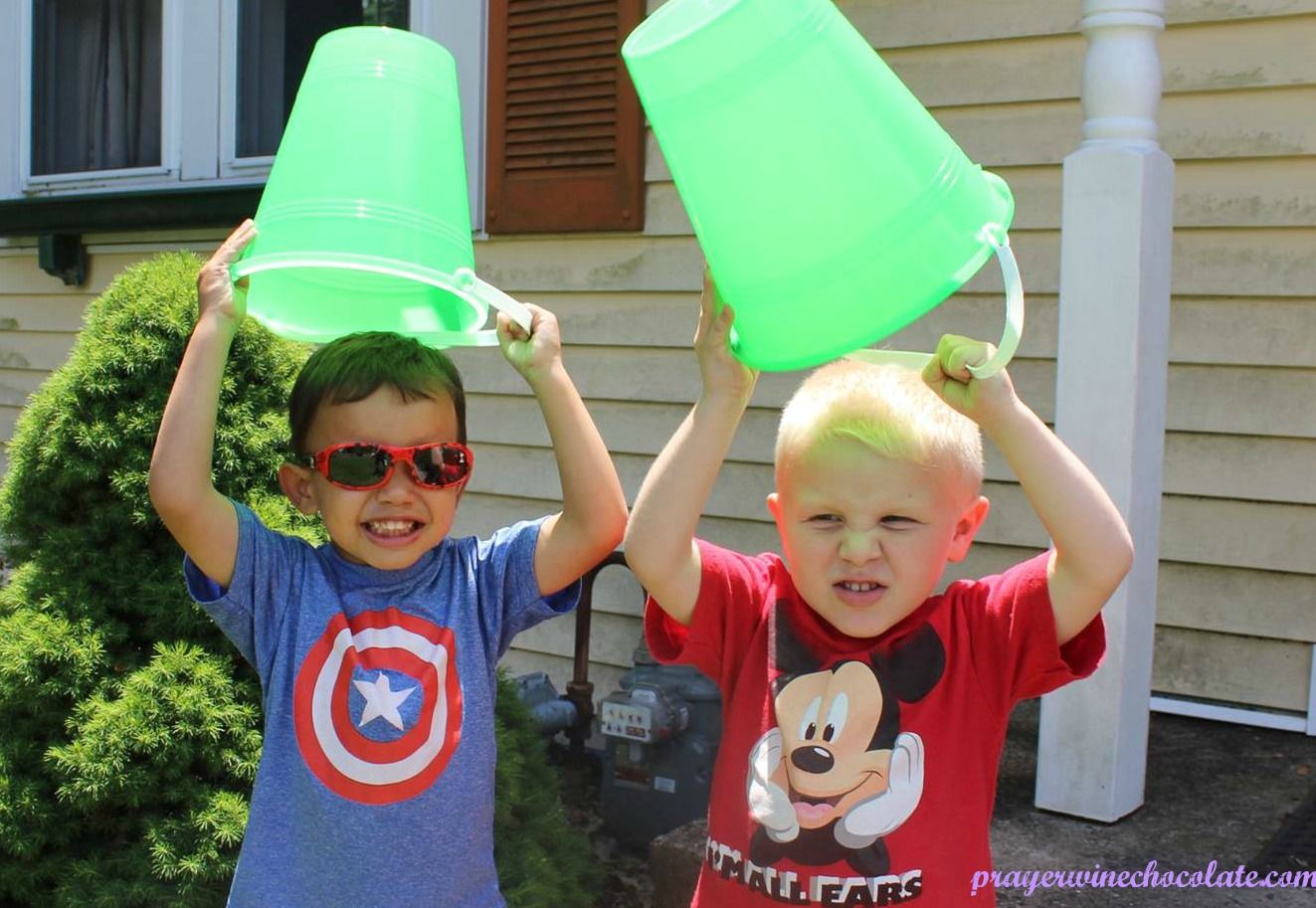 1.  Water play!
Sharla gives lots of fun ideas on how to simply use a bucket of water to keep a child entertained as well as teach them a chore and life lessons.  Some of the activities require some soap too!  My son loves to play with his water table, but adding a bucket and some other containers created a new spark in his eye and lots of new ways to enjoy the water and the sunny day!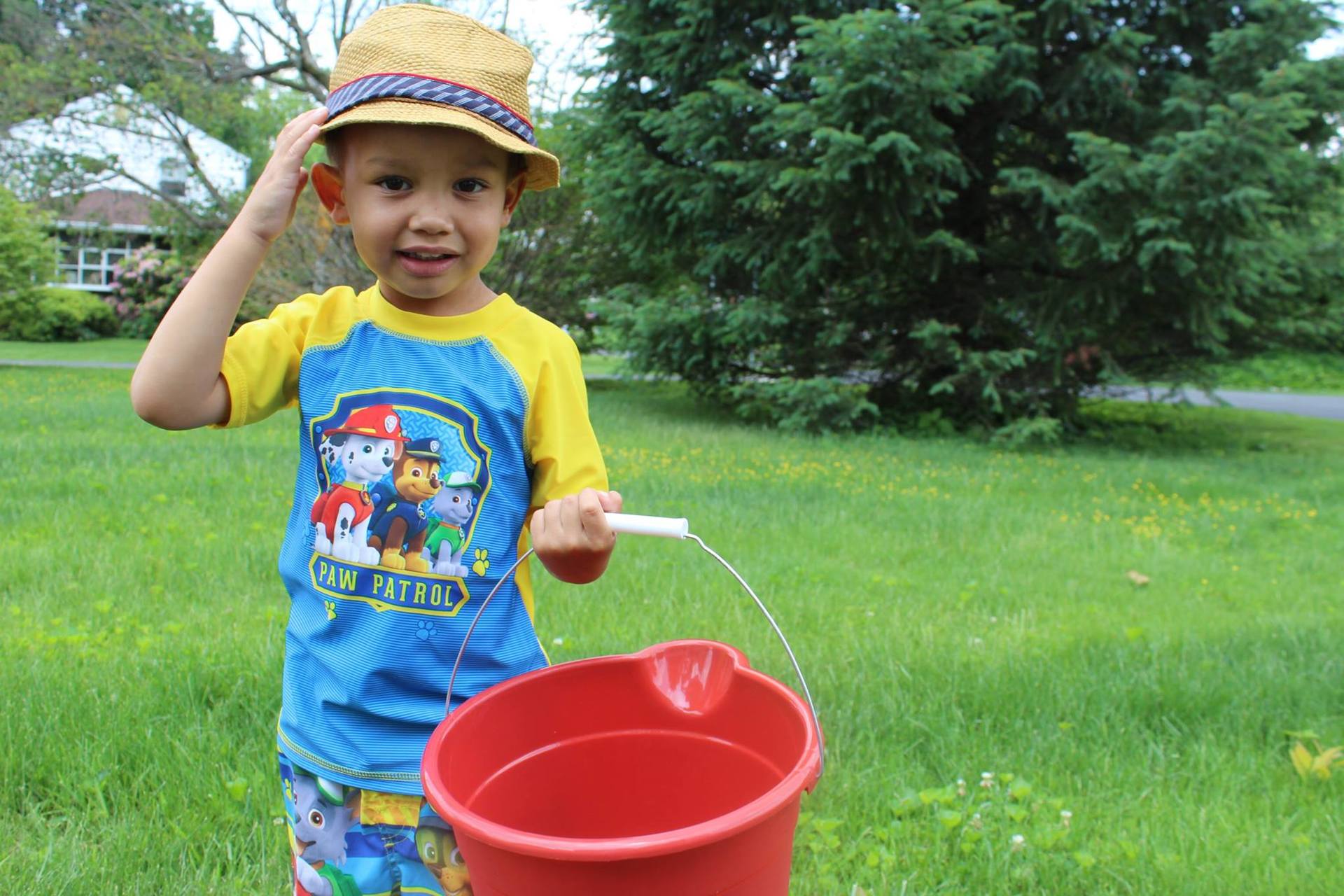 2.  Wash away!
Sharla helped me realize that my son always wanting to "wash dishes" is a great motivator for him to use soapy water for play.  This is great because it helps me have some quiet during the day and it also gives my son an opportunity to play and feel important.  KIDFUN reminds parents that washing toys with a sponge and soapy water can teach children to take care of their belongings and, honesty, they enjoy doing it!  You can also have them take their buckets and sponges over to the car and clean that too!  Fun in the sun, plus some chores done!  Win/win!
3.  Wet Blanket
This is something I have never heard or thought of . . . pour that bucket out on a beach towel or an old sheet.  Now, let your child drape it over himself or lay on it.  What a neat way to cool down!  So simple – never thought of it!
4.  Treasure Hunt
We actually put a spin on this game.  I hid all animal toys and gave each boy a bucket.  I told them the animals wanted to play hide and seek with them.  They loved it – and I would have NEVER thought of it without the help of Sharla's book!
5.  Sharp Shooter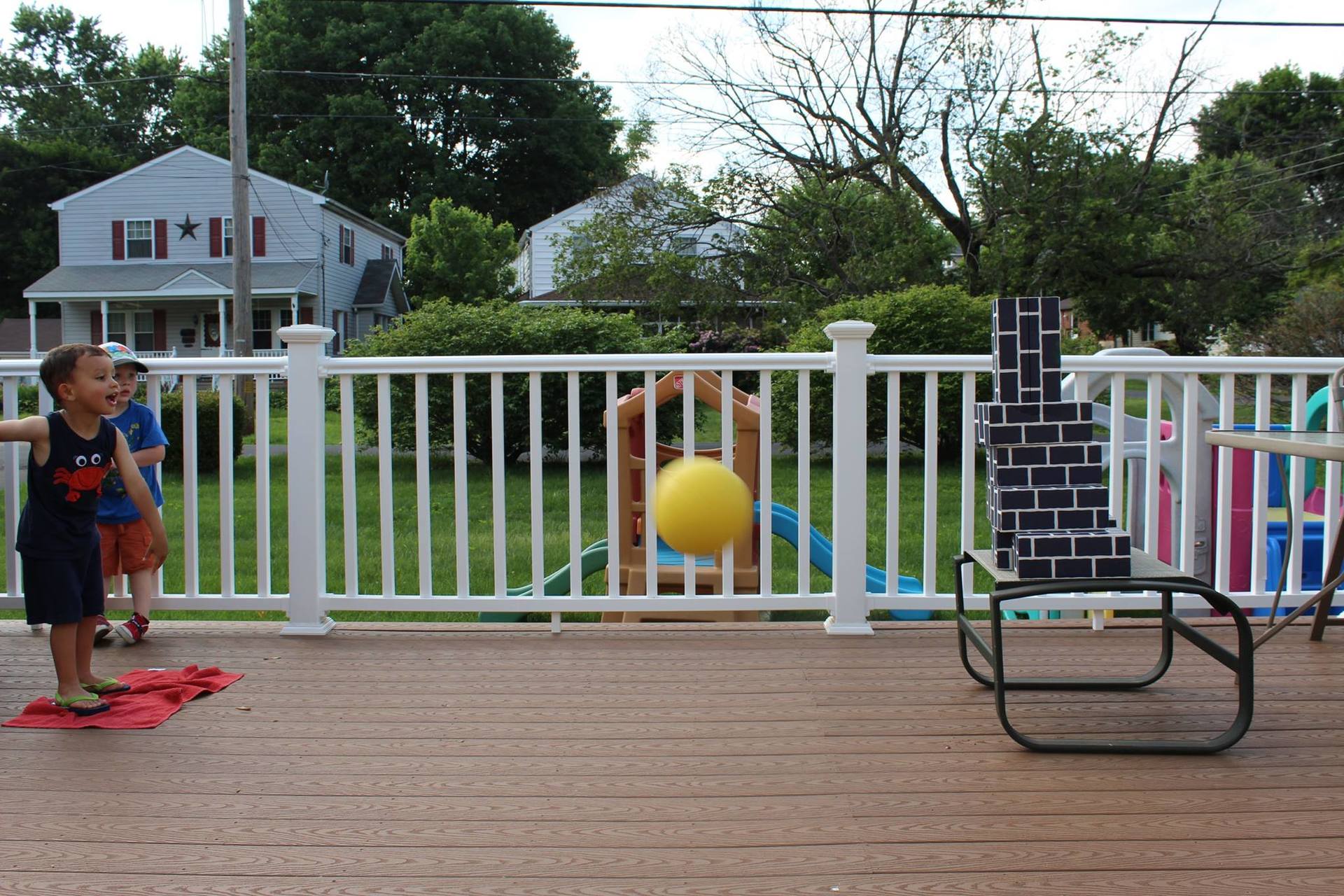 This game was AWESOME!  We got a ball and set up toy "bricks".  I put a towel down and told the boys they couldn't pass the towel.  They threw the ball at the tower and – when they hit it- knocked the tower down!  How much do boys love knocking things down?! Another part of the game was to re-build the tower so they could go again.  This game taught the boys patience, following rules, cooperation and sportsmanship.  Once again, I needed Sharla's book to give me the idea and spark my enthusiasm!  I'm actually excited to play this again!
Not only does KIDFUN give outdoor play ideas, it is loaded with ideas for all situations – in the car, in a waiting room, on a rainy day, etc. I absolutely love how it reminds me that an iPad or the television are not the only alternative! If you would like to purchase Sharla's ebook, and get 355 more ideas for fun with the kids this summer, please use my affiliate link below!  It's only $5.99 – totally worth it!  Happy Summer!