This post contains affiliate links.  Please see my About Me page for more details.
I do not see my girlfriends enough.  Life's responsibilities and commitments are overwhelming and rarely do empty dates on the calendar coincide with those of, well, anyone.  But this past Sunday, all the stars aligned and a group of eight of us got together – to pray, drink wine and eat – some veggies, mostly chocolate 🙂
I want all of you reading this to have the kind of afternoon we had – uplifting in spirit, reconnection in friendship, and a reminder of life's blessings.
These times happened ten years ago much more often. The beginning of "Prayer, Wine, Chocolate" was four women in their twenties getting together on Thursday nights.  We would get together to pray the rosary, eat and have a glass of wine.  We would start saying our intentions at 7 and finally around 10 I would start saying, "I'm tired, let's pray".  We all had A LOT going on, and not only needed prayer, but our friends to lend a listening ear. But enough with the history of Prayer, Wine, Chocolate – onto the "Prayer and Pair" Party!
In order to bring you a helpful, easy, "how to" guide on simply having a blast with your friends, while praying together and supporting one another in all the things life brings, I teamed up with some AMAZING companies:  Meg Florkowski Creative (who created the awesome FREE printables) and Stutz Candy Company and Trappistine Quality Candy who gave us FREE candy in order to test run this first "Prayer and Pair Party".
What you need:
First, pick a calendar date way in advance – then tell your friends to "save the date"!
Ask each friend to bring her favorite bottle of wine, rosaries, and/or a prayer book. We pray the Rosary together, and sometimes add in a reading from a devotional.  But, let your group decide what they are most comfortable with.  At the end of this post I will list some suggestions in affiliate links :).
Chocolate!  We used dark chocolate hearts from Trappistine Quality Candy and added depth and deliciousness with Stutz's truffles, dark chocolate caramels with sea salt and a Chocolate Regular and Nut Assortment.  Everyone LOVED the chocolate!
Printed copies of the "Prayer and Pair" tasting/petition sheet. Meg Florkowski  took my vision and made it beautiful.
The Honey Combs on the Left  are for each person to write down her prayer petitions (and what she is thankful for). They were all Meg's idea – she encouraged me to look up the meaning of honey and honeycombs in the Bible – which I did.  The Word of God was often referred to as honey, because it is both sweet and nutritous. I never knew that!
The right side is a guide for your wine and chocolate tasting!  You don't need every kind of wine!  Hopefully what your guest brought is on the list, but I put an "other" down there just incase.  The chocolate list for dark to milk is also a guide.  If your friend hates dark chocolate and wants milk chocolate with every one – tell her to go for it and Cheers! The wines are listed dry to sweet – that's how the "experts" say wine tasting should be done.  Once again.  Follow rules, don't follow rules, it's all good 🙂 Free printable at end of post!
Pens, Wine Glasses, a cork screw and your pleasant self :).
"How it's done":
We planned our "prayer and pair party" for a Sunday afternoon at 2:00, because that was the most convenient to everyone.  The last guests left around 7, but we were done the "Prayer and Pair" by 5:00.  For this "event" there were about eight of us.  We have done this with as little as 2 or 3 (usually 3 is the smallest number – but in times when a friend is in urgent need of prayer, we've done just 2 of us).  Remember, we women like to talk, and don't get to see each other that often – so leave time to enjoy each other's fellowship.
I had a veggie tray out, and when my guests arrived they devoured it – they knew they were going to be indulging in chocolate – so it evens out, right 😉 ?  We talked and caught up, then sat around a table I was still setting up when my guests arrived.  I had a print out and a pen for each person.  I quickly explained that the yellow honeycomb part was to write one's prayer intentions and anything we wanted to thank God for, etc.  I had the wine out (two of my friends opened the bottles for me) and I had the candy out (thank God my friend Kate came a half an hour early, she helped a lot!).  While everyone starting writing their intentions, I explained that the chocolates were just suggestions, and to basicly just use them as a guide between milk and dark chocolate.
Keep writing, start pouring, and tasting!
While tasting the wine and chocolate we filled out our wine tasting sheet so we will remember later what to ask the Easter bunny to put in our baskets!
Once everyone was done tasting and writing petitions, we cut our petition portion off and folded it.  We then threw all of them in a bowl, and picked out someone else's petition paper. We read over it before we prayed.  One of my friend's suggested that next time we each read the paper we get out loud, so we all have more of an idea what each of us is praying for, and we can do our best to pray for everyone's petitions. I liked the idea, but you and your guests decide what you are most comfortable with.  Keep the paper throughout the week, and remember to continue to pray for others' intentions.
Socialize.
Say Goodbye . . . until next time!
Here is the awesome printable, done by the incredible, Meg Florkowski!  Definitely check out her website! www.megflorkowski.com
Prayer&PairCOLOR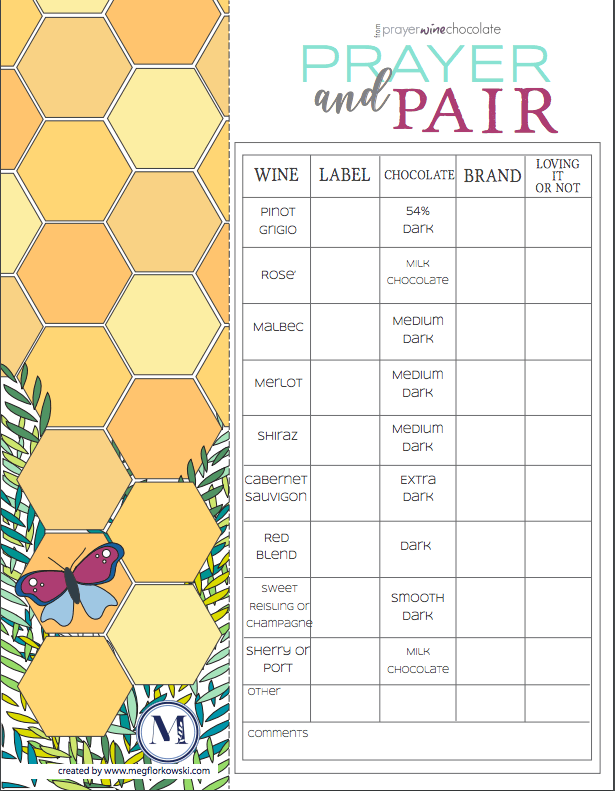 If you are looking for a new pair of rosaries, or a book to enhance or substitute the Rosary, here are some affiliate links that may help you get even more psyched to plan this partay!!
Please remember when you're ordering candy for your "Prayer and Pair" party (and Easter, and Mother's Day, etc), to order from Stutz Candy Company and Trappistine Quality Candy!  Believe me, everyone at this "Prayer and Share" was more than impressed with these sweets – and their websites and stores have so much to offer it will make you feel like a kid again!
Add to the fun with some "Prayer Wine Chocolate" gifts for you guests!  Plus, every purchase you make, this ministry gets a percentage and can continue!