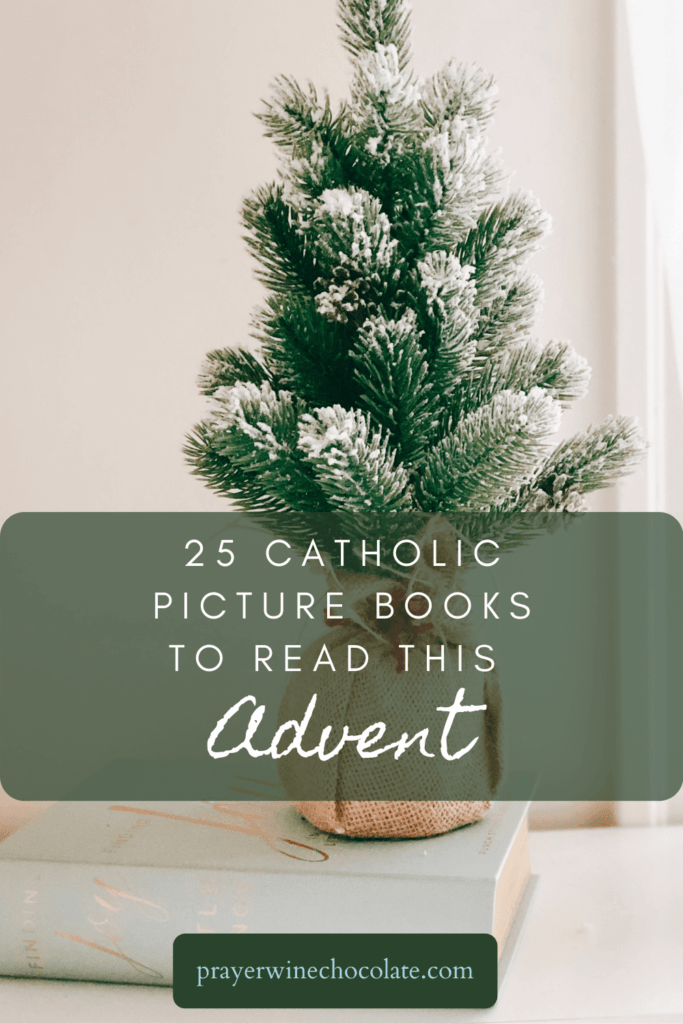 This post contains affiliate or associate links with several businesses (which means if you shop through the links, I earn a small commission). As an Amazon Associate I earn from qualifying purchases.
I don't know about you, but I am in perpetual survival mode.
So this Advent, and for the rest of 2020 – this is going to be my spiritual goal:
To become a little child.
"Amen, I say to you, unless you turn and become like children, you will not enter the Kingdom of heaven. Whoever becomes humble like this child is the greatest in the Kingdom of heaven. And whoever receives one child such as this in my name receives me." Matthew 18:3-5
This is something that I can do, since I spend a lot of time with 3 little children. I want to channel their excitement, their faith, their joy and their resilence.
So this is one Advent activity I know my children will:
enjoy unwrapping a book each night;
remind me to do this every day;
share their excitement and get us excited too.
Some of these books we already owned. Others I bought because our 3 year old daughter loves being read to and the library has not been open like it was before the pandemic. Quite honestly, I needed new books to read – reading the same ones over and over was wearing on me!
So here are the books we are reading this Advent. Some are by Catholic authors. Others are Christian, a few are just to bring more laughter into our home. I believe it was Padre Pio who is quoted saying, "Serve God with laughter."
These books are great to read during Advent, but would also make great Christmas gifts*!
*Need Christmas gift ideas? Make sure you check out: The Best Catholic Gifts to Give This Christmas
With the help of her wise grandad, Rosie encounters the wonders of the winter season. Rosie Discovers Winter is a heart-warming story of family, discovery and joy! Includes a poem about the Winter to encourage children to write their own poem about the season. Also includes an Activity Challenge Chart to help children discover Winter beauty as Rosie did.
The author, Madeleine Carroll lives in the United Kingdom and is a member of the Catholics Online community. Madeleine Carroll runs Isaih Books and Publishing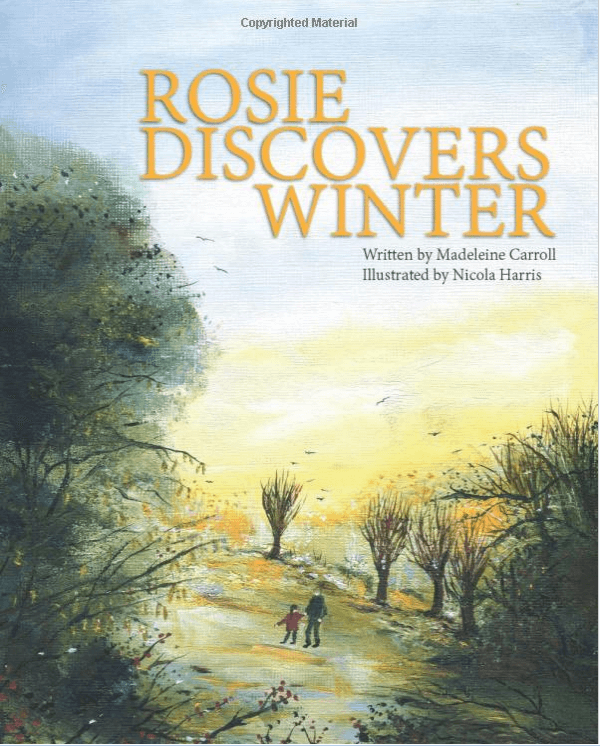 2. Molly McBride and the Christmas Pageant
*This was the first book picked and unwrapped – you can see the video of my daughter opening, and hear my sons' excitement here!
https://www.facebook.com/prayerwinechocolate/posts/1802056493295844
The kindergarten class at Holy Trinity School is having a Christmas pageant, complete with stable, angels, barn animals, and baby Jesus. Molly McBride thinks she's a shoo-in for the role of Mary, while her bestie, priest-wanna-be Dominic, has his heart set on the role of Joseph. But Mrs. Rose, kindergarten teacher extraordinaire, might not have quite the same "vision" for this year's Nativity that the kids have, leading to an upset that snowballs into a lesson on obedience.
Will Molly's feisty temperament ruin the whole play? Or will she find the strength, through the intercession of the Blessed Mother, to say, "Thy will be done?"
3. Molly McBride and the Party Invitation
Molly McBride is turning six, and her momma is planning a BIG party. Everyone in Molly's class is supposed to get an invitation. But should a certain class bully be invited, too? Or would it be better if his were "lost"?
Join Molly and friends as they learn that doing acts of charity, while always a good thing, isn't always a party. It's Molly McBride and the Party Invitation: A Story About the Virtue of Charity.
A captivating story for children that depicts God's persistent love for us through the life of His Son Jesus, Redeemer and Saviour. The Creator's Love Story is a mini time-line of Jesus' life that highlights the story of Redemption through His years on earth, and also depicts God's ceaseless and enduring love for us through the life of His Son Jesus, Redeemer and Saviour. It is a story written by a Catechesis of the Good Shepherd Catechist, and is inspired by its philosophy.
For ages 3-9. A special family tradition is getting ready to take place. As they do every year, Heidi, Holly, and Hanna are ready to listen to Mama tell the story of St. Nicholas and his special feast day on December 6th. St. Nicholas lived in Greece and performed many selfless acts based upon his parents' teachings about Jesus. Join the girls as they prepare for a special day and listen to a true story about an extraordinary man's generosity.
The splendor of God's world comes alive in this simple retelling of the biblical creation story for young children. As a master Artist, God paints the new canvas of earth and sky, beginning with the black of silent, empty space, then adding color after color with the creation of stars, oceans, land, plants, animals, and all the rest.
7. The Spider Who Saved Christmas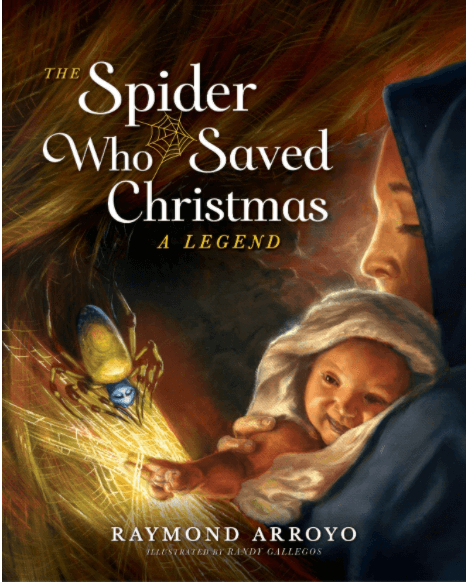 My children will love this because of the spider.
I will love reading about the origin of Christmas tinsel!!!!
Radiating the wondrous spirit of the season, The Spider Who Saved Christmas rekindles an ancient legend, casting new light on the story we thought we knew. Created by New York Times Bestselling Author Raymond Arroyo (with illustrations by Randy Gallegos), The Spider Who Saved Christmas spins the enchanting faith-filled tale of Nephila, a cave-dwelling spider who plays a pivotal role central to the Christmas story. This instant classic reveals the origin of Christmas tinsel and reminds us that hope can always be found even in dark places where we least expect it.
*Need Christmas gift ideas? Make sure you check out: The Best Catholic Gifts to Give This Christmas
The Crippled Lamb follows the story of Joshua, a lamb with a crippled leg who feels left out because he can't run and play like the other lambs. But God has a special plan for Joshua's life, as He does for all who feel alone. Readers will feel a gentle tug on their hearts as the little lamb's prayers are answered in an amazing way on Christmas Day.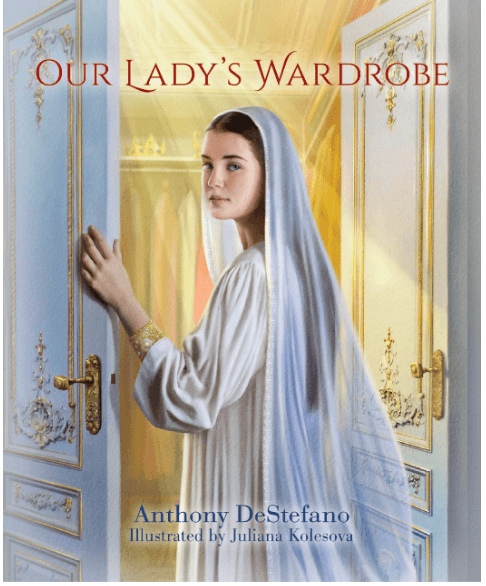 This delightful rhyming book introduces Catholic children to the Blessed Virgin Mary in a fun and simple way—through her clothes!
When Our Lady lived in Nazareth two thousand years ago, she was very poor and probably didn't have many nice things to wear. But now that she's in Heaven, she has an enormous mansion. And in that mansion she has an incredibly beautiful wardrobe filled with a great variety of dresses, veils, slippers, sashes, robes, rings and crowns.
Over the centuries, Our Lady has visited the people of Earth many times. On each of these occasions she has dressed very differently. Our Lady's Wardrobe tells the story of some of her most famous apparitions, highlighting the clothes she wore and the things she did.
By reading this book, children will not only learn about the Mother of God, but will also learn the main purpose of her life—to love and serve her son, Jesus Christ, and to lead others to do the same.
In this lovely read-aloud for ages 3 to 5, children embark upon on a journey steeped in the magical wonder of the moon and its Creator. A young girl travels from the city to the country, describing phases and aspects of the moonlight with a heartfelt understanding of beauty. "God put it there for all to see, but especially because He loves me." Jean Schoonover- Egolf's watercolor illustrations delight on this journey of simple faith and family life.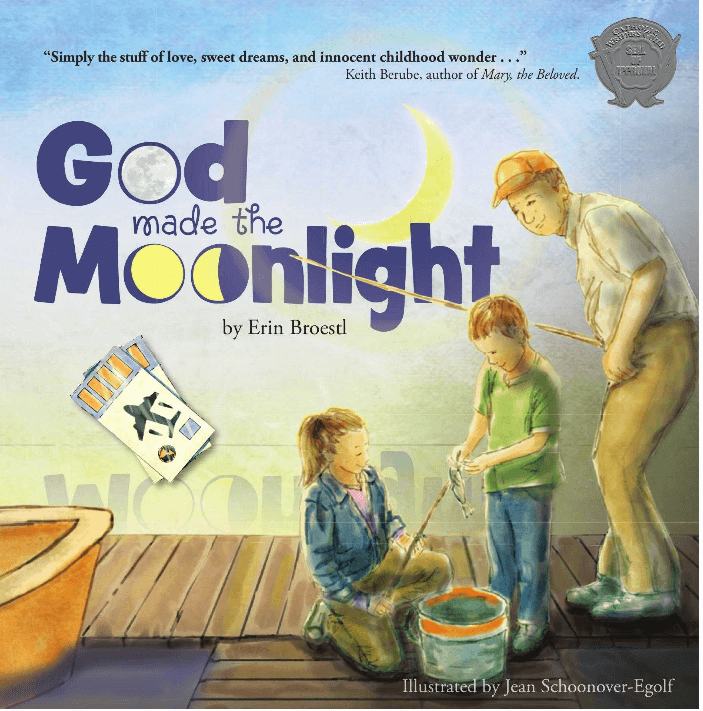 Wendy loves to shop. She shops and shops and shops till her wardrobe is about to POP! The funky fashionista has to face it: she has too much stuff. Using her creative side, Wendy organizes a clothing drive, complete with fashion show, at her school. With the help of her friends, she learns to temper her penchant for the posh with the spirit of charity. Penned in a fun, rollicking rhyme, this tale of temperance will have even the youngest of Wendy fans quoting stanzas from Wacky Wardrobe. Debut author Maria Shappert writes in a captivating language that is a delight to ears of all ages. All editions are packed-to-the-brim with bright, colorful, hand-crafted illustrations by Ohio artist Jean Schoonover-Egolf.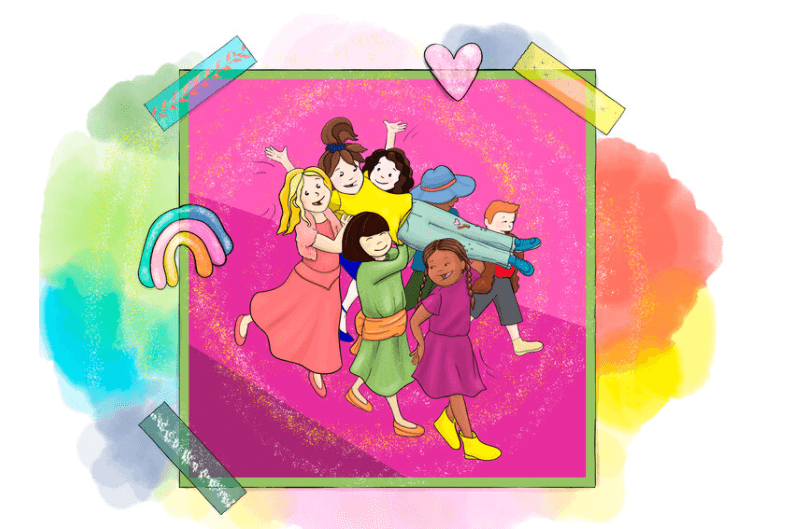 Your little one will love the story of this spirited young girl and her bold dreams to become a saint, book and broom in hand. Filled with bright and colorful illustrations, whimsical rhyme, and a powerful lesson, you and your child will want to read this book again and again!
13. God's Wildest Wonderment of All
When a curious little boy visits the zoo, he learns much more from the animals than his parents might have expected. The fascinating creatures he encounters there provoke in him a rousing round of questions and speculations that will set your child to thinking. Why has God created and preserved such an entertaining assortment of beasts?
YOU, you… God thinks about you.
God was thinking of you long before your debut.
From early on, children are looking to discover their place in the world and longing to understand how their personalities, traits, and talents fit in. The assurance that they are deeply loved and a unique creation in our big universe is certain to help them spread their wings and fly.
15. The World Needs Who You Were Made to Be
This reminded me of the Saint Catherine of Siena quote, "Be who God meant you to be and you will set the world on fire". This is a new book by Joanna Gaines and is a New York Times Bestseller.
In the #1 New York Times bestseller The World Needs Who You Were Made to Be, Joanna Gaines and illustrator Julianna Swaney celebrate how creativity and acceptance can come together to make for a bright and beautiful adventure. The book follows a group of children as they each build their very own hot-air balloons. As the kids work together, leaning into their own skills and processes, to fill the sky with beautiful colors, we discover that the same is true for life–it's more beautiful and vibrant when our differences are celebrated.
16. Ella Bella Ballerina and The Magic Toyshop
I bought this book because Sara Estabrooks, my friend and fellow blogger over at To Jesus, Sincerely, told me she loves all the Ella Bella books. I thought the toyshop one would be perfect for this time of year <3
This title in B.E.S. charming Ella Bella series tells another story of Ella Bella, a little girl who loves to dance. In this story, Ella's ballet teacher, Miss Rosa, tells them the story of La Boutique Fantasque. The story takes place in a toyshop full of dancing dolls, she explains, as she shows them her own collection of dancing dolls and her magical music box. When Ella stays late to help clean up, she finds herself magically transported to a toyshop filled with magical dancing dolls! Ella is thrilled to meet all of the dancing dolls, but she is especially taken with two can-can dancing dolls that are in love.
"Through the swirling, whirling dust of a dirt-ridden track plodded a beige-grey donkey carrying a great Gift. It was a Gift that would plumb the hidden depths of men's hearts, and forever change the course of history." The Donkey's Journey invites children to follow in the hoof-prints of a humble donkey as he travels to a star-bright stable in Bethlehem for the birth of a very special Baby Boy. Help your child discover the joy and mystery of that first Christmas, and the ordinary people and animals encountered on that very extraordinary night. Includes bonus colouring-in pages at the back of the book.
18. Saints on the Go
This is a book we have in our home. It's great for my 3 year old son who LOVES trucks and trains!
19. The Little Flower: A Parable of Saint Therese of Lisieux
Young Thérèse Martin loved Jesus so much, she wanted to do something great for him. But she is too little to do big things for Jesus…or is she? The Little Flower: A Parable of Saint Thérèse of Lisieux is a wonderful way to introduce children to the spirituality of St. Thérèse's "little way" with its lesson that even the littlest act, done with great love, is beautiful in Jesus's eyes. Writer Becky Arganbright has adapted St. Thérèse's lesson of the little flowers into a delightful parable for children. The young Thérèse learns that even though she might be little, with God's help, her littleness can be a way of doing great things for God
20. A Treasury of Christmas Stories and Songs
The very first story in this book is "The First Christmas" Retold by Rachel Elliot.
A Treasury of Christmas Stories and Songs – A Wonderful Collection of 6 Traditonal Christmas Stories and 12 Festive Rhymes! [Hardcover]
21. The Legend of the Poinsetta
In Mexico, the poinsettia is called flor de la Nochebuenao flower of the Holy Night. At Christmastime, the flower blooms and flourishes, the quite exquisite red stars lighting up the countryside.
This Mexican legend tells how the poinsettia came to be, through a little girl's unselfish gift to the Christ Child. Beloved Newbery honor-winning author and Caldecott honor-winning illustrator Tomie dePaola has embraced the legend using his own special feeling for Christmas. His glorious paintings capture not only the brilliant colors of Mexico and its art, but also the excitement of the children preparing for Christmas and the hope of Lucida, who comes to see what makes a gift truly beautiful.
22. Heaven is for Real for Kids
During a surgery, four-year-old Colton visited heaven, and he wants everyone to know how wonderful it is there! Following the runaway bestseller for adults, Heaven is Real for Kids includes
Colton's memories of heaven, including sitting on Jesus' lap, singing angels, animals, and even some of his own family members
beautiful illustrations created with Colton's directions
a letter to parents to guide them as they talk to their children about heaven
an age appropriate Q&A section with answers from the Bible
Build up your child's faith and comfort their heart with this reassuring picture book for 4- to 7-year-olds. Whether a child is grieving for a lost loved one, asking questions about God and heaven, or just likes true stories about other children, Heaven is for Real for Kids will show them that there is life after death and that Jesus loves children very, very much.
Remember when I said we are going to simply "serve God with laughter" with some of these books? This is one of those books. My oldest son is 8 and I know he is going to 1. laugh when I read it and then 2. Insist on reading it to the twins afterwards.
A #1 New York Times bestseller, this innovative and wildly funny read-aloud by award-winning humorist/actor B.J. Novak will turn any reader into a comedian.
24. The Story of Saint Nicholas: A Coloring Storybook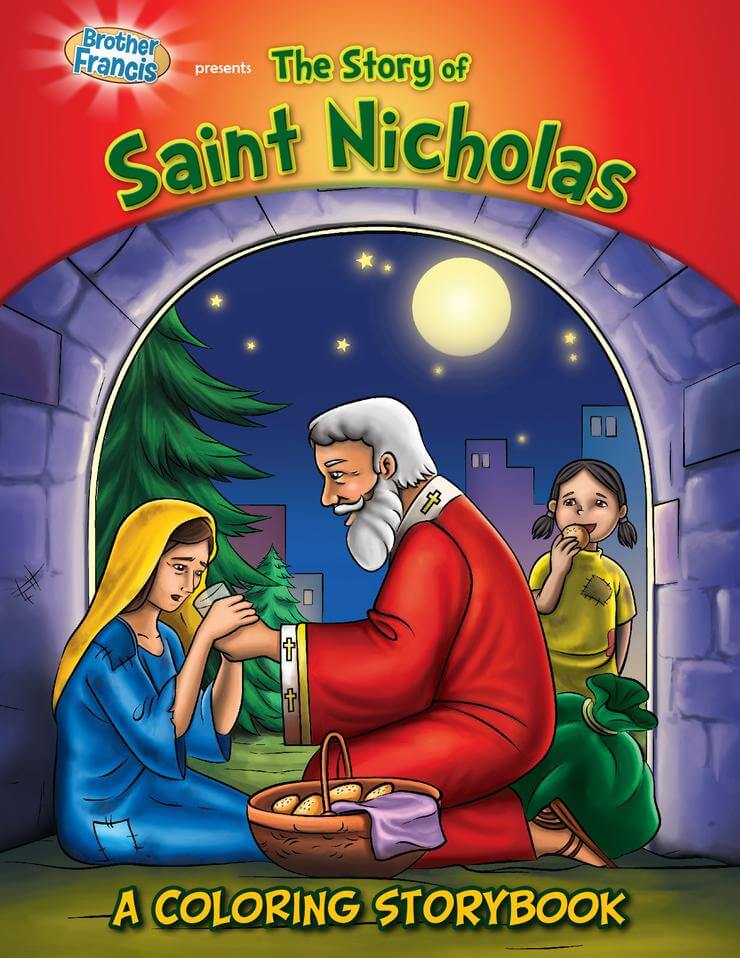 This is another beautiful colouring book in the Brother Francis series. It helps children know and understand St Nicholas of Myra and the meaning of Christmas gifts.
25. The Story of Christmas Board Book
This was another one I found in our house.
A classic bestseller presented in a new size with fresh, bright illustrations. Here is the story of the Nativity told in 200 words that are simple enough for a toddler to understand. From the Annunciation by the angel through Jesus's birth, the angels' appearance to the shepherds, and the journey of the wise men, the Christmas story is presented in its most traditional form. Vibrant new illustrations are paired with classic text to bridge the connection between the biblical story of Jesus's birth and today's Christmas celebration. This book is unsurpassed as an introduction to the significance of the Christmas holiday. Ages 2-5.
Bonus Book: Bad Dog, Marley
Mommy, Daddy, Cassie, and Baby Louie welcome Marley, a lovable puppy, into their home. But Marley doesn't stay a pint-sized pup for long. He grows and grows, and the bigger Marley gets, the bigger trouble he gets into. Big, bad-boy trouble. Will this family have to find a new home for their misbehaving pooch, or will he prove he can be a good boy?
My kids LOVE this book. I have hidden it because I get so sick of reading it. While writing this post, I discovered there are several of these books – and one is a Christmas themed book!
What books would you add? Tell us in the comments!