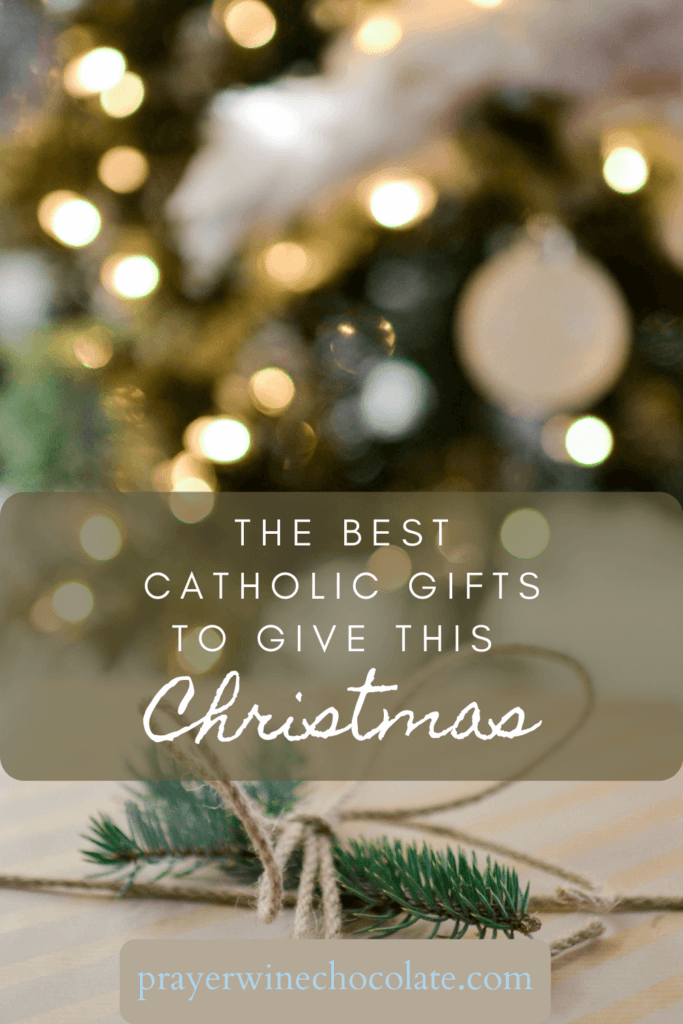 This post contains affiliate or associate links with several businesses (which means if you shop through the links, I earn a small commission). As an Amazon Associate I earn from qualifying purchases.
*** This is list has been updated!!! See The Best Catholic Christmas Gifts to Give in 2022!!!****
One of my favorite posts to write as a blogger is a Christmas gift guide. For the past 4 years, I have written a huge post called "Spiritual Stocking Stuffers" and included a huge giveaway. Although I was not able to get a giveaway organized, I was able to find incredible gifts for you loved ones that will certainly encourage prayer and nurture one's relationship with Our Lord, Jesus Christ.
This year, I've created a phenomenal gift guide that I am so excited to share with you!!!!!
I hope that will shop from this list and allow this small business and the one you purchase from do a happy dance! Shopping small is such a wonderful way to give back this time of year!
I hope you get as excited for these gifts as I am! They are truly awesome!!!
The Best Catholic Gifts to Give this Christmas
This blanket.
*** This is list has been updated!!! See The Best Catholic Christmas Gifts to Give in 2022!!!****
(original blanket from other shop no longer available)
This is my FAVORITE Catholic gift of 2020.
I LOVE this Rosary blanket!
My son loves using it when we pray the Rosary.
I love cuddling up with it at the end of the day.
I am gifting it to my 17 year old niece this Christmas. (shhhhh).
It's a great gift to give so many people this year! A Grandmother would love it – it's like giving them a hug and a prayer when you are not there!Let's get them before they sell out!
Gift idea for 17 year old girl: Pair this blanket with Leah Darrow's The Other Side of Beauty. Throw in some Tea or Hot Chocolate – and you given her the gift of coziness and relaxation! For a teen who's living in 2020, trying to decide where to go and what major to pick regarding college, and all the other worries teens go through, this is a wonderful gift that will remind her to pray and that she is not alone!
*** This is list has been updated!!! See The Best Catholic Christmas Gifts to Give in 2022!!!****
This is also a great gift for:
A Catholic family with little children. This blanket was actually made for them! It's meant to be used as a family prays the Rosary. Children can walk or scoot from bead to bead!
Any woman. This is a great throw blanket. It's big. It is super soft. And it's a hug and a prayer! I love cuddling with it on the couch. I also love giving blankets as gifts. My grandparents would get blankets from me for Christmas and I noticed them using it all year long!
A Set of Sacrifice Beads
Clearly I am loving this "millennial pink" as I have heard this color called.
Okay, confession: I just bought this for myself.
I feel like I really need these beads. Often small trifles throughout the day really get to me. I am often petulant. These could be little sacrifices to offer to God and to remind me to simply "give it to God" or "offer it up".
Sacrifice beads are a great way to teach children to offer things up. Sara from To Jesus Sincerely told me once that her oldest son liked having a set, so I am seriously considering getting a rustic, wooden, more masculine looking set for my son.
Saint Socks
These gifts may not be galmourous, but they are practical!
I have several pairs. My children each have a pair. And this year, my brother (who is my son's Godfather) is getting the Saint Anthony pair because he's always looking for something he can't find.
I love this gift because it's funny, but will also come in handy!
Best part is they are green – my brother's favorite color!
These are a great gift for your 1- 12 year old nephew too!
Our nephew, who is also my husband's Godson, will be getting Saint Patrick Socks, A Be Yourself Journal for Boys, and I'm sure something video game related from us! His middle name is Patrick, so that's why we picked those socks. I'm sure his mom will love the practical gift 🙂
My mom is also getting Saint Patrick socks with her gift! Growing up, I always noticed my mom had holes in her socks. She's Irish, so I think she'll love these Saint Patty's Day Socks!
Comfy clothes that are inspired by faith!
Last year I bought these three sweatshirts to help promote them. This year I can be real with you – I wear these ALL THE TIME!
They are so comfortable! My favorite right now is the hoodie, because I use that front pocket constantly.
I also have my eye on this Carry On Bravely sweatshirt made by Brick House in the City. I love Saint Zelie, and this quote from her is awesome!
A Miraculous Medal Necklace
The graces I have received and experienced from wearing a Miraculous Medal around my neck for the past few years are numerous.
I want others to experience this heavenly love!
I started wearing a Miraculous Medal necklace around the time I started this blog. I wrote this a few years back and the reasons remain:
Five Reasons Why I Wear a Miraculous Medal
Another gift favorite this year is earrings! I love this faith based shop I found on Etsy called Faith and Timreys!
Druzy earrings are so pretty!
Prayer Journals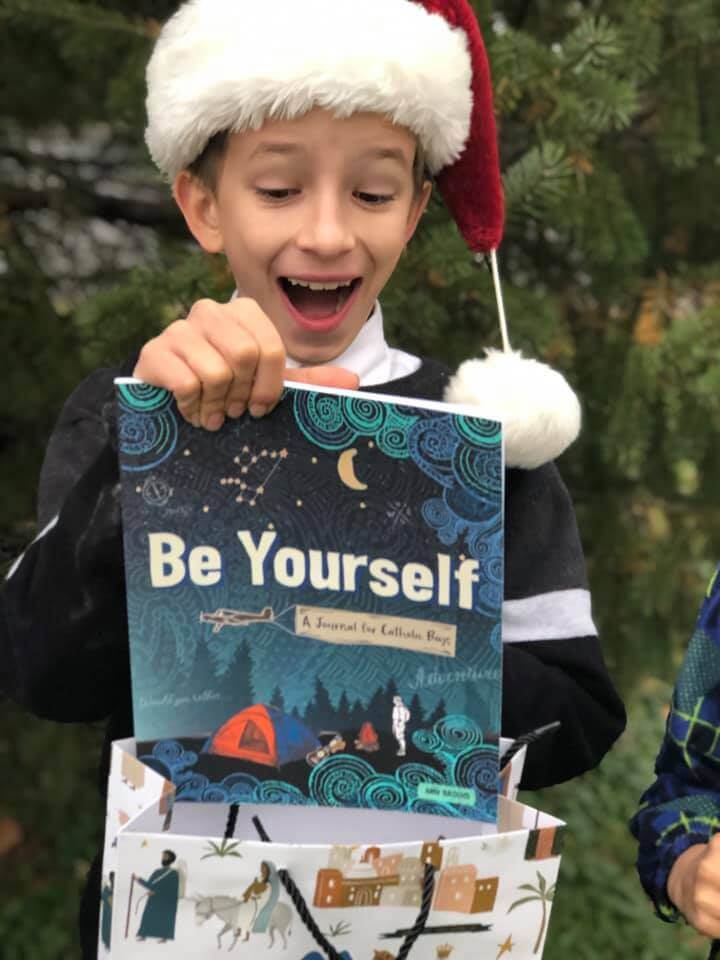 I love the idea of having children ask for
something they need; something they want; something they will wear; and something to read.
I stand behind Be Yourself: A Journal for Catholic Boys being the book your son, Godson, nephew or younger brother wants to read – he just doesn't know it's out there.
It was extremely important to me ask I worked on this to make it appealing to boys between the ages of 9 and 14 years old.
There is not much out there for this group – I'm hoping this book changes that.
Be Yourself: A Journal for Catholic Girls is truly a great gift for a young lady.
Be Yourself: A Journal for Catholic Girls has consistently ranked in the top 100 of Amazon's following categories during 2020:
Children's Journal Writing (presently #36)
Children's Inspiration Books (currently #54)
and Children's Christian Prayer Books (as of today #56).
Reviews on Amazon indicate that it is loved by girls between the ages of 8 and 13!
As for myself; I bought the Mystical Rose Journal from TiSpark.
The Best Gifts for Catholic Men
My husband helped me with this one!
His first idea: Chimay. Chimay is a beer made by monks who live in Belgium.
A small group of monks came to settle on the wild plateau of Scourmont, near Chimay, in the summer of 1850.
A farm, brewery, and dairy soon sprang up around the monastery.
Now this beer is known worldwide.
My husband Matt loves his WWI Battlebeads from Rugged Rosaries. My son also loves them – so he is getting his own set this year!
Matt also suggested "maybe a St. Michael medal". My dad has always worn a Miraculous Medal. Both would be great gifts.
I am going to add this book: Consecration to Saint Joseph: The Wonders of Our Spiritual Father
My husband and I have gone to Saint Joseph asking him for prayers in the past and we truly believe he listens and prays for us.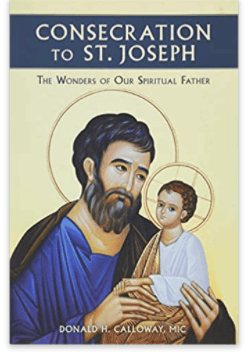 I read 33 Days to Morning Glory and it was excellent. Right now, this book, Consecration to Saint Joseph is a best seller. I'm looking forward to reading it with him.
Quick summary for men:
Beer made by monks (or candy made by religious sisters)
A masculine Rosary (our favorite WWI Battle beads by Rugged Rosaries)
A Saint Medal Chain
Spiritual Reading
Carpenter pencils from CatholicCurio
Another suggestion by my husband Matt is the book Hungry Souls Supernatural Visits, Messages, and Warnings from Purgatory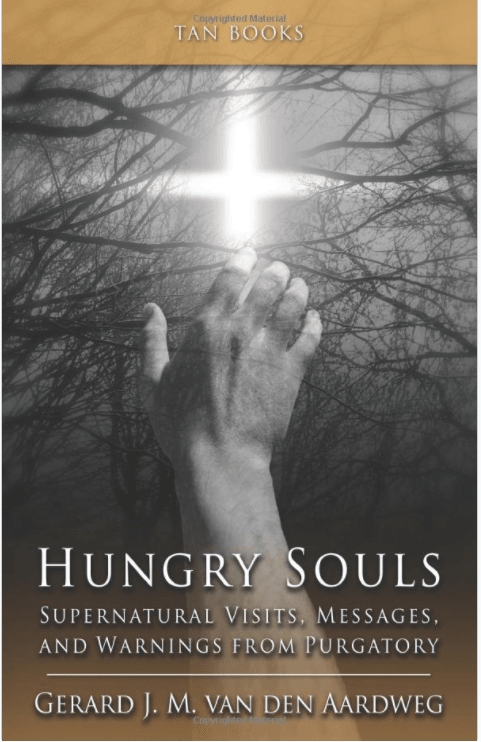 Hungry Souls recounts these stories and many others trustworthy, Church-verified accounts of earthly visitations from the dead in Purgatory. Accompanying these accounts are images from the "Museum of Purgatory" in Rome, which contains relics of encounters with the Holy Souls, including numerous evidences of hand prints burned into clothing and books; burn marks that cannot be explained by natural means or duplicated by artificial ones. Riveting!
I wrote a whole other gift guide just from men over at CatholicsOnline.net! Check that one out here: Over 20 Christmas Gift Ideas for Catholic Men
A Catholic Gift Box from Pillar and Pearl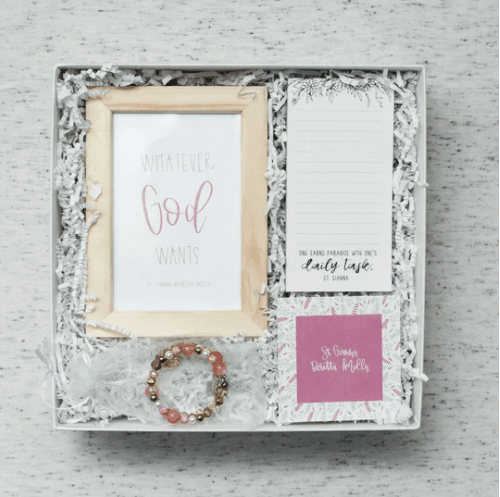 Pillar & Pearl aims to revive the importance of matter in the Catholic Church, and also of celebration.
*****For Pillar & Pearl USE CODE AMY10 and get 10%off your order!!!*******
When you purchase a gift box from Pillar & Pearl, not only are you providing a faith-filled gift to someone you love, but you are supporting a community of Catholic makers who are living examples of Christian holiness, piety, and love. We are so grateful to our contributors, our customers, and everyone who helps us in our mission to spread the good news of Catholicism worldwide!
I love this Catholic small business! They simply present these gifts beautifully. Plus, they are promoting many of the small business owners from my favorite community (catholicsonline!!).
I'm so excited to give a box to my sister-in-law this Christmas. She loves the beach so the Annie Box is perfect for her!
*****For Pillar & Pearl USE CODE AMY10 and get 10%off your order!!!*******
Best Gifts for Little Godchildren
My Goddaughter is turning 4 years old and I am excited to get her this set she can bring with her to Mass!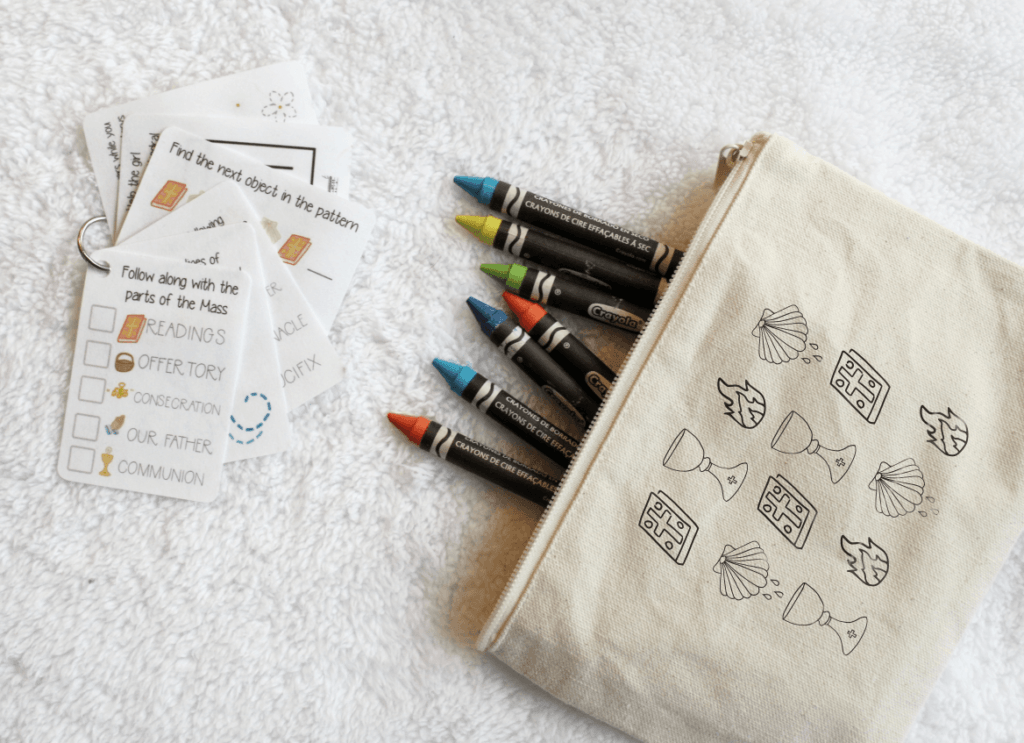 Future Saint Dry-Erase Activity Card Set
I would love if my twins were each given one of these Catholic Keepsake Books! We have one for my oldest son and it's great!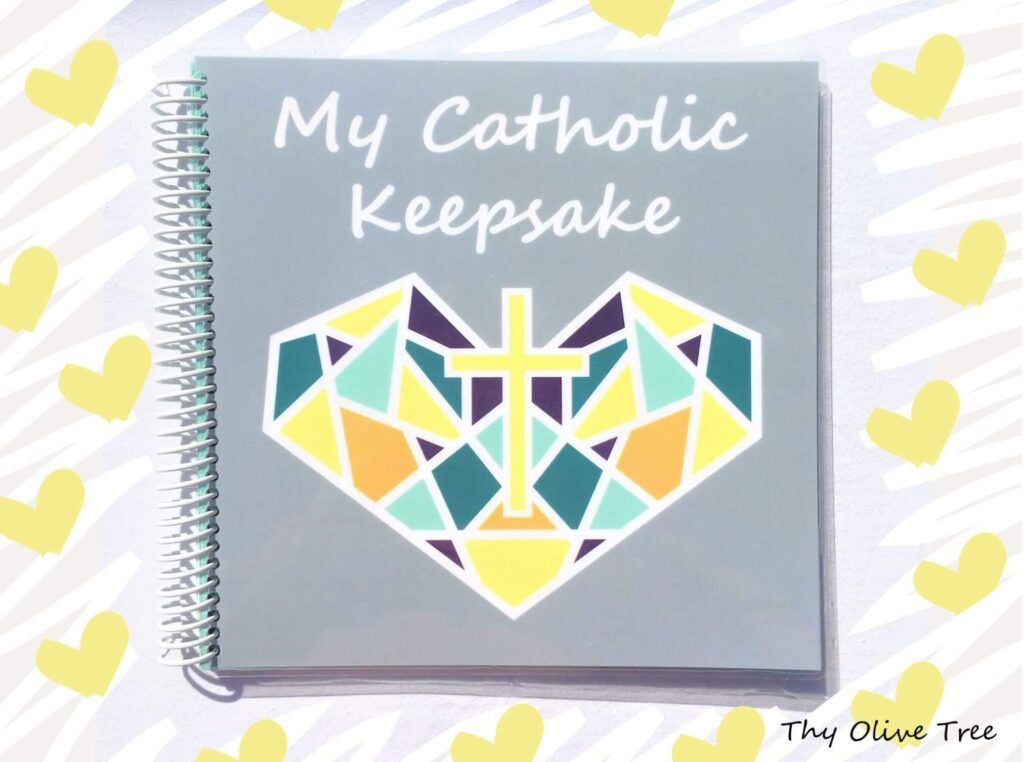 My Catholic Keepsake Baby and Child Memory Book
I also think this is cute:
My Little Church Magnet Play Set
And a brand new book being released is titled My First Interactive Mass Book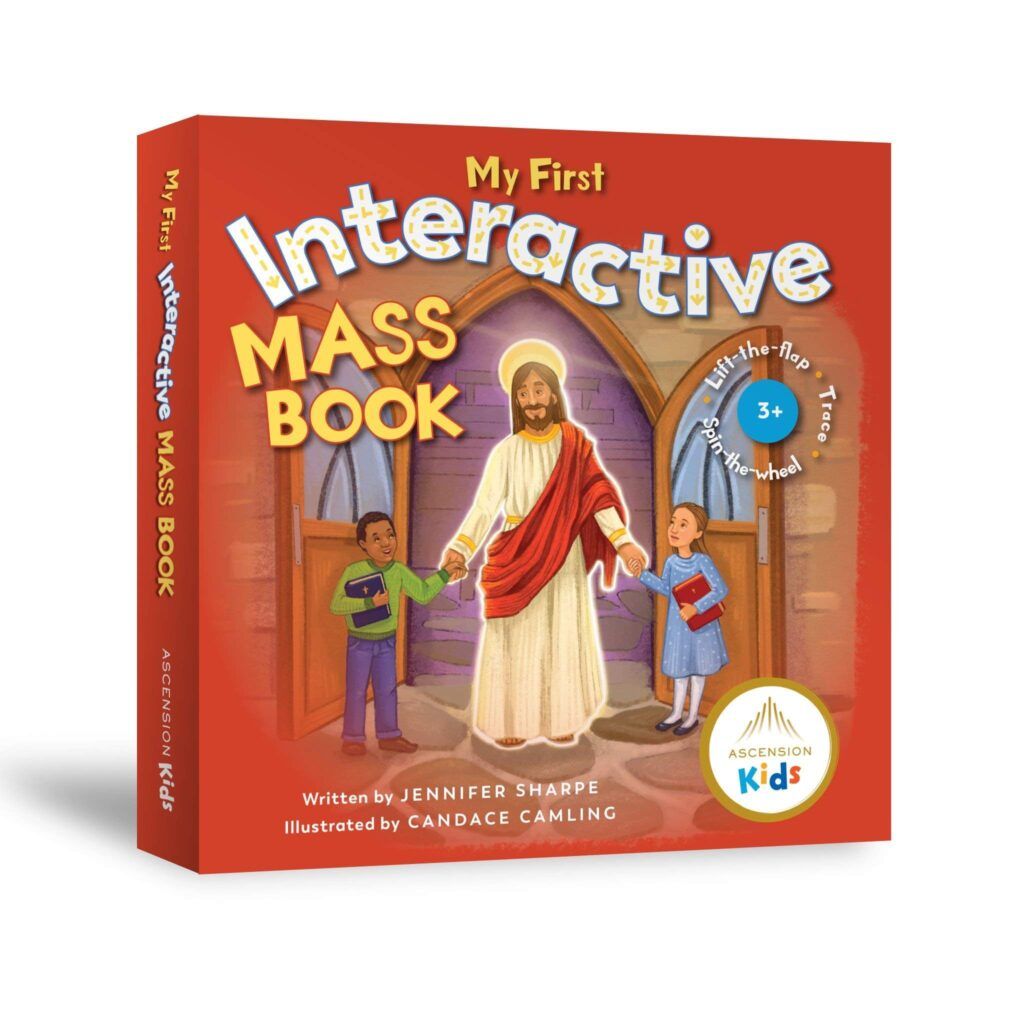 Engage children in the Mass and inspire them to love the Holy Eucharist. Beautiful artwork and hands-on activities like wheels, flaps, and tracing invite children into the beauty of the Mass. Simple explanations and prayers of the Mass provide a deeper understanding for little ones.
This is just a small snapshot of the incredible Catholic gifts that I have come across this year.
I've written some more specific gift guides over at CatholicsOnline.net
Some are here:
Catholic Gifts Your Mom, Sister and Wife Actually Want
Epic Catholic Gifts for Teens and Pre-Teens
Catholic Gift Ideas for Children Ages 3 to 8
By the way, my favorite gift – there's a boy's one too!!!