This post contains affiliate or associate links with several businesses (which means if you shop through the links, I earn a small commission). As an Amazon Associate I earn from qualifying purchases
Prayer journaling is something that really helped me through some tough times.
I highly recommend it.
BUT, sometimes we are held back . . .
held back because we don't know where to begin;
if that is you, take a look at this
Sometimes we are held back because our prayer intentions are extremely personal and we hesitate to write them down out of fear someone may pick it up and read it.
Sometimes we hesitate because we simply just don't know what to say.
3 Prayer Journal Hacks You Will LOVE!
Prayer Journal Hack #1:
Hiding personal prayer requests
Sometimes our prayer intentions are extremely personal and we hesitate to write what is in our heart down out of fear someone may pick it up and read it.
Here's how I deal with those deep, personal intentions I only want to be between God and myself:
I write my personal intention down, but then cover it up by gluing a holy card or a picture I colored (like this one of Saint Joseph) over my intention.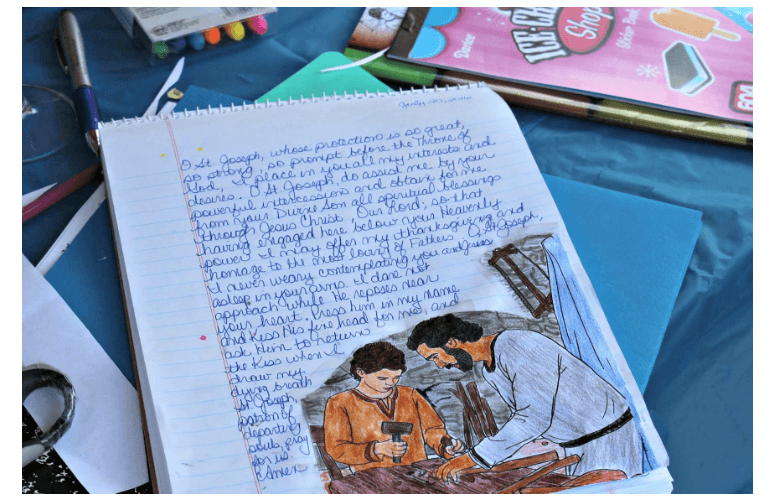 Writing out prayer intentions is something that I do because it helps me really think about what I'm asking for and helps me feel like I am truly bringing this intention to God with my time and effort.
It especially helps me when I am praying a novena.
Often when I pray a novena I have found my intention changes on day 4 or 5. That can be really telling . . . it can help me to understand better what is on my heart. BUT, it can also be frustrating.
Writing out my intentions helps me stay consistent in prayer.
Prayer Journal Hack #2:
Use other people's words.
Sit down to journal even if you have no idea what to write or say
Sometimes we stop journaling because we don't feel compelled to say something to God . . . but those moments are a great opportunity to hear what God has to say to us. It's always a good idea to prayer journal, because there is always someone to pray for and God always has some words for us too.
Where do you start? A free resource like 5 Prayers for Your Children and Godchildren (I wrote these prayers, you can preview them here: 5 Quick Prayers for Your Children and Godchildren (free printable)
When you sit down and start praying for others, it's a beautiful way to offer God your heart.
Another reason I highly recommend doing this is because sometimes God has words for you that will offer great comfort and hope.
When I started prayer journaling, I remember looking at a book of daily devotions written by Catholic laypersons. The title of one struck me and I had to remove it from the book and paste it in my prayer journal. It simply said, "Sometimes God wants what you want". Those words were such a comfort and relief to me! I still remember vividly how happy and grateful I was to read those words.
And just recently, I was honored to write a couple reflections in a book similar to that! Called By Name: 365 Daily Devotions for Catholic Women
Called by Name is a 365-day devotional from WINE: Women In the New Evangelization designed to empower and equip you to draw near to Jesus and use your God-given gifts for the Church. With meditations on scripture and encouraging insights from popular Catholic authors and speakers in the WINE community, this is the perfect daily companion for women who want to connect with the heart of Jesus and live every day in the light of his truth and love.
The Lord is calling you each day to be like him. Called by Name will help you respond to his call by encouraging, equipping, and inspiring you to enter into a more intimate relationship with him, all year long.
Prayer Journal Hack #3:
Use Catholic Stickers, Prayer Cards and Washi Tape.
Sometimes a picture really does say 1,000 words.
*Simple prayer journal entry: Dear Lord Jesus, Please give me a hug today*
I bought 10 of these Jesus Hug Stickers at Christmas time and I'm about to buy 10 more. I gave one to my youngest sister and she said it was her favorite gift!
I started prayer journaling long before I even heard of Catholic Stickers and probably before Etsy was a thing. I used to copy prayers from holy cards and then glue the picture side up on the page next to it. Catholic stickers have opened a whole new wonderful world to me! So much so I wrote this post last year: Catholic Sticker Heaven: Your Ultimate Guide to Cool Catholic Stickers
Some stickers are simple, profound and pretty images. Others have powerful prayers. I love stickers from Just Love Prints, GratiaDesign and Pink Salt Riot.
These stickers can stand alone as prayers as you breathe deeply and meditate upon the prayer, image or quote. They might also spark your soul to share more and unlock a prayer you did not know you had on your heart.
Happy Prayer Journaling!
Sign up and receive prayer journal tips and inspiration straight to your inbox: Yes, send me your posts!