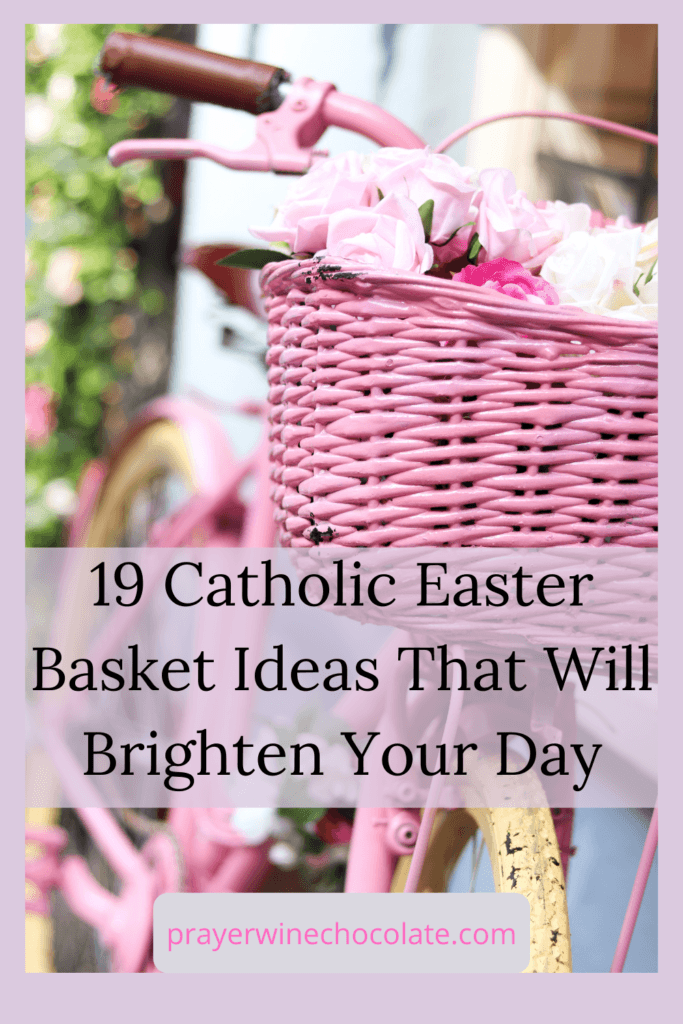 This post contains affiliate or associate links with several businesses (which means if you shop through the links, I earn a small commission). As an Amazon Associate I earn from qualifying purchases.
I love incorporating our faith into these holy holidays – especially when I find toys, books and gifts that I truly believe will be loved and appreciated.
And this year . . . well my 8 year old has a ton of cavities so we need to cut back on the candy and level-up our "meaning behind the holiday" game.
Here are some ideas for your children's Easter baskets AND ideas for little gifts to give your Godchildren, grandchildren, nieces, nephews and anyone you want to make Easter a little brighter for!
(MANY of these gifts I have bought to give this year to all of the above!)
The Perfect Children's Books for Your Catholic Easter Basket!
Listening for God: Silence Practice for Little Ones
The ability to be silent is a skill that even many adults have never developed. Give your child this priceless gift and give it early. For it is one that will reap eternal rewards.
Maggie, the farmer's youngest daughter, loves getting gifts, especially mysterious ones. One wintry day, she receives a package in the mail. She excitedly opens the package to find a bulb buried in a crate of dirt.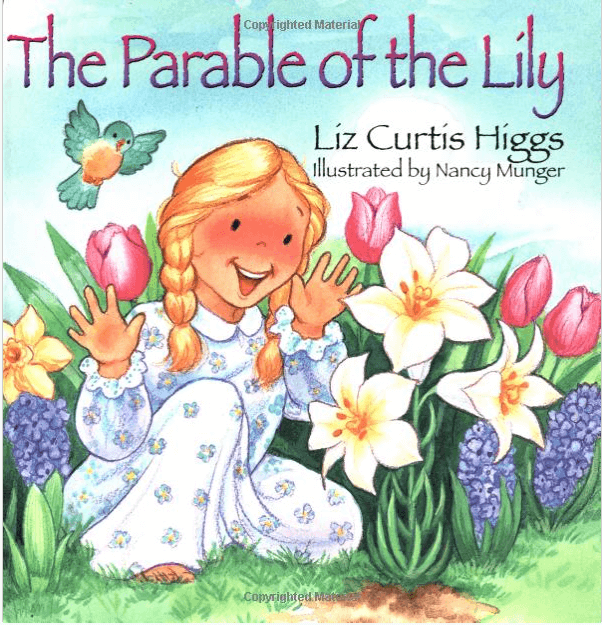 This was not what Maggie expected. She had hoped for a doll or a game, not a bulb that would one day become a plant. When spring comes, she finds the bulb in the cellar and tosses the lifeless thing into the garden, never to think of it again. . . . Until she walks outside on Easter morning and finds the most beautiful lily she has ever seen. Through the unique gift of a bulb, Maggie discovers the power of grace and forgiveness and the true meaning of Easter.
My First Interactive Mass Book
Engage children in the Mass and inspire them to love the Holy Eucharist. Beautiful artwork and hands-on activities like wheels, flaps, and tracing invite children into the beauty of the Mass. Simple explanations and prayers of the Mass provide a deeper understanding for little ones. Written by a Catholic mother, this sturdy, interactive board book will help Catholics teach their children about the mysteries of God s love in the Mass. Children ages 3 and up will be delighted to have their own book at church, which will help them learn the order of the Mass, follow along with the prayers, and discover the wonders that happen at every Mass.
I know this says Palm Sunday – which is BEFORE Easter – but look at that camel!?? Totally making up an Easter basket for my niece and nephew and this is going in it front and center. They'll love it and so will my sister!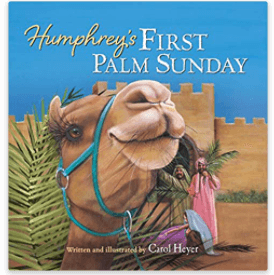 More than thirty years after the events of Humphrey's First Christmas, Humphrey is at the back of a traveling caravan, thinking up ways to become the leader of the pack. As the caravan makes its way to Jerusalem, they witness Jesus entering the city. Humphrey is delighted to see Jesus, now a grown man, and remembers the child to whom he gave his blanket all those years ago in Bethlehem. Beautiful and engaging, this book is a wonderful way to introduce the events of Palm Sunday.
The following ideas were given to me by an account I recently started following on Instagram! I ordered both of these books for my children!
A favorite for more than four decades, Arch Books captivate children with colorful pictures and creative poems. Each book presents a complete Bible story in a fun-to-read way children ages 5-9 will understand and remember.
The Easter Story by Patricia A. Pingry
Catholic Comic Books from Voyage Comics
Seeking to avenge the death of his parents at the hands of Viking marauders, a young man named Finnian leaves his monastic school in Ireland to find a legendary sword rumored to have the extraordinary power to defeat evil.
Join writer Philip Kosloski, and artists Michael LaVoy and Jim Fern (AMAZING SPIDER-MAN, X-MEN ANNUAL, and CROSSING MIDNIGHT) on an epic adventure that begins on the mysterious island of Skellig Michael, where the sword was last seen.
Will Finnian find the mythical sword and lead the way to victory? Or will the Vikings continue to destroy innocent villagers?
Be Yourself: A Journal for Catholic Boys
Reviews from Amazon:
Often times parents ask their kids when something bad happens, what were you thinking? The truth of the matter is that they were not thinking. All joking aside, a big part of childhood is learning to structure your thinking and develop habits of analysis and self reflection. That is exactly why Be Yourself by Amy Brooks is a great prayer journal for young boys. We often tell kids the importance of prayer, but we don't provide them with the structures and guides which help them sort through their interior life in the light of scripture and tradition. This journal is a must have for parents who want to teach their young boys how to pray and meditate.
and another reviewer states:
I was really hesitant at the idea of a journal… for boys.

Boys don't like to "journal," right? But I gave it a try – because it's Catholic, and it looked super cool! When it arrived in the mail, my 9 year old was – to my surprise – super excited!! He tore open the package and actually hugged the book.

It's not just a traditional journal… it's full of games, puzzles, and activities. There's plenty to read, and some journaling prompts, too. There are a ton of totally boy topics – like superheroes and adventures, and camping, and fighting spiritual battles.

My son really loves this journal, to my surprise and delight! He packs it in his adoration bag when we go. I would definitely recommend it for your pre-teen or teen!
Be Yourself: A Journal for Catholic Girls
I got this for my 10 yr old daughter's Easter basket. She immediately was attracted to it. Later, she came to me and said that it was her favorite item in her basket. She loves it and really has spent time with it. It is motivational, inspirational, engaging and most importantly, designed to encourage a habit of prayer and meditation at a young age. All while focusing on God's love for us and our uniqueness. I am so glad that this product exists. I will definitely be buying more as gifts and for my younger daughters as well when they get older.

This is a customer's review on Amazon.
If you want more book ideas, check out this post I wrote for Catholicsonline.net
If you are looking for an Easter book for an adult, I have heard that Jesus Calling is fantastic – and there is one for Easter, for all year and for kids on DaySpring's website!
THESE CATHOLIC BOOKS MAKE GREAT EASTER GIFTS
Catholic Toys and Games that Make Great Easter Gifts!
Shining Light Puzzles and Shining Light Dolls
Puzzles are incredible gift. First of all, children rarely have faith centered puzzles. Second they are an incredible learning tool and help with fine motor skills. They are great for my 3 year olds and my 8 year old who needs fun fine motor practice. Can you tell I already bought one?
Shining Light Dolls Puzzles are floor sized puzzles.
If you are looking for smaller puzzles, check out FiattoHalo (and use the coupon code CHOCOLATE for 20% off)
A sensory blanket or doll from Kidderbug Kreations.
This wooden lacing set is great for natural play that introduces and develops the fine motor skills necessary for healthy brain development while encouraging a love of creation. Francis and his friends will provide endless opportunities for faith-based, open ended play and promote dexterity, creativity, language, and cognitive function.
Recommended for ages 18+ months
A kit or two from Easy Doughs It!
Loving this Spring Play dough kit with lots of pastel colors!
I've been buying from this little shop often! I love the Saint Patrick kit, the Frozen kit, the Construction Site kit and my 8 year old said he wants on too. He has his eye on the "army guy" kit!
Catholic Gifts for Moms, Dads and Older Kids
Holy Candy! My children and my parents love the chocolate made by Trappistine Quality Candy
Socks from Sock Religious (I love the Pier Giorgio socks because he was a cool guy plus they are filled with pastel colors!)
Fun Catholic Shirts! I bought this one for my husband!
Earrings are such a perfect Easter Basket filler this year!
First of all – they fit in a cute plastic egg.
Secondly – one size fits all.
Third – even if you are wearing a mask, they are seen while you work, shop or socialize.
See those seafoam earrings ??????- I ordered them for myself!
There are from Telos Art and I love them! Jessica makes them in several colors, so if you are looking for these pastel green, select sea foam before you check out!
Want more Spring colored earrings to choose from?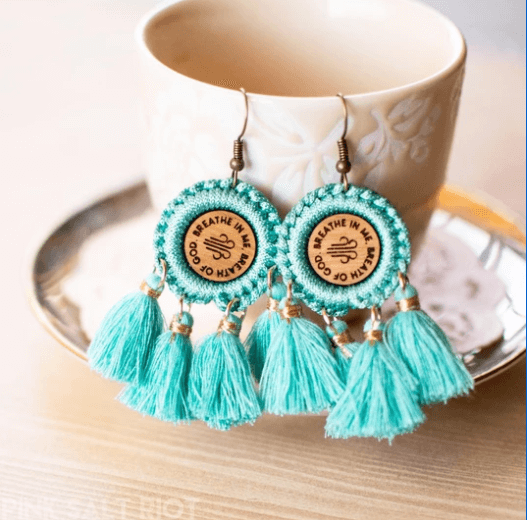 Pink Salt Riot is having a big sale right now!
Use coupon code CATHOLICSSAVE to get an additional 10% off!
Turquoise Earrings – Breathe in Me Tassel Earrings
Simple Cross Earrings – Embrace the Cross earrings
Love Peridot Druzy Drop Earrings
And this Pastel Pink Blanket is a perfect gift for all ages! I love how this blanket reminds me of the Food Network.
How? Because my grandmom and my teenage sister both loved watching the food network a couple years ago and this blanket is that kind of cross generational gift that would be loved, used and appreciated by a young lady and a woman of any age. I love mine!
Do me a favor?
Sign up for my newsletter? It's getting more and more difficult to get these posts seen on social media – by signing up for my newsletter, you'll get them mailed directly to you!
Plus, it would make me happy to know I'm helping you keep your faith alive!
Here's where to sign up:
And YES, you do get 10 FREE RESOURCES FOR SIGNING UP!