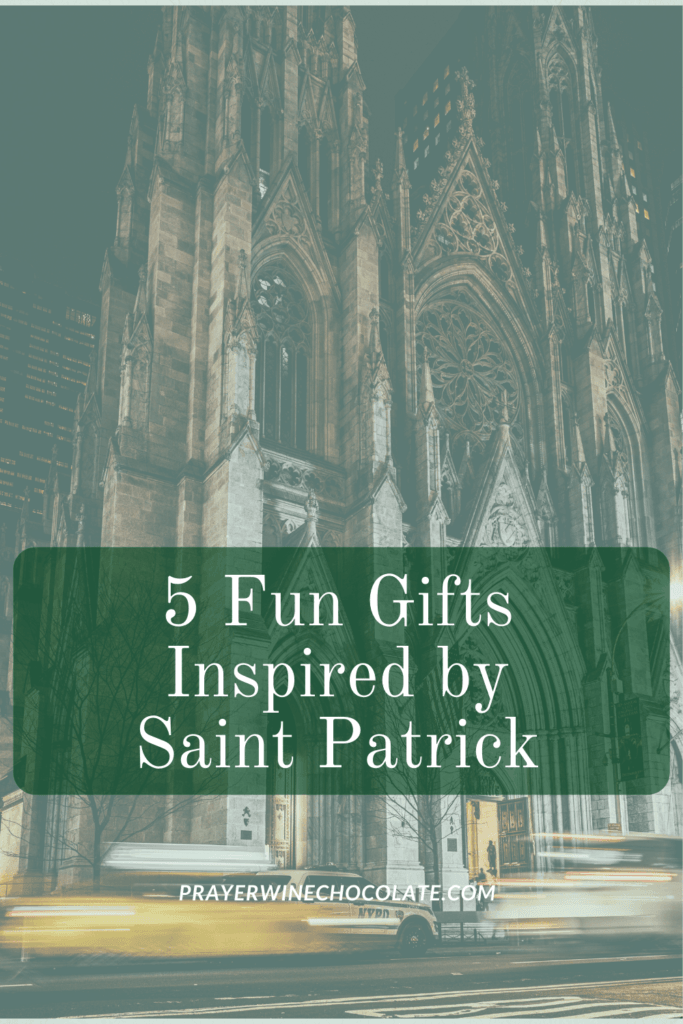 This post contains affiliate or associate links with several businesses (which means if you shop through the links, I earn a small commission). As an Amazon Associate I earn from qualifying purchases.
Saint Patrick is a beloved Saint to many, especially to those of us with some Irish heritage. March 17th has become more than a Catholic holiday as many have embraced it as a secular holiday as well.
This is great opportunity to evangelize and remind the world of a man who loved and lived for Our Lord Jesus. Since most people love to get gifts, gifts are a great way to evangelize!
Here are some fun Saint Patrick inspired Catholic gifts!
Saint Patrick themed Toys!
This play dough set!
Saint Patrick's Day Play Dough Kit
This sensory Saint Patrick's Day themed play dough kit encourages independent play for kids and allows for endless creativity and fun. Watch and see their imaginations run wild with this kit!
Another fun option is the Saint Patrick Shining Light Doll!
A Catholic Tee Shirt with a Super Hero Twist!
Saint Patrick – The Original Green Lantern
This t-shirt i- from Nerdy Catholic Tees – "is everything you've dreamed of and more. It feels soft and lightweight, with the right amount of stretch. It's comfortable and flattering for both men and women".
Great for you, your children and your favorite Irish Catholic, these Saint Patrick Socks are fun and practical! We always need socks in our house!
A Saint Patrick Rosary
This Saint Patrick Rosary is made by Refuge Rosaries and I just love the style!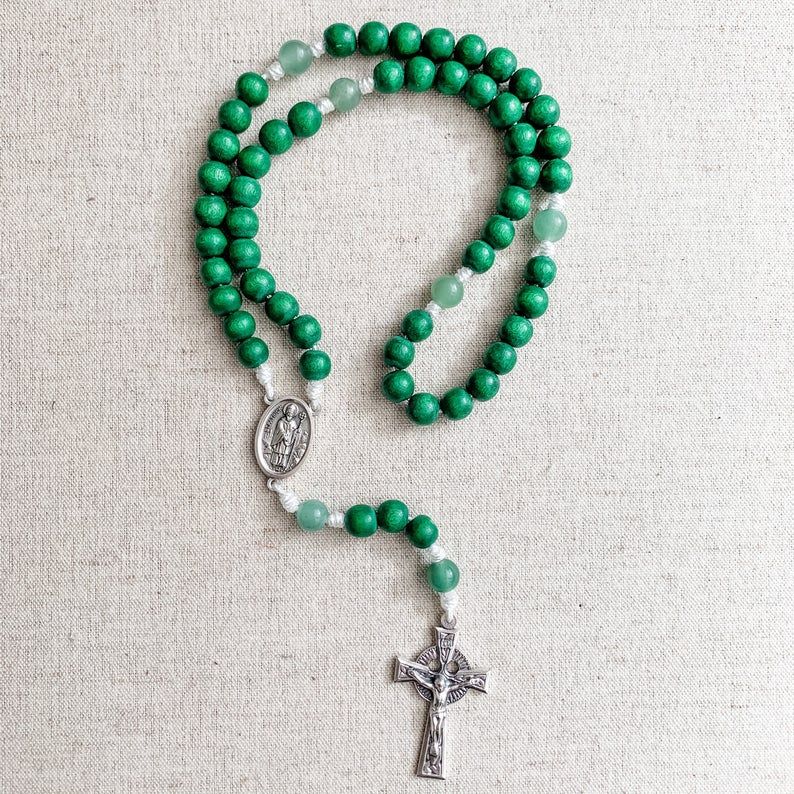 This handcrafted, beautiful, and unique Catholic rosary is made with 8mm green dyed wood beads and 8mm aventurine natural gemstone beads. The beads are strung and knotted on white micro cord (the slimmest type of paracord!) for durability.
The silver tone rosary center depicts Saint Patrick, Patron Saint of Ireland, with Saint Brigid of Ireland on the reverse. The Celtic crucifix is 1.75 inches in length and was made in Italy.
Catholic Jewelry inspired by Saint Patrick
I think these necklaces made by Sagely Sparrow are fun for young Catholics!
This shield necklace is a tribute to St. Patrick's Breastplate prayer and hymn. The masculine style makes a great gift for men, or a confirmation gift for boys, with a devotion to St. Patrick.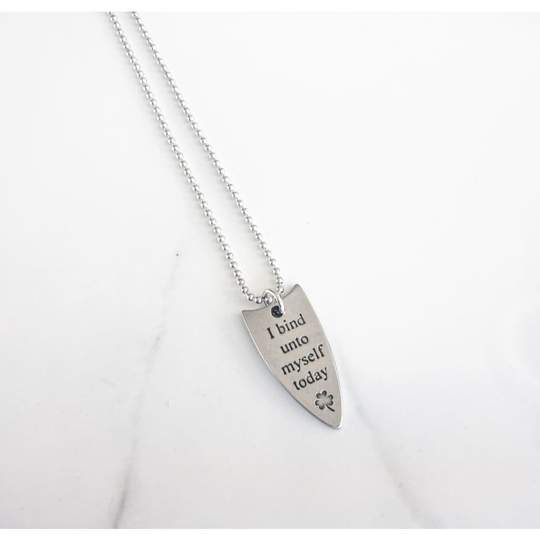 Saint Patrick and Shamrock necklace
This necklace is perfect for St. Patrick's Day and for anyone with a devotion to St. Patrick. It also makes a great Confirmation gift. The chain is 18in long and it contains a silver colored shamrock charm and a St. Patrick medal, made in Italy with the words "PRAY FOR US" on the back. It also has a green faceted glass bead. St. Patrick is the patron of Ireland, engineers, and paralegals, and is often invoked against snake bites. Tradition holds that St. Patrick used the Shamrock to teach about the Holy Trinity.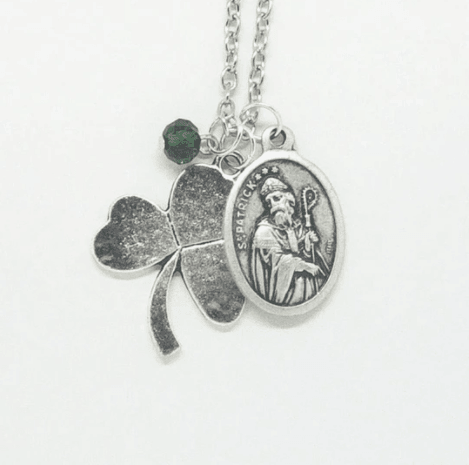 I love both pairs of Clover Earrings over at Gifts by Beth.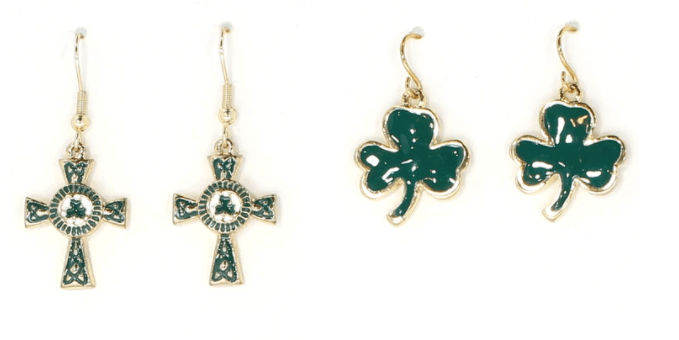 And Telos Art Shop has a Shamrock Trinity Pendant that is really pretty. Add these seafoam earrings (or the green glass wire earrings) just because they are AWESOME!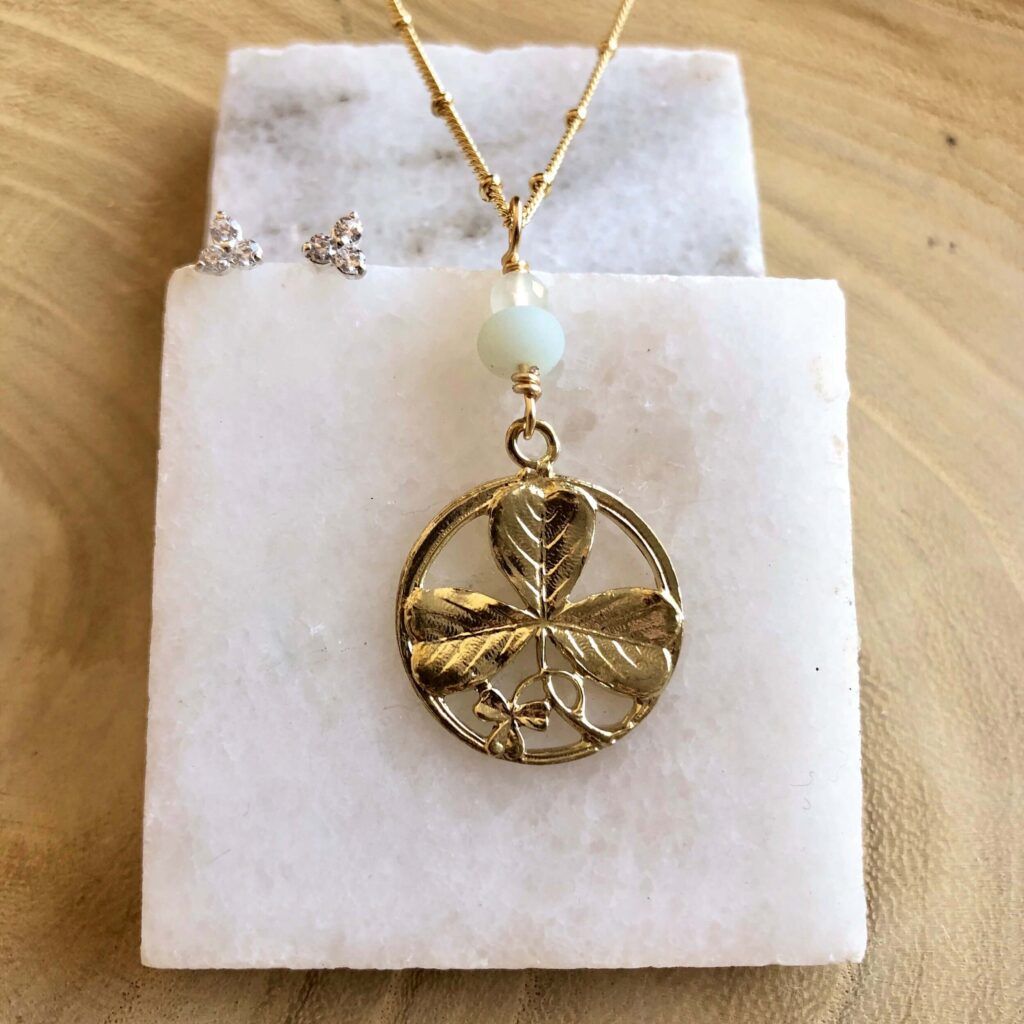 Stunning, 1" yellow bronze Shamrock pendant with optional wire wrapped Amazonite and Jade beads. Perfect for St. Patrick's Day and more importantly as a reminder of the Holy Trinity.
Trinity Earrings sold separately.
The shamrock is a symbol both for the Holy Trinity and St. Patrick (389-461). According to legend, St. Patrick used a shamrock to visualize the mystery of the Trinity, how a single plant with three leaves is analogous to the one Triune God with three separate and distinct Persons (Thurston, H. J., ed., Butler's Lives of the Saints, Vol. 1, 615).
If you like finding awesome Catholic gifts, check out the CatholicsOnline.net Directory!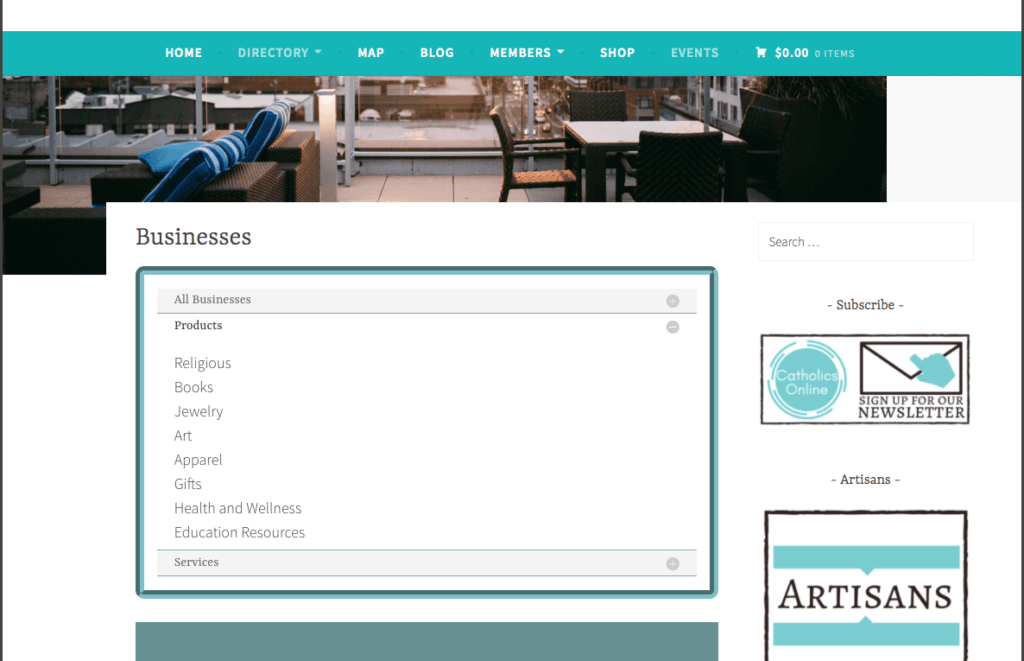 Don't forget to subscribe to Prayer Wine Chocolate so that you never miss a post like this one!