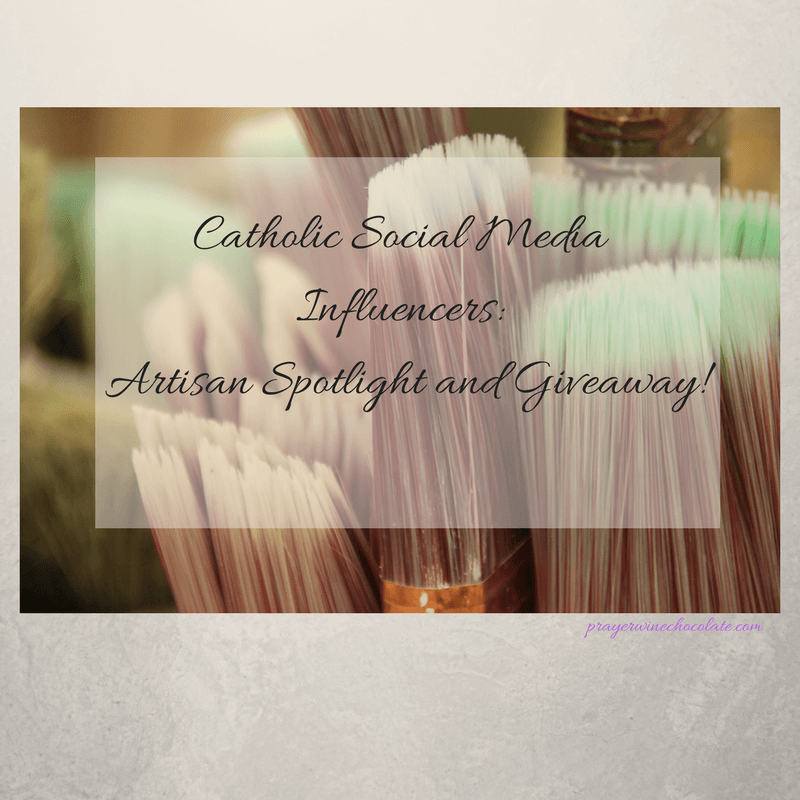 This summer I've been highlighting some truly inspirational accounts on social media.  Seven more social media influencers are not only being introduced in this post – but each has donated an item for one reader to win!  Enter the giveaway to win some beautiful products!  Simply entering will help each person build their businesses!  Thank you so much for your support!  Check out these prizes!!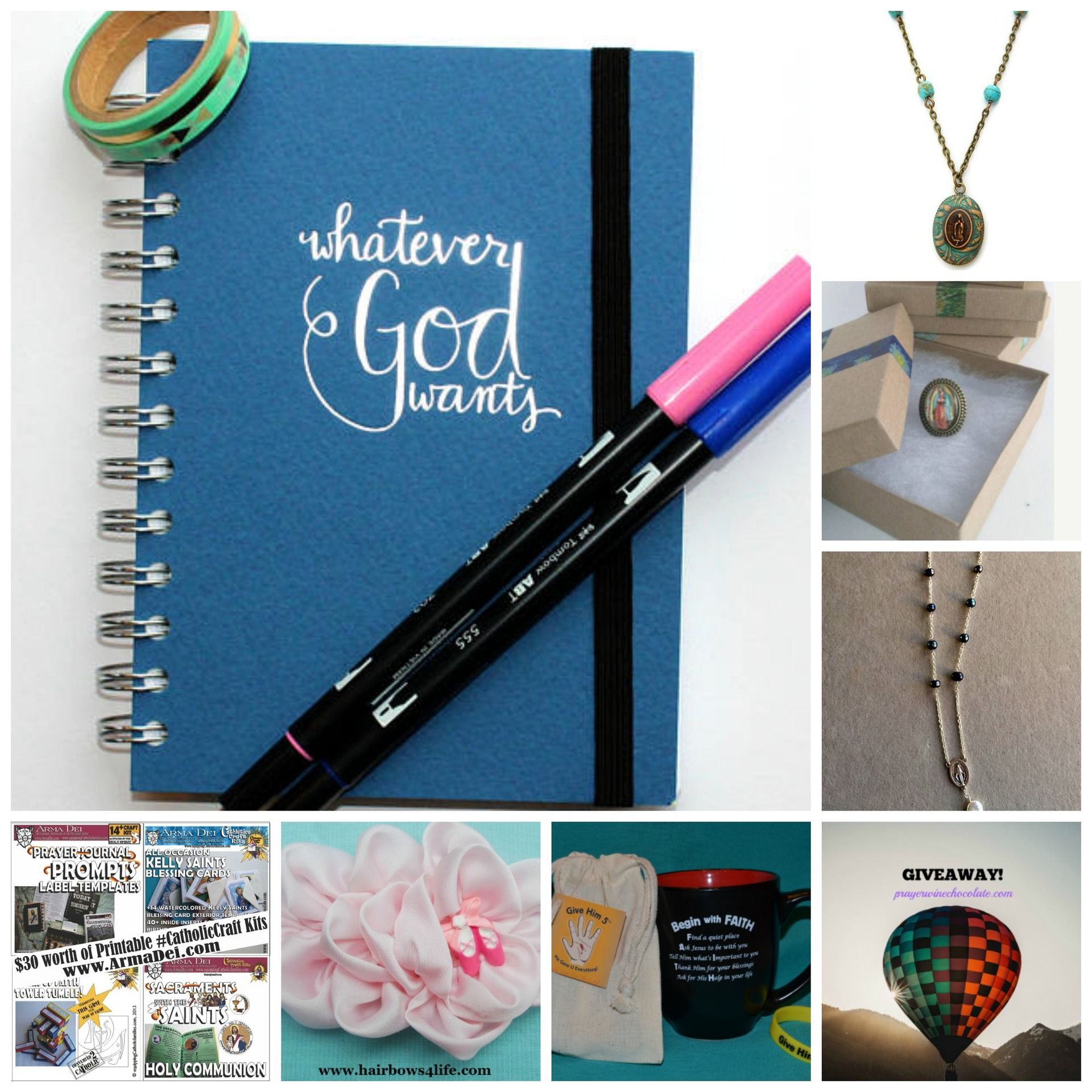 Rose Murnane-Osada
Hi! I'm Rose and I create unique, faith inspired jewelry that combines remnants and relics from bygone eras with stylish, modern designs. You can find my work here: www.etsy.com/shop/RelicsByRose I am a mother of 5 and have a large extended Catholic family. I love learning about our faith, teaching it to my children, and savoring all the rich history of our Catholic faith.   In my "spare time" I started making jewelry out of repurposed vintage and Catholic items. I received boxes of "old junk" from my grandfather that my grandmother had cherished for years. Hundreds of prayer cards with handwritten messages from loved ones and numerous medals on safety pins that I knew had been through more than one World War. I couldn't bear to let them be thrown away. So, I started incorporating them into modern jewelry designs. I love the idea of preserving our Catholic faith and sharing the beauty of it through jewelry.   My little shop is growing as I learn and experiment more with different artistic mediums and ideas.
Where can you be found on social media?
You can find my latest items, behind the scenes shots,
and access to special sales and coupons

at

 
What type of wine is your favorite?
If you are not a wine drinker, let us know and tell us about your favorite beverage.
I'm a white wine drinker- I love a good reisling!
What is your favorite chocolate?
Milky way bar- does that count?
What is your favorite prayer and/or quote?
Too many to choose from! Hail Mary is what I pray most often but I love the memorare as well.
What services do you provide?
I can provide you with any of the jewelry in my shop as well as design custom pieces! I have worked with wedding parties, CCD/prep teachers, RCIA sponsors, and more to help them find the perfect gift for their unique circumstances. Please contact me to discuss how I can serve you with your special requests!
If you are a blogger or shop owner I am also open to suggestions as to how we can work together!
Contact info
Contact me any time through www.etsy.com/shop/relicsbyrose, you can message me through any of my social media handles, or email me at rtm129@hotmail.com.
Michelle Gelineau
Hi! I'm Michelle. I love Jesus! In 2011, I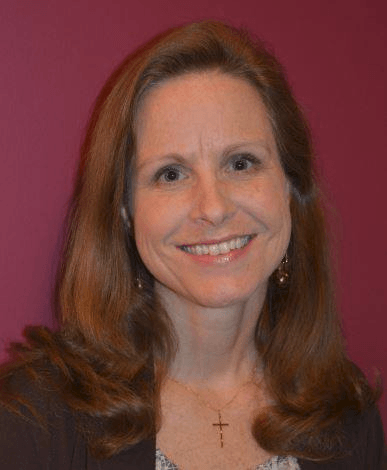 founded Give Him 5 Ministries as a way to offer support and encouragement to adults and children in their walk of faith. Life is too hard without Jesus and I want EVERY– SINGLE – PERSON to have a personal relationship with Him. My faith has changed my life and I want to help others experience that for themselves. I'm a writer, speaker, composer and musician. I listen to the Holy Spirit and try to follow His lead. It makes for a wild ride!
Where can you be found on social media?
What type of wine is your favorite?
It changes by the moment and my mood. I really enjoy an Italian Roscato for relaxing, but give me a steak and I'll have a nice glass of Cabernet Sauvignon.
What is your favorite chocolate?
Dark, with a few nuts and a little caramel thrown in.
What is your favorite prayer and/or quote?
Because your love is better than life, my lips will glorify you.

(Psalm 63:3)
 What services do you provide?
Through the Give Him 5 Ministry, I write words of inspiration and prayer to build you up in your faith and encourage you in the trials of everyday life. I provide support and tools to ignite your prayer life, deepen your relationship with Jesus Christ and to share your faith. I speak at conferences and retreats about how to have a life changing relationship with Christ and I use the gift of music to lead participants closer to the Lord through praise and prayer.
Kids need Jesus too! Give Him 5 also offers fun ways for kids to get started praying and feeling comfortable talking to Jesus.
Contact info: mg@givehim5.net
Monica McConkey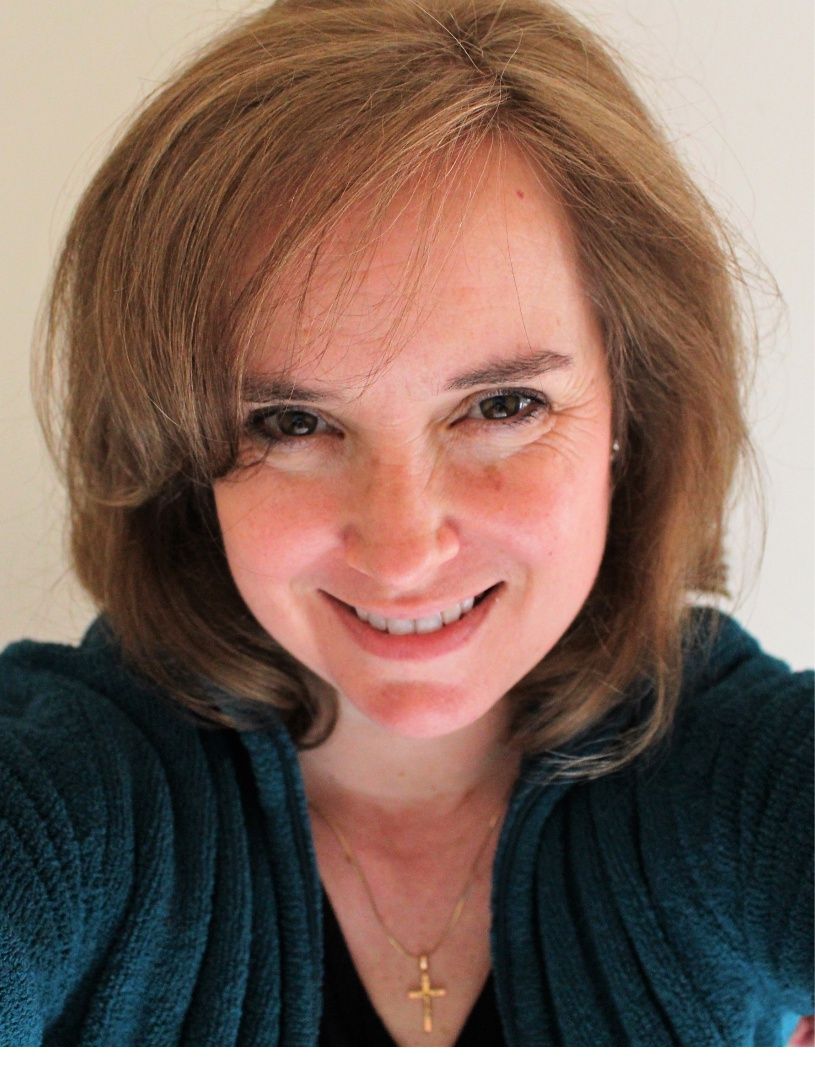 I am a wife, Mom of 5+ kids, a designer, an architecture school survivor, an author and a crafter and I think that we Catholics are so blessed to have this rich deposit of Catholic Faith, teachings and Traditions!
My husband and I founded a Catholic apostolate called Arma Dei in 2001. In 2002, Pope John Paul II was handed my book in a private meeting and we are told that he flipped through the book and said "tell her to keep doing this". Needless to say, we have been creating solid Catholic, fun teaching tools and gifts to celebrate and teach the Faith, ever since.
In addition to a craft book and a faith journal, we have created several decks of quizzing cards (including Super Saints!) and over 40 Catholic craft kits packed with Saints, Sacraments, Catechism and fun.
Where can you be found on social media?
What type of wine is your favorite?
Shiraz or Chardonnay
 What is your favorite chocolate?
All things chocolate. Dark chocolate, milk chocolate, peanut butter and chocolate, chocolate covered almonds, caramel and chocolate, chocolate covered berries, chocolate fondue, Lindt, After Eights, Mars, Snickers, chocolate ice cream, chocolate brownies, chocolate cake…
Anything but Malted Chocolate…is that even chocolate?

What is your favorite prayer and/or quote?
Quote:
St Therese defines sanctity: "a disposition of the heart which makes us humble and small in the Arms of God, conscious of our weakness, and confident to the point of audacity in the Goodness of our Father."
Prayer to St Joseph:
"…O St. Joseph, I never weary contemplating you and Jesus asleep in your arms. I dare not approach while He reposes near your heart.

Press Him in my name and kiss His fine Head for me, and ask Him to return the Kiss when I draw my dying breath."
Favorite Saints: St John Paul II, St Therese, St Padre Pio, St Joseph and Mother Mary
What services do you provide?
Our shoppe, www.ArmaDei.com offers Catechism, Saint, Sacrament and Prayer-packed paper craft kits (available as PDFs), unique and fun quizzing cards, innovative Prayer Journal Stamps, a craft book based on the Liturgical Calendar and a Faith Journal with thoughtful prompts on the seven Sacraments and a budding prayer life.
Our blog, www.equippingCatholicfamilies.com features our Catholic products while offering free crafts, activities and traditions to celebrate the Catholic Faith at home. 
Contact info
Monica McConkey
mmcconkey@rogers.com
Lorelei Worland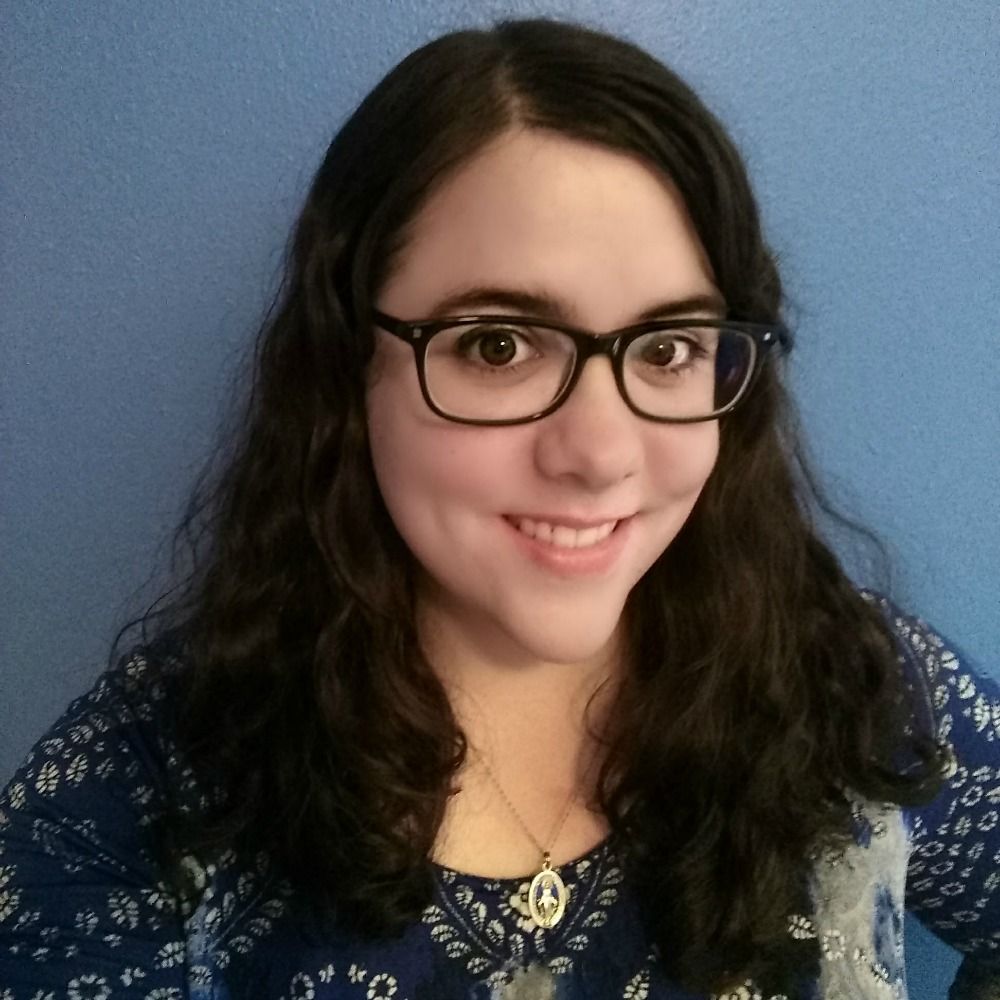 I am a work-at-home-mom to one awesome little guy with autism. I write on my own blog about books, productivity, and everyday faith. What began as a way to rediscover my own interests after 18 months of colic-purgatory has branched out into a small business. It turns out that others love words (book quotes, Saint quotes, snappy quotes, latin mottos) just as much as I do! I offer digital art prints and jewelry with words on Etsy.
Where can you be found on social media?
Check out the ring you could win if you enter the Giveaway! Our Lady of Guadalupe Ring
What type of wine is your favorite?
Moscato d'Asti because it's sweet and bubbly.
What is your favorite chocolate?
I love M&Ms because they are portable and sneakable. Perfect for moms.
What is your favorite prayer and/or quote?
Psalm 34:19
"The LORD is close to the brokenhearted, saves those whose spirit is crushed."
It became my go-to prayer during our infertility journey.
What services do you provide?
I offer custom prints and jewelry through my Etsy shop. Just convo me there to get the process started.
Contact info
Lorelei @ BooksFaithLife.com
Elayne Miller
I'm a wife, mother, teacher, and artist. I stay at home with my toddler son and teach high school math online. I create Catholic cards and goods with hand-lettered designs for my small business, Annunciation Designs. See my shop on Etsy, annunciationdesigns.etsy.com
Where can you be found on social media?
Facebook:www.facebook.com/annunciationdesigns
Instagram: www.Instagram.com/annunciationdesigns
What type of wine is your favorite?
My favorite wine Riesling, or maybe Pinot Grigio. Although, if I have the choice, I'll take an oatmeal stout instead.
What is your favorite chocolate?
Dark chocolate, especially with caramel.
What is your favorite prayer and/or quote?
My favorite prayer is the Prayer for Generosity by St. Ignatius of Loyola.
Prayer for generosity

Saint Ignatius of Loyola (1491–1556)

Lord, teach me to be generous. 

Teach me to serve you as you deserve; 
to give and not to count the cost;
to fight and not to heed the wounds; 
to toil and not to seek for rest; 
to labor and not to ask for reward 
save that of knowing that I do your will.
What services do you provide?
Beyond the items in my shop, I love to create custom hand-lettered designs! Contact me for pricing info and to get started on your unique print, logo, shirt design, etc.
Contact info
Maria Victoria
I am a stay at home mom of four soon to be five lovely kiddos. I am very passionate about my Catholic faith! I love the beauty, richness, truth and boldness of Catholicism and I try to express that through my work. Every piece that I create leaves with a piece of my heart with it. I try to create unique items that honor our faith as well as encourage us to live out our Catholicism boldly and proudly!
Where can you be found on social media?
on Pinterest as FAITHCRAFTS. You can also contact me or view my current offerings on my Etsy Shop at www.avemariafaithcrafts.etsy.com
What type of wine is your favorite?
My favorite wines are any sweet and semi-sweet wine, both red and white. My absolute go to are Stella Rosa wines and The Chocolate Shop wine. I am n to a fan of super dry wines.
What is your favorite chocolate?
Semi dark chocolate is my absolute favorite. There is a world renowned fine chocolatier (DeBrands fine chocolates) where I live, and ANY of their chocolate confections are absolutely divine! My absolute fave is their Truffle Collection. So decadent! However, I will never say not to Hershey's and Nutella!
What is your favorite prayer and/or quote?
My favorite prayer besides the Rosary is the Prayer of Saint Francis. As for quotes, it is so very difficult to pick just one! In fact, that's how my collection of Saints&Sayings came to be! Two come to mind right now:
"Holiness is not for wimps, and the cross is not optional but a requirement." -Mother Angelica.

 "The devil may have its hour but God will have His day." -Venerable Fulton Sheen
What services do you provide?
I create unique Rosaries, beautiful and practical Catholic jewelry and gifts. I love making custom pieces! it is my absolute favorite thing is bringing customer's ideas to fruition! Some of my most beloved and popular items have come from the inspiration my clients provide.
Contact info
I can be contacted by email at faithcrafts@hotmail.com or through the message features on my FB and IG pages as well as my Etsy Shop.
Cecilia 

Escobedo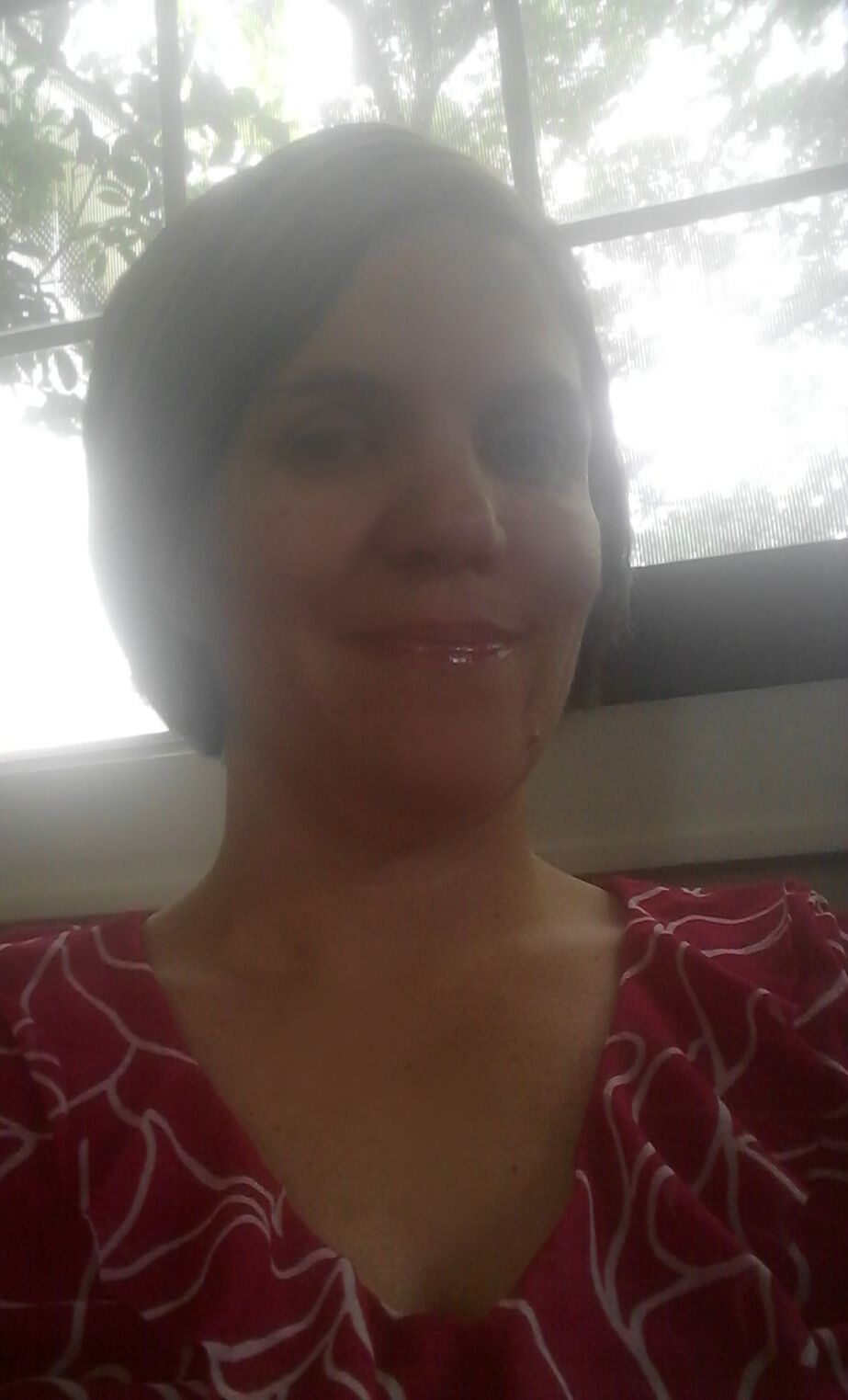 I am a Cuban-American who grew up in South Florida living now in South Mississippi with my husband of almost 16 years , 9 children which I am bless to have 4 of them as saints.  My life is either  homeschooling the kids, walking Leo the corgi, running my online business
Hair Bows 4 Life
 and trying to live my faith to its fullest in truth and beauty.
Where can you be found on social media?
What type of wine is your favorite?
My favorite wine is any type of white or rose, I like them sweet. But I also have a favorite red wine called Baron de Larrauri which is named after my mother's family and made in Spain region of Basque. 
What is your favorite chocolate?
 My favorite chocolate is a dark chocolate especially with a tint of mint. 
What is your favorite prayer and/or quote?
My favorite quote is
" A person's a person no matter how small." Dr.Seuss
and my favorite prayer is the Divine Mercy for Christ's mercy is so full of love and knowing that no sin is greater than His mercy is what helps me get through everyday in a world filled with so much evil. He calls all of us into his arms of mercy, his merciful love is for all!
What services do you provide?
I provide is high quality hair bows made with religious medals such as Our Blessed Mother like Miraculous medal, Fatima, to many different saints.  I also make a pro-life awareness bows made with a golden-plated certs that represents a 10 week unborn baby's feet. 
My hope is to use these bows to bring awareness to sanctity of unborn lives and to the beauty of my Catholic faith. I donate a percentage of each sale to pro-life organizations such as Right to Life, ATTWN, and local pregnancy centers. 
Contact info: Hairbows4life@gmail.com or may reach me at 302-367-5273 . We also organize fundraiser for Catholic schools, pregnancy centers, and other groups using a simple system.
Would you like to win a collection of gifts from these talented artists?  Enter below and best of luck!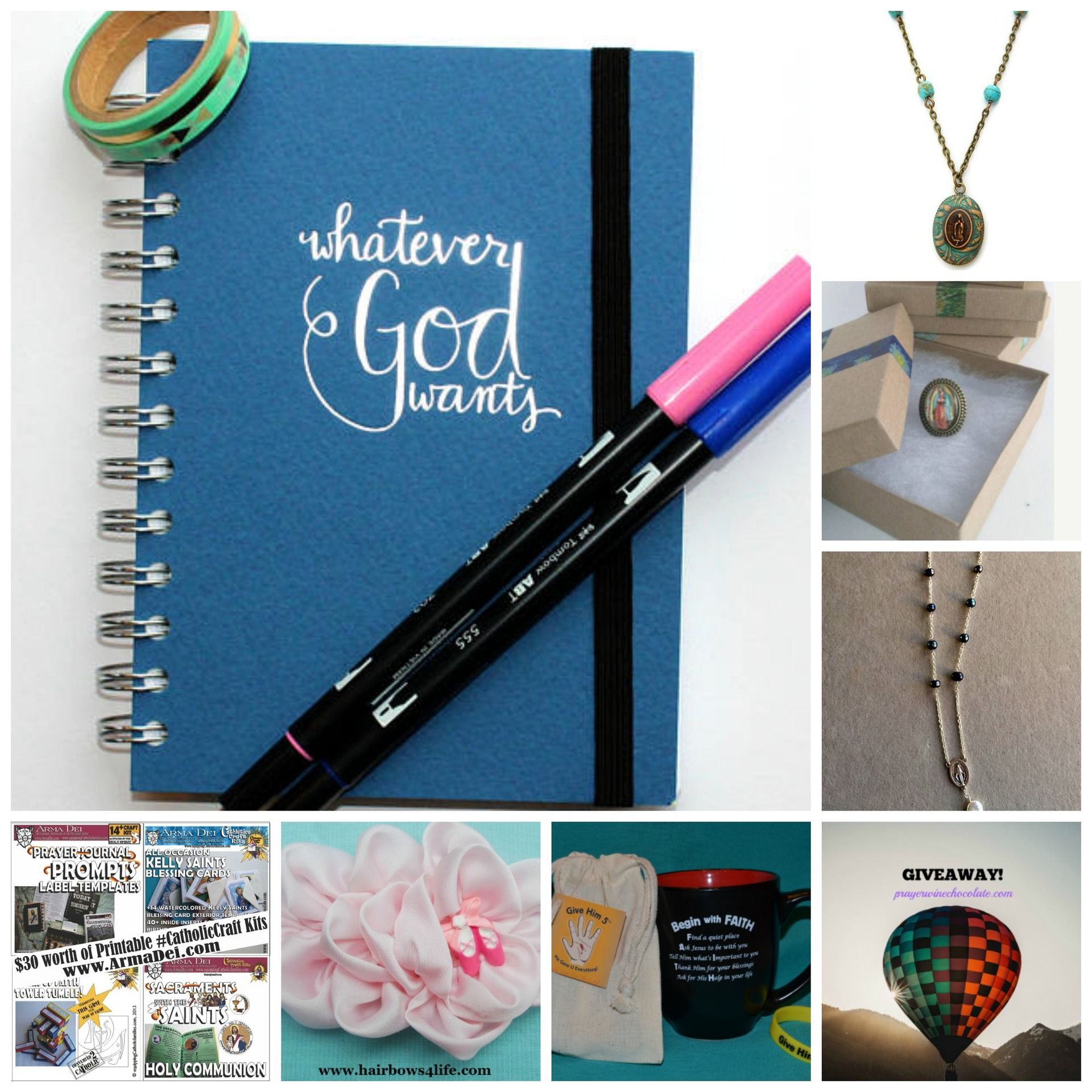 a Rafflecopter giveaway