Are you a Catholic that is hoping and praying to be who God meant you to be?
If your answer is yes, you are invited to the:
First Annual Catholics Online Retreat
"Be who God made you to be and set the world on fire."
– St. Catherine of Siena
Who or what is "Catholics Online"?
In early 2017, Amy Brooks (blogger at prayerwinechocolate.com and author of Be Yourself: A Catholic Journal for Girls), created a group on Facebook titled "Catholic Social Media Influencers".  Amy shared her vision for the group – to promote Catholics sharing their talents online and create a community of support among all Catholic influencers – male or female, blogger or artisan, ministry founder or motivational speaker).
Shortly after creating the group, Amy asked Sara Estabrooks (blogger of To Jesus, Sincerely) to help administrate the group and promote the
mbers in the community.  Sara brought a passion to the group that all members recognized and embraced.  Sara's talent and work ethic made that community grow and Amy's vision of an online directory and resource became a reality.
What is the purpose of CatholicsOnline.net?
CatholicsOnline.net has several purposes and missions:
One purpose of CatholicsOnline.net is to give as many Catholic Influencers as possible a united online platform and supportive community.
Another purpose is to give Catholics across the U.S. and the world a place to peruse talent and resources.  If a parish is looking for a local speaker, a skilled artisan or simply an inspiring read -CatholicsOnline.net provides for that need.
CatholicsOnline also offers social media campaigns to companies that desire more exposure within the Catholic community.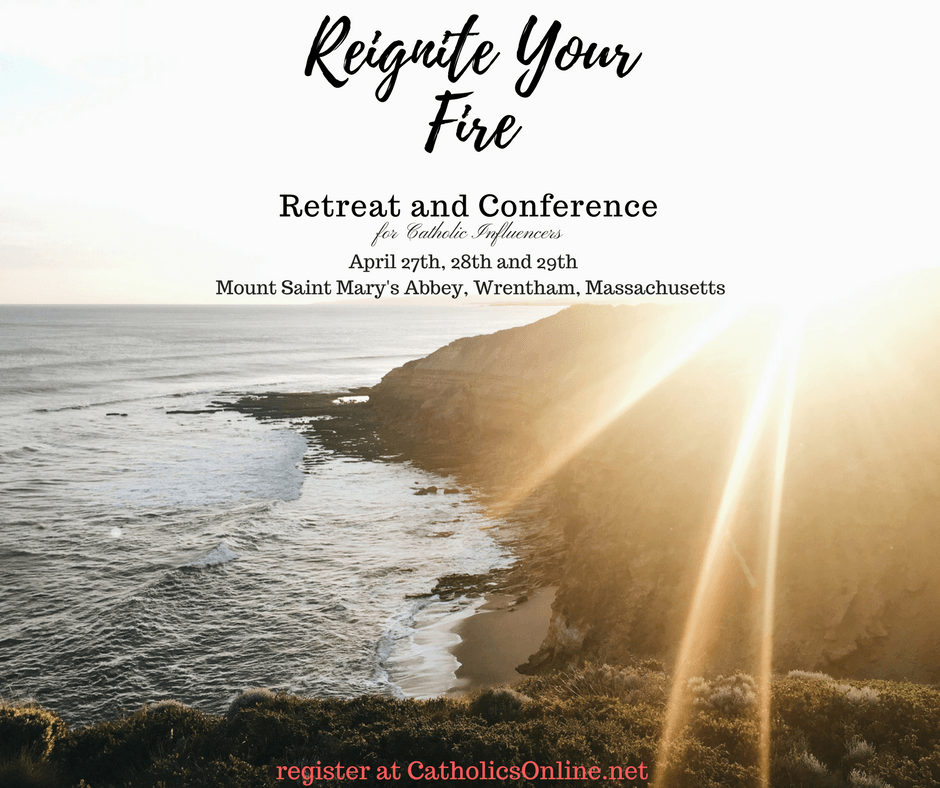 You should attend the CatholicsOnline Retreat/Conference because you have been longing to reignite your fire – your fire for our faith and your fire that drives your mission.
This weekend event will allow you to reconnect with God and shape a plan to let the world know about your mission.
Check out this incredible itinerary:
Is this just for bloggers?
No.  This question has been asked more than once, and we can not stress enough how much we desire to promote Catholics with a mission.
Whether your mission is photography, jewelry making, running a non-profit, vlogging or speaking – this group and retreat is perfect for you.
How do I register?
Click here and sign up! Registration will be closing soon, so please don't wait!
This retreat is being held at the McMahon Retreat House in Wrentham, Massachusets.
The McMahon Retreat House is located on the grounds of Mount Saint Mary's Abbey. This Abbey is home to close to fifty nuns of the Order of Cistercians of the Strict Observance, more commonly known as Trappistines. The Order was founded in 1098 at Citeaux, France and is now comprised of monks and nuns who live in over one hundred and seventy monasteries throughout the world. Trappistine Quality Candy, is the candy making industry that allows this community to be self-supporting. Through this work the Trappistine nuns are able to share with the poor and supports the communal life, giving Sisters the opportunity to work together for the common good. Through both prayer and effort, community members regardless of age can actively participate in this 'labor of love'.
We will be praying with these sisters for part of the Retreat and will be able to purchase their candy from their gift shop!
Retreat attendees and speakers are coming from all over the U.S. and one member is traveling from Panama!  The Reignite Your Fire Retreat and Conference is being held April 27 – 29 (see agenda above).  CatholicsOnline.net would like to thank the Sisters of Trappistine Quality Candy who have offered their mansion for our event.
Are you considering joining us?  Trust that God will provide . . .
We are looking forward to praying and growing with you!

You can follow Catholics Online on
and