This post contains affiliate links; the About Me page has more details.
Adoption is a beautiful, life giving option for a woman facing a pregnancy that she did not plan.
 Adoption, however, is most often not an easy choice.
As a woman who became a mother through the miracle and blessing of adoption, my heart has a special place for all birthparents – and potential birthparents.
Whether you adopted through an agency or plan to adopt privately; I ask you to be an advocate for birthmothers and birthfathers. Particularly, your child's or children's birthparents.
As I reflect on our son's birthparents, I pray they are doing well.  I hope we connect at some point in the future.  My heart is forever grateful for the decision they made and for the son they gave us. I'm thankful for the adoption agency that brought us together.
As I consider the hope my husband and I have to adopt again; I have been thinking of ways I can help the woman who chooses to make an adoption plan with us.  I not only want her to take the lead in an open adoption plan – I also want to do my best to help her have all the resources and support that she needs.
5 Ways we can support birthmothers:
1. Pray
Another adoptive mother gave me the advice to pray for our child's birthmother before we even meet.  I pray for my son's birthparents frequently.  I pray that they are doing well, and that they have peace in their hearts and minds.  It's a little more challenging for me to pray for someone I have not yet met, but I think it is a wonderful idea.  A simple prayer, "Dear Lord, please comfort, guide and bless our future child's birthmother" is a great start to a future relationship. I recently read a quote that stated: "There are many ways to help people but one of the most effective is to pray for them."
2. Volunteer
Find a crisis pregnancy center or a Pro-Life group near your home that helps women choose life over abortion.  This work is more than gratifying.  It's amazing how many people give their time and resources to help women choose life.  It is incredibly helpful to educate ourselves about what help is out there.  If a woman reaches out to us as potential adoptive parents, I want her to know that if she does truly feel called to parent, that there are resources available to her.  If she feels called to place her baby with an adoptive family, I know there is a place near me that will embrace her before and after birth. A Baby's Breath Crisis Pregnancy Center helps women set goals and achieve them, connect them with resources and other support groups, and help women feel the love they deserve. There are so many other pro-life groups that are eager to do the same.  Get involved.  If we don't work towards a culture of life, who will?
3. Speak Up about Adoption
When a young woman considers an adoption plan, there are often nurses, family members and social workers that will respond to that young woman in a negative way, and in a manner that makes her feel ashamed.  Many people are unfamiliar with anyone who has ever adopted or placed a child for adoption.  Many still picture the days of a baby being taken away so quickly that the biological mom didn't get to hold her newborn.  Open adoption is a concept many people do not understand.
The good news is that you can speak up about adoption without feeling preachy or awkward.  Are you on social media?   Like BraveLove on Facebook; follow  Birthmom Buds on Twitter; and TalkAboutAdoption on Instagram.  When you see these organizations post something that tugs your heart strings, share it with others.
Are you a teacher?  Do you have school age children?  Invite organizations like Adoption is a Loving Option to come and speak at your school.
Feel like those options don't work for you?  Want to do more?  Buy a shirt from Rock for Life and wear it often!
4. Connect Expectant Mothers with Birthmothers
I love the organization  Talk About Adoption.  I am just getting familiar with it and it's founder, Callie Jett – but I can tell you now – I am a huge fan!  A woman considering an adoption plan for her baby can connect with women who have chosen adoption before she commits to a plan and makes a final decision.  What a great opportunity Talk About Adoption provides to women – the chance to speak with someone who has been in her shoes. This organization does more than provide birthmother mentors; but this service is a great way to support a potential birthmother.
5. Connect Birthmothers with Organizations that are just for them
There are a number of organizations that provide support, friendship, peer counseling and resources to women considering an adoption plan and to women who have made adoption plans.  Consider sharing information about the following with your child's birthparents:
Technically BraveLove does not provide services directly to birth mothers. Instead they create pro-adoption media campaigns, broadcast hopeful adoption stories, and deliver life-changing resources to pregnancy centers and maternity service providers nationwide.
However, just recently, BraveLove hosted five birth mother dinners in five different cities across the US. These dinners allow women to simply connect and recognize that they are not alone. There's something powerful about sitting around the table with people who have walked in your shoes and just get it. It's a safe place where tears are welcomed, laughter is encouraged, but overall there's no judgement. This year, BraveLove planned the dinners on November 1st to kick off National Adoption Month and honor birth mothers since adoption starts with her. The next dinner has not been scheduled yet, but to find out future dinner dates follow us on social media or check out our event calendar.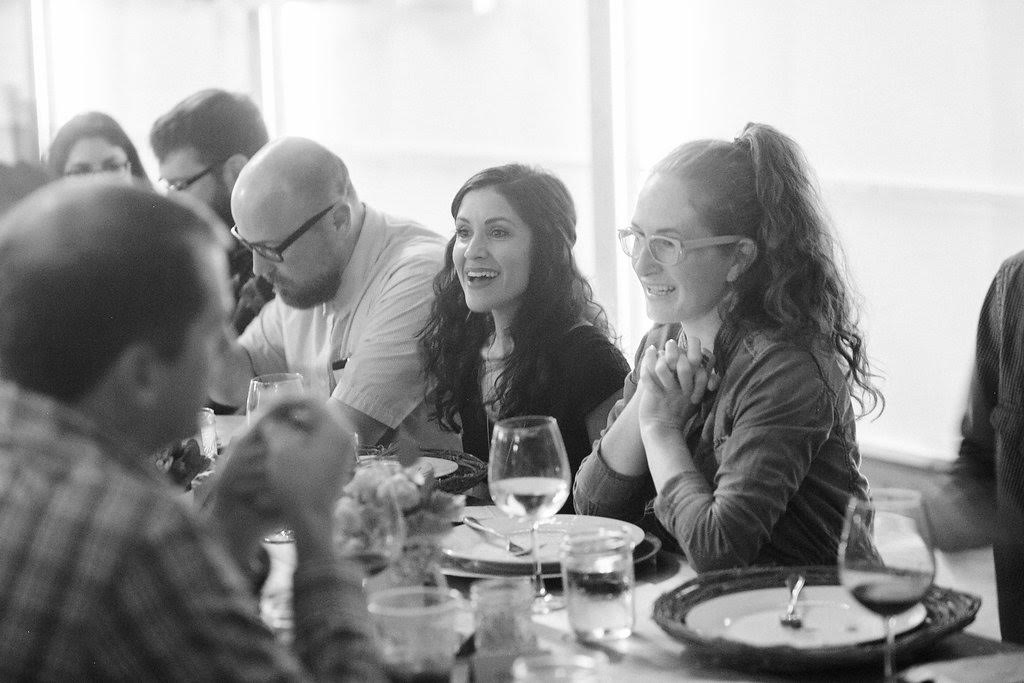 I learned about this organization when an adoptee – who is also a birthmother – reached out to me through a Facebook message.  Part of what she told me was:
Hello! I've enjoyed following you as a fellow Catholic mom and as I have also been touched by adoption, both as an adoptee myself and a birth mother to a beautiful young girl. Your recent post about going live caught my eye, and your comment about adopting without an agency has been on my mind today. As a birthmom, post placement was incredibly difficult. I was grieving a loss of a child I carried and placed for adoption in her best interests. We have an amazing open adoption, but the navigation of this relationship was difficult even with the facilitation of an adoption agency for support. The post placement journey is often incredibly difficult for birthmothers, particularly those who have placed without an agency or with an agency who don't provide adequate post-placement support (interestingly enough, many agencies claim to provide post-placement care but do not have any resources). "
Lifetime Healing has the goal of having a support group every 30 miles coast to coast, available for women at ANY stage post-adoption-whether it's 10 days or 30 years!  Visit Lifetime Healing to find a certified support group!
BirthMom Buds provides support, peer counseling, care packages and retreats to women considering adoption and to women who have placed a baby with an adoptive family.
From the time a woman is considering an adoption plan, this organization provides emotional peer support from women who are birthparents.  Once the mother relinquishes her child to an adoptive family, Birthmom Buds will send a care package to help comfort, offer support and let the birthmother know she is not alone.
Birthmom Buds has a Buddy System which pairs birthmothers together so than can support one another and heal together.  Birthmom Buds also holds an annual retreat for Birthmothers only.  This retreat is held the weekend before Mother's Day and provides attendees with breakout sessions to learn how to cope as a birthmother, opportunities to meet and make birthmom friends, and much more.
Birthmom Buds currently has three chapters which allow birthmoms to meet in person. These chapters are located in New England, Tennessee and North Carolina.
Life After Placement was formed to support birthmothers. This organization was formed to help birthmothers deal with the trials and issues that they face as life for both them and their child moves on. Since the founder and members feel birth mothers have a need to move their lives past placement and look forward, they avoid any interaction with adoption agencies. Only birth mothers are members.
Currently, Life After Placement holds monthly meetings in West Jordan, UT. They also Skype if a birth mother would like to join who is not able to make the in-person event. As the organization grows, we will seek to have more local meetings in other areas. 
These are just some of the organizations that support birthmothers.
Do you have an open adoption?  What advice do you have for potential adoptive parents?