This post contains affiliate or associate links with several businesses (which means if you shop through the links, I earn a small commission). As an Amazon Associate I earn from qualifying purchases.
I'm starting to get excited about what I'm putting in my children's Easter baskets, and I really want to share my awesome find with you!
Some of these gifts are great to give Godchildren, nieces and nephews that you gather with on Easter Sunday too!
I love so many gifts that I divided them into 3 categories:
Catholic Books (includes coloring books, journals, fiction, non-fiction, picture books, etc.)
Toys – The Holy Spirit is truly inspiring creative Catholics, these gifts are so fun! Some are priced low, others are more of an investment. All of them deserve 5 STARS!
Candy – I mean, it is an Easter Basket.
I am leaving out apparel and jewelry for this one. So, this is geared more for children. If you are looking for gifts under age 3, make sure you check out Catholic Easter Basket Ideas for Babies and Toddlers.
Catholic Books are perfect for Easter Baskets
My 4 year old daughter will be getting a Shining Lights Coloring Book and God the Father and the Best Day Ever by Gracie Jagla!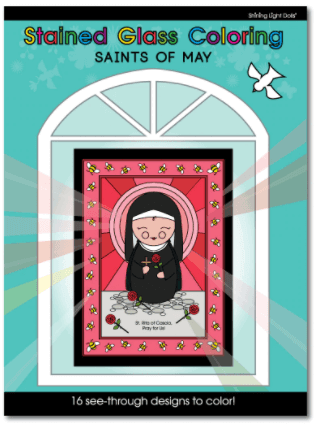 We already have Lily Lolek, Future Saint – but if you don't, this is a great Easter Basket Book!
My 4-year-old son is getting The Beggar and the Bluebird
We love are Listening for God and this book is so great for pre-schoolers – if you don't have it, it's a great Easter gift book!
9 year old son: ACTION BIBLE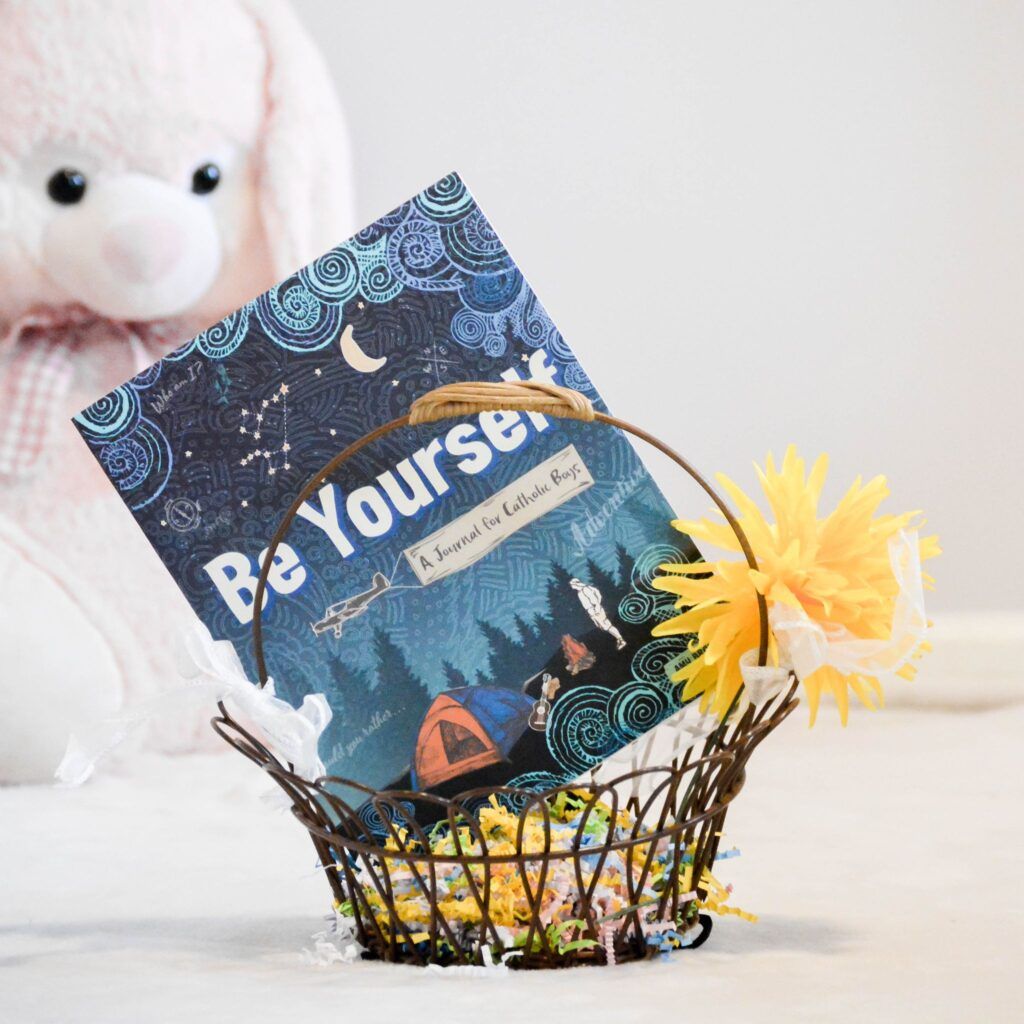 (He's been using Be Yourself: A Journal for Catholic Boys this Lent – another great Easter basket stuffer for boys 9 to 13!)
This has been a sweet bonding experience for my son and I. If you are trying to get up early to pray, inviting your son to join you with this book is really a beautiful way to grow in holiness together!
I love the coloring book HAPPY EASTER COLORING PAGES! We have gotten this before and would order over and over again! You can even order the downloadable/print yourself version on Etsy!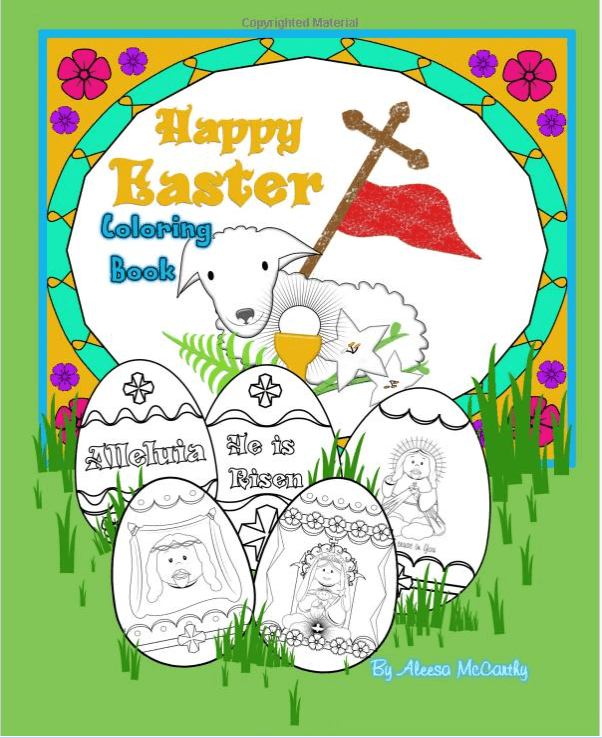 For readers in grades 2 – 5 . . .we love the Sisters of the Last Straw books!
Be Yourself: A Journal for Catholic Girls is a great Easter Basket gift for young ladies ages 9 through 14. In fact, one mother wrote a review on Amazon that states:
"I got this for my 10 yr old daughter's Easter basket. She immediately was attracted to it. Later, she came to me and said that it was her favorite item in her basket. . . ."
Catholic Toys that are Modern and Relevant
All 3 of my children are getting Slap Bracelets from No Heart Untouched!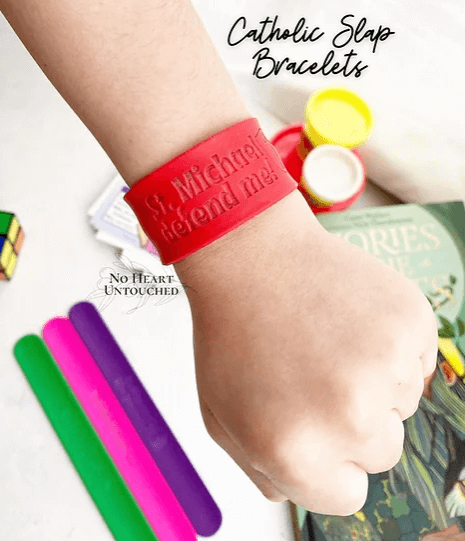 These Catholic Slap bracelets are such a fun way to show the faith! I have a feeling my 3 children will be slapping them on all day. I'll have to make a rule that they can only slap them on themselves – but I am sure they will all enjoy them!!! I ordered an extra one for my Goddaughter too!
Saintly Heart has a brand new Easter playset!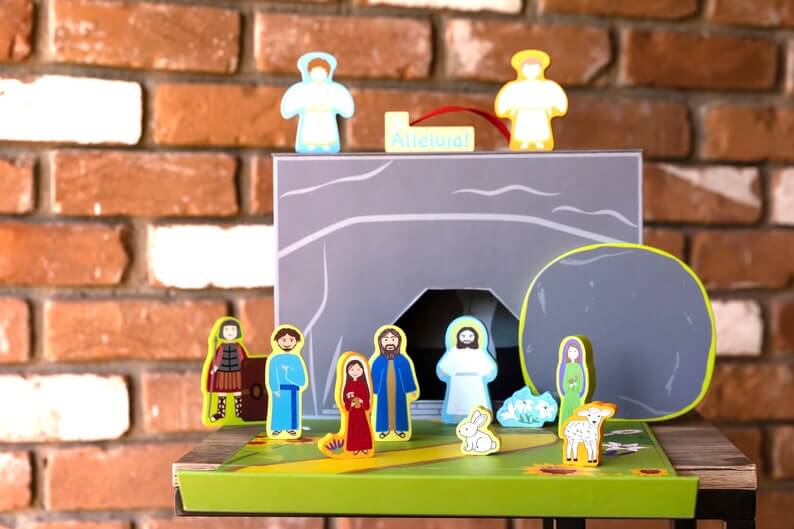 My daughter loves temporary tattoos, and Saintly Heart also has a special Easter tattoo pack!
Shining Light Dolls have these adorable "stuffies" that not only make for great play but decorate a bedroom with grace and style. My 4 year old twins play with "stuffies" all the time. I'm happy to add our faith to the mix!
My 4 year-old son is getting the new Catholic Church Alpha-Wet Water Reveal Cards.
These paint with water cards and books have always been popular in our house – with both sons! I'm excited to give this new product this year.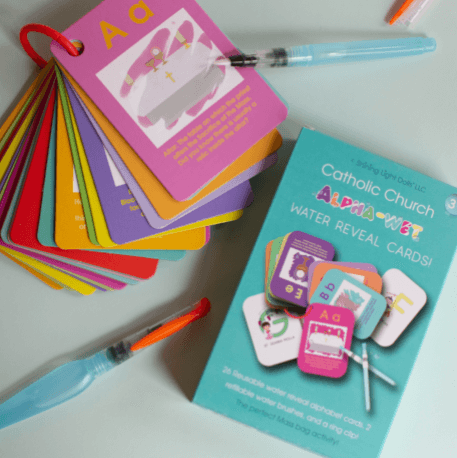 I'm ordering the mini Mary and Joseph doll – possibly several!
The original Shining Light Dolls are great for toddlers and babies because they are safe and unique.
We've been slowly building to our wooden block collection with these beautiful blocks from Almond Rod Toys.
When we pray a family Rosary, we let our 4 year olds color or play with blocks. With each holiday we've added a few more religious blocks and I love seeing that Almond Rod Toys makes blocks with each Mystery of the Rosary illustrated and described. Getting just one decade is an option – or even Stations of the Cross blocks!
Chocolate Candy Made With Prayer
Instead of getting a big chocolate bunny from a local store, order these BIG Chocolate Bunny Pops made with love and prayer from the Trappistine Quality Candy nuns!
The Nuns of Mount Saint Mary's Abbey run this candy making industry so they can support themselves and share with the poor. This work also supports the communal life, giving the Sisters the opportunity to work together for the common good. Through both prayer and effort, community members regardless of age can actively participate in this 'labor of love'.
And I might add, the chocolate does taste heavenly!
Catholic Baby Easter Baskets
If you are looking for ideas for babies and toddlers, I just wrote this post over at Catholics Online!
Catholic Easter Baskets for Babies and Toddlers
So many cute options!!!
We also have more ideas for all ages in this brand new Sacrament Gift Catalog! Get it for free here:
Interested in getting my next post delivered to your email address?
Let's stay connected! Sign up for my newsletter here: