Pope Francis, in my opinion, is a rock star.
I love that he chose the name Francis.  I love that he constantly asks us to pray for him.  I love that he exudes hope and inspires us to love more, judge less.
Since Pope Francis has declared this a year of Mercy, I want to reflect on that word and topic, and grow spiritually from it.
When I first heard of this "Year of Mercy", it translated in my mind to "year of forgiveness".  I immediately thought, I can forgive people pretty easily . . . if they say "I'm sorry".  Forgiving people who don't say that . . . well that's a whole other ball game.  It's definitely something I need to work on personally and spiritually.
But Mercy is not only forgiveness.  Somewhere, somehow, I was reminded of the Spiritual and Corporal Works of Mercy.  And like any good Catholic who went to Catholic school from 1st grade through graduate school . . . I forgot them so I had to look them up.  Okay, so maybe not like any good Catholic. But, I'm being honest.  I looked them up.
Now I'm hoping to put them to practice.  One work of Mercy, one week at a time.  In the midst of a very busy, disorganized, chaotic, beautiful, blessed life.
I'm hoping you'll join me.
Each Monday morning I will publish a post about a Work of Mercy.  In the post I will provide some questions to reflect upon and practical ways to carry out this work, all the while keeping in mind that life is already very busy, and most of us can't imagine adding one more thing on the "to do" list. I'm hoping you will join me each Monday morning, perhaps with a coffee or cafe mocha, and think about and reflect on Mercy. I would love to hear your suggestions as well!  It will be easier to know we are doing this together!
I decided to start with the Corporal Works of Mercy.  I chose these because, honestly, they look easier. So without any more jibber jabber . . . here we go:
The first Corporal Work of Mercy is "Feed the Hungry"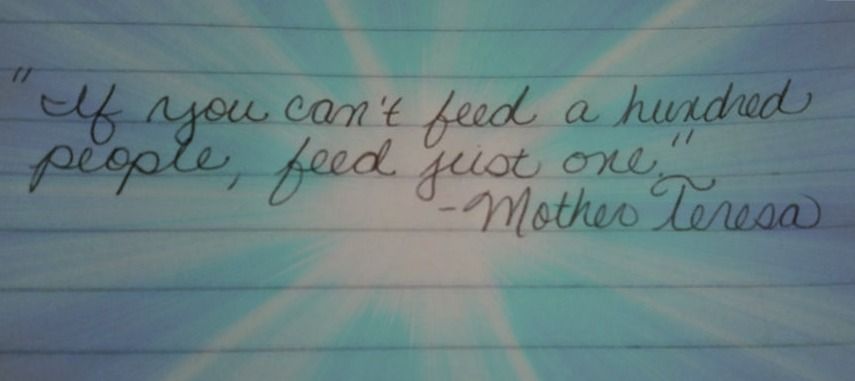 Here are some ideas written as reflective questions:
Do I cook for myself and my loved ones happily?  Do I prepare food with love or do I go through the motions thinking, why do I have to do this?  Can't he or she feed him or herself?
Do I prepare food because it's the easiest thing to make or because it contains ingredients that will promote health and energy?
Are there people that I should consider inviting over to dinner or bringing a meal to their home?
In what way do I feel compelled to feed hungry strangers?  Would I prefer donating to a food pantry or an international organization; personally visiting a soup kitchen, or making a sandwich for a homeless person?
Here are some ideas I plan on trying this week.  Disclosure: I hate cooking, so this particular work of Mercy is not as easy for me as it is for some of my friends who truly enjoy it!
Ask my husband what he wants for breakfast, lunch and dinner – and then make those meals.
Try making those meals joyfully.
Call our parish or local food pantry and ask if there is any particular food they are in need of . . . and next time I food shop, pick up that item and donate it.
Go a whole day without snacking.  Be grateful I have the option to choose to go a whole day without snacking!
Make a meal large enough that we will have leftovers.  Bring those leftovers to my grandmother or the older couple across the street.
Invite a guest or guests over for dinner.
Write a status on Facebook saying, I'm looking to feed the hungry this week, please inbox me if you know someone in need.
Lastly, I'm not going to get upset with myself if I don't do all of these – let's show ourselves some Mercy too! Can I get an Amen!?
How else can we feed the hungry?
Do you find this work of Mercy easy or a challenge?
If you would like to find more information on the Year of Mercy, check out the following websites: