Giving a gift of faith can be an act of love and spark inspiration.  There are so many talented artisans channeling the gifts God gave them and creating awesome products that not only glorify the Lord, but also fit right in with modern trends.
So, in the spirit of giving . . .
I want to give you some ideas of gifts that you can add on to what you already bought, or be given alone, that really keep Christ in Christmas in a fun and trendy way.
I also want to give you the chance to win free hostess shopping!!!!
I've teamed up with a friend of mine and Christian Bling consultant, Nicole Gibboni and together we are going to give one person who places an order by December 14th some free shopping!
Christian Bling's gift are extra meaningful.   Each piece comes with a story card that explains how it was inspired, most from Scripture verses. Some items can be personalized, and many can be enhanced with a favorite saint medal.  I hope you will consider giving one of these prayerful gifts to one or many people on your list!
When you go to Nicole's boutique (www.ctbling.com/HisGoodness), you will have to
Move your Cursor over "Shop" and Click "What's New"
On the upper left side of the screen, you should see a "Product Search" bar.  Type in the name of the product you would like to purchase.
When you go to make a purchase, type in party number

1825

.  

Once you make your purchase you will be entered to win the hostess free shopping!
Whether you are a Godparent or parent, Aunt or Uncle, sister or brother, daughter or son, student or friend . . . there is a little something for everyone at Christian Bling.
Here are some of my favorites! (you can click on the name of each product to get to Nicole's Christian Bling website, then, follow the directions above)
The Man on Your List
$12.00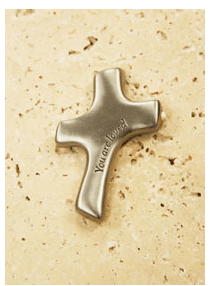 I don't know if you've ever read The Secret or saw the Documentary, but I love the part about how important it is to be grateful in life.  One man tells a story of finding a rock and putting it in his pocket.  He called it his "gratitude rock".  Every time he felt it in his pocket, it reminded him to be grateful.  Another man once noticed it and and asked him about it.  Eventually these "gratitude rocks" were collected, sold as a fundraiser and helped pay for a sick person's medical bills.
The Meditation Palm Cross reminded me of this story. Whether you are shopping for a teenage boy or any adult man, this Cross can serve as a reminder to pray and pray with gratitude.  It is inscribed with the words, 'You are Loved,' Which will be a great reminder that not only does the Lord love the owner, but so does the one who gifted it to him.
Let the words of my mouth and the meditation of my heart be acceptable in Your sight, O LORD, my rock and my Redeemer.   Psalm 19:14
$15.00
These cufflinks are a timeless sign of a man's commitment to Christ.  They are appropriate for any occasion as a reminder that God's merciful grace and generous blessings are reasons for celebration!
But the father said to his slaves, 'Quickly bring out the best robe and put it on him, and put a ring on his hand and sandals on his feet; and bring the fattened calf, kill it, and let us eat and celebrate; for this son of mine was dead and has come to life again; he was lost and has been found.' And they began to celebrate.  Luke 15:22-24
Wife or Mother
$52.00
There are many one decade Rosary bracelets out there; but this bracelet is a gorgeous bracelet – and a full rosary!  I love it!  I'm wearing it right now!  This is the piece that I recommend the most from Christian Bling.  You can get it as is, or,  enhance it with the addition of your favorite saint medal.
Again, if you asked me what my favorite Christian Bling product is – it's Gracious Words.
The thoughts of the wicked are an abomination to the Lord, but gracious words are pure. Proverbs 15:26
$85.00
When I hosted a Christian Bling party as a fundraiser for A Baby's Breath . . . I earned free shopping.  I chose to use my free shopping to gift myself this necklace.  Enhanced with a Miraculous Medal, it's one of the only necklaces I wear!
Remember, God's love is . . . endless!
For great is your love, higher than the heavens, your faithfulness reaches to the skies.   Psalm 108:4
Young Woman
My Friend: Velvet Ribbon Choker
$48.00
These chokers seem to be the most popular jewelry gift out right now.  If your daughter or niece doesn't have one – this is a great "go-to" gift.  Get it blessed before you wrap it for her, and that will make it all the more special.
The slide that holds the cross is pewter plated with 99.9% sterling silver (lead/nickel/zinc free). The adjustable clasp in the back has an extension chain to give you sizing flexibility and comfort.
My command is this: Love each other as I have loved you.  Greater love has no one than this: to lay down one's life for one's friends.  You are my friends if you do what I command.  I no longer call you servants, because a servant does not know his master's business.  Instead, I have called you friends, for everything that I learned from my Father I have made known to you.  John 15:12-15
 Young Girl
$32.00
This is a great stretch bracelet designed to help a little girl of any age celebrate her love for God.  I love all the colors and I think most young girls appreciate the bright and cheery style this bracelet radiates.  Plus, getting jewelry is new for them, and makes them feel very grown up!
May all who seek you rejoice and be glad in you! May those who love your salvation say evermore, 'God is great!' (Psalm 70:4)
Want to learn more about Christian Bling?  Go to Prayer Wine Chocolate's Facebook page and watch the Facebook Live Video titled "Christian Bling with Nicole"!
Which product from Christian Bling is your favorite?  Which one should I have highlighted that I missed?
I hope you find exactly what you are looking for!  Best of luck – can't wait to see who wins the free shopping!
Don't forget to enter these giveaways – and get more gift ideas:
Spiritual Stocking Stuffers for Men
Spiritual Stocking Stuffers for Women