The "Prayer, Wine, Chocolate: Summer Shrine Tour", is winding down.  The latest stop on the tour were the Shrines of Saint Rita of Cascia and Saint John Neumann.  Both of these shrines are located in Philadelphia, Pennsylvania.
Saint Rita, who lived through her husband's murder and both her son's dying of terminal illnesses, has become a patron saint of impossible causes.  She also is known as a great advocate for peace, since she constantly reminded and encouraged her sons to forgive those who killed their father.
Saint John Neumann, who was the fourth Bishop of Philadelphia and the founder of Catholic Schools in America, has become a powerful intercessor for those suffering from cancer. He also founded the Sisters of Saint Francis in Philadelphia, who I researched thoroughly when I pursued my Masters' Degree in History.
Interested in learning more about the Sisters of Saint Francis? Click here:The Truth About Nuns, Healthcare and America
I prayed for all of you that sent me intentions at each of these shrines!
The Highlights of The Saint Rita of Cascia Shrine visit included:
Meeting a reader and new friend Peggy there!  I was so happy Peggy came to visit the shrine with her husband and I got to meet her in person.  Making a new friend is so much fun!

The Saint Crypt inside the Saint Rita Shrine was one of my favorite aspects of the shrine.  So many saints that I love were represented in this small area and I just felt pulled in and inspired to pray.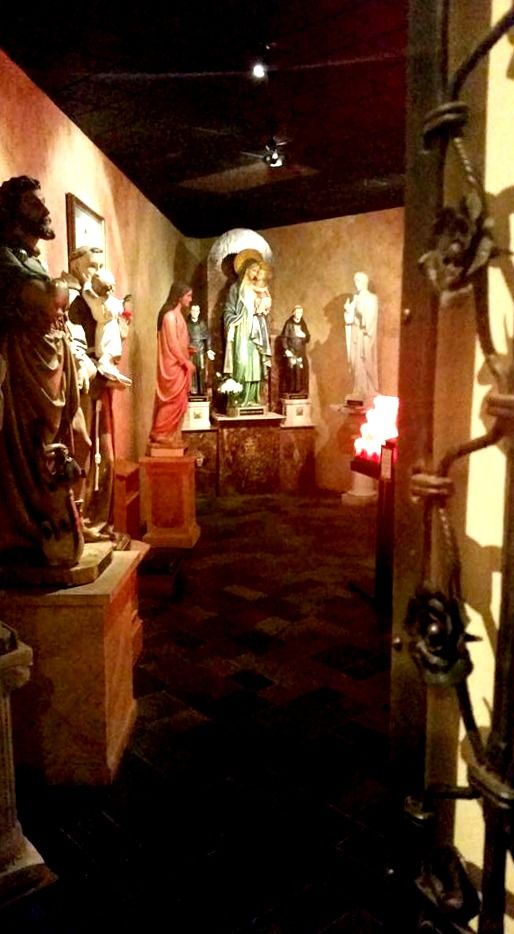 The Mural Painting titled "The Work of Peace" painted by Anthony Visco. This painting covers an entire wall in the shrine and spoke to me personally.  Saint Rita advocated for peace in teaching her sons to forgive the murder of their father, and also

acts as an intercessor for peace for us now.

 For those of us with conflict in our personal relationships – and for those of us hoping and praying for peace in our nation and worldwide – Saint Rita is definitely a person to call upon and ask for help. I also love how the artist included the Philadelphia saints, Katharine Drexel and Bishop John Neumann (bottom right of painting).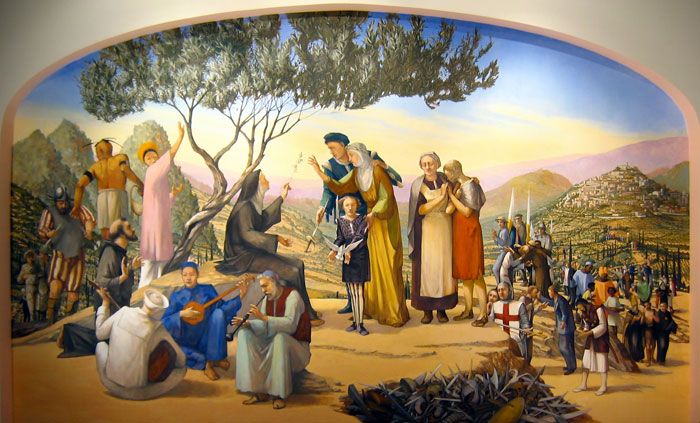 The size of the shrine itself and all it had to offer.  The shrine is in the basement of the main church and is rather large and spacious.  It provides an opportunity to learn about Saint Rita's life and faith.  There is also a beautiful adoration chapel and Holy Doors of Mercy one can walk through.
The beauty of Saint Rita's Church – inside and out.  And the answer to a prayer for my Grandmom – who's name is Rita.  My family had been praying she get into a place that would help her care for herself.  The weekend I visited the shrine, that prayer was answered.  Thank you Saint Rita for your intercession, and thank you Jesus for that answered prayer!

Running into Father Al Santorsola- the priest that officiated my husband and I's wedding ten years ago!  As I was leaving Saint Rita's, someone who was also leaving held the door open for me . . . I looked up, and it was Father Al!  Father Al is working in a suburban parish, but just happened to be visiting his father who lives in South Philadelphia.  It was such a gift to see him – it had been years :).  Again, God's Timing is amazing!
The Highlights of the visit to the Saint John Neumann Shrine included

:
Seeing how much it has changed since my last visit there.  A huge atrium was added and it seemed a lot larger and much busier!  In a time where Catholic parishes and schools in Philadelphia are closing; it is nice to see a place of prayer expanding and growing.
Seeing the Sisters of Saint Francis honored in artwork and the museum.  Saint John Neumann founded their order; and now is a powerful intercessor for those suffering from cancer.  I can't help but think there is a heavenly link there.

Engaging in prayer through the Mass and being inspired to help others.  There was a few needy people I came in contact with their. One woman's sorrow penetrated my own heart as I observed her weep while she prayed.  I am reminded to be thankful for all I have, and need to remember to offer prayers for those who have no one to pray for them.
I hope you are enjoying the shrine posts and videos on https://www.facebook.com/prayerwinechocolate/
Have any of your prayer intentions been answered?  I'd love to hear if the you have an experience of an answered prayer for any intentions you have sent me!
If you feel like you need the help of a patron of "impossible causes"; here is a prayer for Saint Rita's intercession:  (this prayer is found on Christian-Miracles.com)
Prayer to Saint Rita
 (Patroness of Impossible Causes)
O glorious St. Rita, your pleadings before the divine crucifix have been known to grant favors that many would call the impossible. Lovely St. Rita, so humble, so pure, so devoted in your love for thy crucified Jesus, speak on my behalf for my petition which seems so impossible from my humbled position. (Here mention your request ). Be propitious, O glorious St. Rita, to my petition, showing thy power with God on behalf of thy supplicant. Be lavish to me, as thou has been in so many wonderful cases for the greater glory of God. I promise, dear St. Rita, if my petition is granted, to glorify thee, by making known thy favor, to bless and sing thy praises forever. Relying then upon thy merits and power before the Sacred Heart of Jesus I pray.  Amen.
Interested in learning more about Saint Rita and Saint John Neumann?  Check out the following affiliate links!