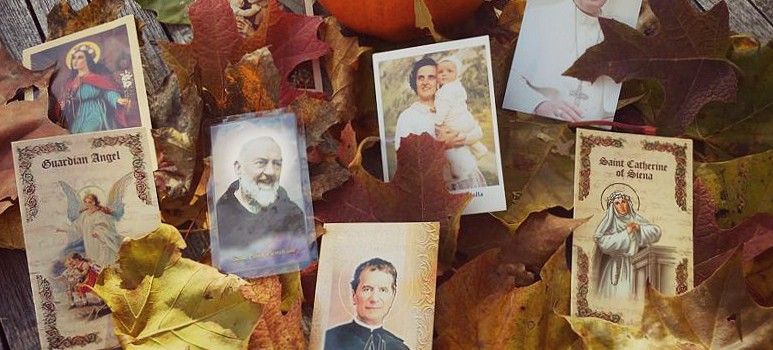 This post contains affiliate links.  Please see my About Me page for more details.
Happy All Saints Day!  I know we live in a fast paced society and we are all extremely busy! Lucky for us, prayers do not have to be lengthy to be meaningful!  There are certain words of wisdom, given to us by the saints, that really strike me.  You know, phrases or quotes that you hear and make you think 'YES" or "THAT IS SO TRUE"!  There are a few that I have thought about this year and they have compelled me to ask the Lord for help in living such wise words.
Here are some words of wisdom and a short, quick prayer to follow:
"Pray, Hope and Don't Worry" – Padre Pio
Dear Lord, Help me to pray without ceasing!  Help me to feel hope in my heart, and help me to not be so easily anxious. Take those worrisome thoughts from me Lord, and replace them with joyful, hopeful ones!  Amen!
"Be who God meant you to be and you will set the world on fire" – St. Catherine of Siena
Dear Lord, Help me to set the world on fire!
"The secret of happiness is to live moment by moment and to thank God for all that He, in His goodness sends us day after day." – Saint Gianna Molla
Dear Lord, Thank you for everything you have done to bring me to this present moment. Help me to live in the present.  Help me to feel your presence, and trust you with my life and challenges.  Help me to embrace this moment and truly feel and spread happiness.  Amen.
"Don't say: 'that person gets on my nerves'; think: 'that person sanctifies me" – Saint Josemaria Escrival
Dear Lord, Help. Please help.
"O Holy Spirit, descend plentifully into my heart.  Enlighten the dark corner of this neglected dwelling and scatter there thy cheerful beams."  St. Augustine
Amen!
"When tempted, invoke your Angel. he is more eager to help you than you are to be helped! Ignore the devil and do not be afraid of him: He trembles and flees at the sight of your Guardian Angel." St. John Bosco
Dear Lord, Thank you for giving me a guardian angel!  Please help me to remember that I can invoke my angel and ask for help.  Help me to not be afraid!  Love you Lord Jesus!  Amen
"I'm always so happy with him, he makes my life very pleasant.  What a holy man my husband is.  I wish the same for all women; that's my wish for them for the New Year." Saint Zelie Martin, telling her brother how much she loves her husband in a letter dated January 1, 1863.
Saint Zelie!  Please pray for my marriage!  Pray that I love my husband and always feel happy with him! Pray that we laugh together often! Saint Louis Martin, please pray for my husband and I to be happier every day!  Amen
"We ought to speak, shout out against injustices, with confidence and without fear.  We proclaim the principles of the Church, the reign of love, without forgetting that it is also a reign of justice." Blessed Miguel Pro
Blessed Miguel, please pray that I be confident and not fearful!  Ask the Lord to help me to know when to shout out! Blessed Miguel, please pray to the Holy Spirit to give me all the right words! Amen.
"Never be in a hurry; do everything quietly and in a calm spirit.  Do not lose your inner peace for anything
whatsoever, even if your whole world seems upset."  Saint Francis De Sales

Dear Lord, so often I lose my inner peace.  So often I am in a hurry and hurrying others.  Please help me to slow down and have a much more quiet spirit.  Please help me to maintain an inner peace, even when I feel hurt or provoked.  Actually, especially when I am hurt or provoked, help me to feel inner peace and remain calm.  In Jesus' name, Amen.
Thank you for reading this . . . o wait . . .
"Pray for me . . . don't forget" Pope Francis
God Bless Pope Francis!  Please Lord Jesus, keep him faithful, joyful and allow him to be an instrument of Your peace to the world.  Give Pope Francis great health, and surround him with people who keep him holy and make him laugh! Please answer his personal prayers and guide him with Your truth and love!  Amen!
I almost forgot to pray for Pope Francis!  Love him!
Remember!  "Prayer is the best armor we have, it is the key which opens the heart of God."  Saint Padre Pio
Do you have a favorite saint quote?  What saint inspires you?  What saint challenges you?  What saint comforts you?  Please share!
If you would like more short prayers – plus a free printable – check out 11 Quick, but Powerful, Prayers
Subscribe to Prayer Wine Chocolate and get 4 free coloring pages!