This adorable young girl is Philomena (aka Phil).
Phil is 7 years old.  She loves soccer and playing with her big brother Mark.  She's also a great joke teller.  In fact, here's her joke from yesterday:
What's a pirate's favorite letter?
Let's get back to her joke later.  This post is a request to all reading it – to please say a prayer for Philomena.  
Philomena's mother, Mina, wants everyone to pray for Phil. Phil's condition is a stage 4 Glioblastoma on her brain stem. Phil's mother is a very faithful Christian. Mina believes in miracles.  Mina has inspired thousands of people to pray for Phil and ask others to Pray for Phil.
I first heard a request for prayers for Phil at a mom's club meeting almost a month ago. After that, I started seeing a few Facebook friends post prayer requests for her.  Then, last night, I saw Philomena's mother's words . . . and that led me to do more.  Mina's faith is inspiring to say the least.  Last night, Mina wrote:
Some will say I'm a "crazy Christian", and that is okay.

As her Mother I will do whatever it takes to save her. If we lived in the time when Jesus walked the earth, I'd physically carry her to his feet and beg him to heal her. The bottom line: ONLY he can heal her. All of your prayers are helping me carry her to his throne and ask for his healing power. I will never stop praying, and I will never stop asking other people to pray for her. It is my mission to have the entire world praying for her.

I realize that time is your most valuable and limited resource. I am eternally grateful, and forever in your debt, for every single prayer you say for her.

PLEASE, I implore you, DO NOT STOP PRAYING!!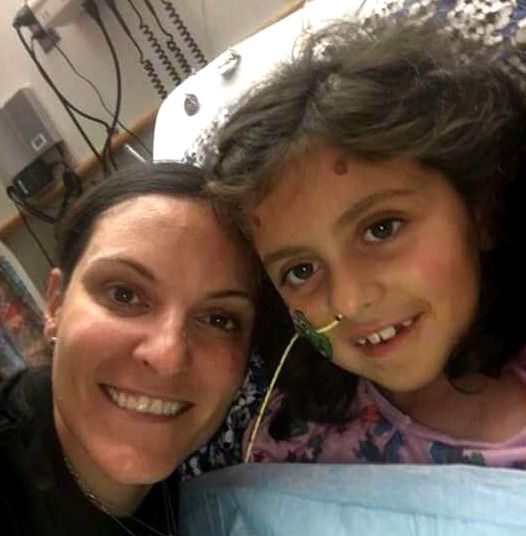 As I read it again, my heart strings are tug pretty fiercely.
What an incredible woman.  What an amazing mother.  What a faithful Christian.
As I continue to talk to Phil's mom, her friend and reading her updates – since now we are friends on Facebook – I came to see more of the miracle already in progress.
I see posts and pictures with Mina tagged that say things like, "I'm not Catholic, I don't go to Church, I hardly ever pray . . . but I beg you to pray with me for Phil.  #stormtheheavens".
As I ask Mina a few more questions about her daughter, I notice she answers a few, but then requests again:
"Don't Stop Praying"
I then assure her that I will pray.
She then requests:
"Don't Stop".
Mina quickly reminds everyone to look up to the Lord.  Through Phil, people who have never or rarely thought about prayer . . . are looking up. Maybe they are just starting a relationship with God . . . or maybe they are renewing a broken one – but there is healing.
That healing will and is extending to Phil.
The Sunday after Phil was diagnosed; a prayer service was planned in less than 2 days.  Over 700 people filled the church to pray.
I can't tell you I have ever seen 700 people in a church.  From the beginning of this incredibly difficult journey for any family, Phil's mother has looked to the Lord with faith and hope.  She is not kidding about her mission to have the whole world pray for her daughter.  In the past 24 hours I have seen pictures of professional athletes and even a letter from the Pope assuring that Phil is in his prayers.
One way you can pray for Phil is to not only pray a personal prayer, but to also seek the intercession of Maria Esperanza de Bianchini whose cause for beatification and canonization opened in 2010.  The family is hoping a miracle of healing will occur for Phil, and that miracle will lead to Maria's canonization.  Below is the prayer:
Novena to Maria Esperanza

O great flower of Betania Maria Esperanza
You were left here as our consolation when Padre Pio was called to high glory in heaven
Your smile lit the way in times of trial and despair
Your courage and wiliness to bear in some part the burdens of our Pope gave us hope
Intercede for us Blessed Maria, that we may not falter in our daily trials
and that we may grow in faith and love for our Lord Jesus through the Blessed Mother Mary
Please Maria grant us our petition as we make it known to you here , CURE PRECIOUS PHILOMENA.

The answer to this prayer will require the intercession of a loved and respected servant or our Lady.
You are the servant Maria. Please hear us and grant this petition.
We promise Maria to make known to all the granting of this request and promise to help
Propagate devotion to you in this regard.
Thank you for listening flower of Betania.
Amen.

Say 1 Our Father, 1 Hail Mary, 1 Glory Be.
Maria Esperanza, pray for us.

O Jesus, full of grace and charity, victim for sinners, so impelled by love for us that You willed to
die on the cross, we humbly beseech You to glorify in heaven and on earth, Maria Esperanza of Venezuela, who generously suffered for Your Sake, and loved you so much and labored so
faithfully for the glory of Your heavenly Father and for the good of souls. With this confidence
we beseech You to grant us, through her intercession, the graces which we ardently desire
(mention request)

Then say one Our Father, one Hail Mary, and one Glory Be
and conclude by saying: Maria Esperanza, pray for us.
Now, back to Phil's joke from yesterday:
Phil: What's a pirate's favorite letter?
I don't know, what's a pirate's favorite letter?
Phil: You might think it's R, but it's the "C"!
You can hear more of Phil's jokes on the Facebook page dedicated to encouraging prayer for Phil: Storm the Heavens
Please honor Phil's mother's request to: Storm the heavens with prayer and
Never. Stop. Praying.
If you would like to learn more about Maria Esperanza, check out this book on Amazon:
Learning about Phil is how I first heard of her – now I am curious.
Please leave a comment/prayer for Phil!  The amount of hope it gives her family can not be put into words!!!