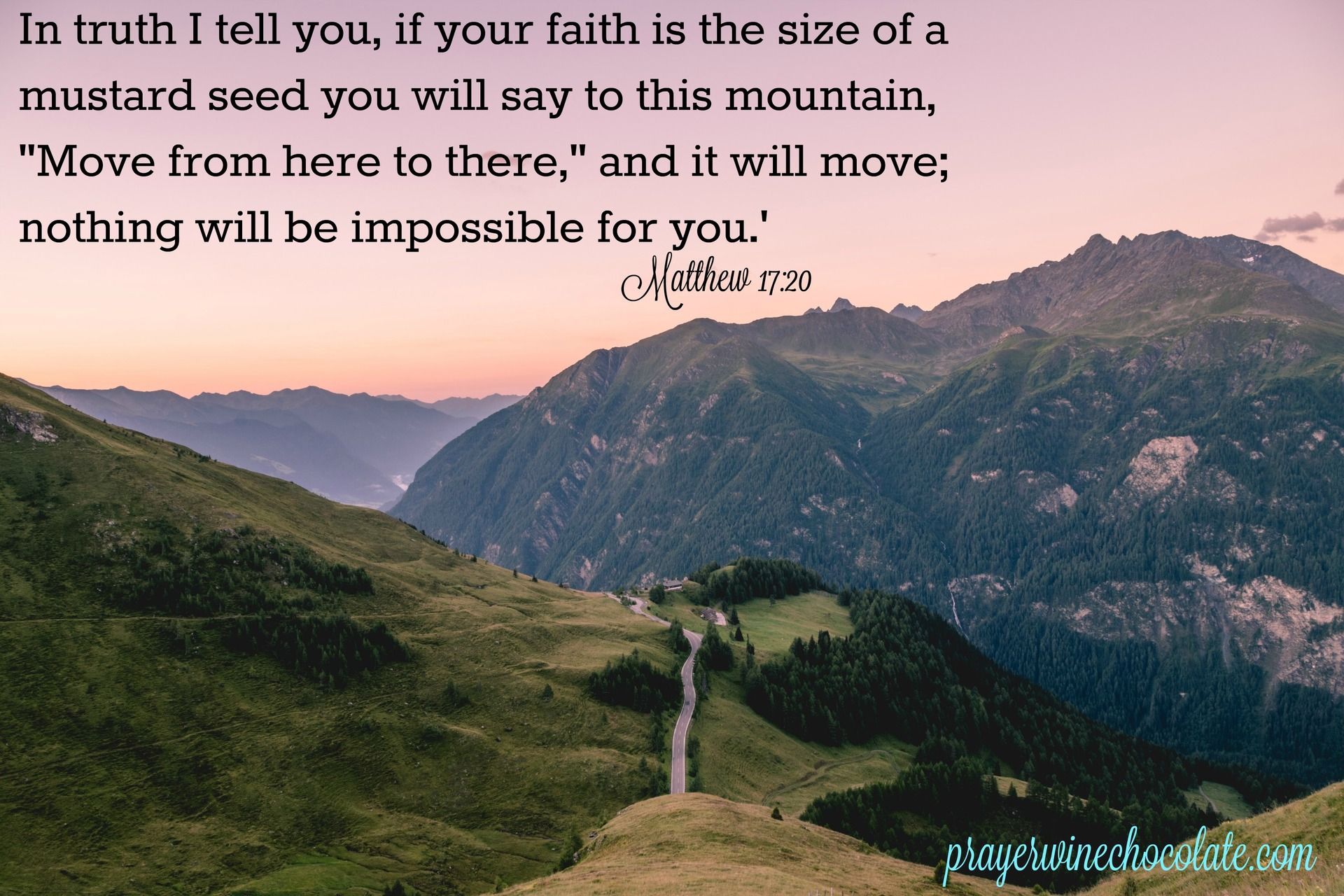 Faith can move a mountain?
Then why are all the mountains staying right where they are?  Does no one have faith?
For years, I never really "got" Matthew 17:20.
I tend to take things way to literally.
Thankfully, I didn't give up on faith since I didn't see flying mountains on a regular basis . . . or ever.
My faith has been such a comfort to me my whole life.  Even when I felt lonely, I truly felt like I had someone to talk to and that the Lord could hear me.
But . . . I still never saw a mountain move . . . until recently.
The past few years have been exciting.  My life changed drastically when I became a mother.  For the first time in my adult life – I no longer had a "real" job.  Simply becoming a mother is a drastic change – but giving up my financial independence – that was pretty big too.
Resigning from my teaching career wasn't in the plan.  But, as I am sure I heard before I became a parent, everything changes when you are given a child.
My heart screamed, "God will provide" every time I even thought about going back to work.  And He has.  And as I look back on my life . . . I am amazed at what I can see.
What Mountains are moved by Faith?
1. Financial Barriers
Sometimes in life we want to do something, but we think, "I don't have the money for that", or "that cost to much" or  simply, "that is out of my reach financially."
It is precisely in those times where faith can move a mountain of money your way. More than once I have heard my husband say, "we can't afford it".  I have assured him that "God will provide."  And He has . .
when a career change needed to be made;
when a college education was needed;
when parenthood was being sought through adoption.
God provided.
Although I can think of many times when finances should have logically prevented me from obtaining something – like a college degree or moving out of my parents home – I'd like to share one other example of how having faith can move a mountain of money in your direction.
Before my husband and I were blessed with our adorable son, we felt extremely intimidated by the cost of adoption.  But, we had faith and started our journey to adopt.  We saved money, we reached out to our family and friends (who helped us in ways we still are in complete awe of and feel great gratitude for), and we simply believed that when the time came, we would have the money necessary to pay the adoption agency.
Three months before our son was born, Matt and I went to a wedding.  Without getting into detail, and to keep the story short, Matt was handed an envelope with a check written out to him in it.
At that time, we still needed a substantial amount of money to pay the adoption agency once a baby was placed with us.  We didn't know our son was coming in 3 months at that point.  But, we put the money in our savings account – and three short months later – we were so relieved and grateful it was there!
We didn't receive a check for that much at our own wedding!
That was truly a gift from heaven.  But something tells me, you don't need to take my word for it.  Many times I have heard other people of faith say, "God will provide".  Those that say it most likely have experienced it.
It's true, God gives us what we need.
2. Mountains that separate people
Sometimes we need people more than anything.
One of the reasons why I started blogging was to document our family's second adoption journey.  The second time around, our plan was (and still is) to pursue adoption without the help of an agency. I thought with social media and research, I could find a simple way that couples could navigate the search to find a woman considering adoption and eventually use an attorney to adopt privately.
 The difference in cost between an agency adoption and a private adoption is staggering.  A private adoption, at least in our home state, is about $30,000.00 less than an agency adoption.
Since I had decided to be a stay at home mom, this route seemed to be our only option.
I thought I needed to market us on social media, find some organizations that could help us and tell everyone we know that we were hoping to adopt again.  With some research and time, we would be matched.  After all, I had heard many stories of people connecting with their children's birthparents long before Facebook and Instagram – those outlets would only increase our chances to connect.
Well, it's been about 2 years and we still have not matched.
Although I have heard many stories where these media outlets have brought people together and an adoption occurred, God is showing me how he can move bigger mountains than I had in mind.
I can not believe the people we have connected with and the help we are getting.  It is beyond the work of my own hands.
A crisis pregnancy organization – with 5 separate locations within driving distance – that for years did not really take adoption profiles – has ours ready and waiting for a young woman who desires an adoptive family.
Two other pro-life organizations in the area have our profile on hand to give to a woman if she feels called toward an adoption plan.
An adoption education group who visits high schools and gives presentations to colleges (locally and over skype) has just started using our adoption profile in their presentations. Literally thousands of students will see our adoption profile this year.
I started to write and blog, which was never in my plan.  This hobby turned mission is connecting me with more people than I could ever imagine meeting.  Amazing, inspiring and wonderful people who are praying for our family and have become good friends. I truly believe that the friend I have found in Annie, from Catholic Wife, Catholic Life and the guidance and mentor I have found in Jerry Windley-Daoust from Peanut Butter and Grace are in fact, heaven sent.  And when I couldn't go on a pilgrimage to Italy this summer, so I decided to visit holy places within my area,  God arranged that I meet one of the living daughters of Saint Gianna.  Sometimes I look up and smile – and say, "Lord, I love when you show off!"
3. Mountains that block our vision
My intention when I started blogging was to help couples adopt without feeling financially crushed or intimidated.
What I am coming to realize, is that people – whether on the adoption journey or simply this journey called life – need hope more than information.
The faith I placed in God has allowed me to discover His will for me.  I thought I was going to blog more about adoption than anything.  What I have discovered is that His path for me is much more . . .In the words of Leah Darrow, perhaps, in a way, I can hear the Lord saying . . .
"I made you for more . . ."
I still get to write about adoption – but not so much about the logistics of the journey.  I get to write about something so much more important – faith and hope.
Through this awesome journey to motherhood God has reminded me – He is first.

What mountains has faith moved for you?
Are you on Facebook?  Let's stay connected more!  Check out Prayer Wine Chocolate on Facebook