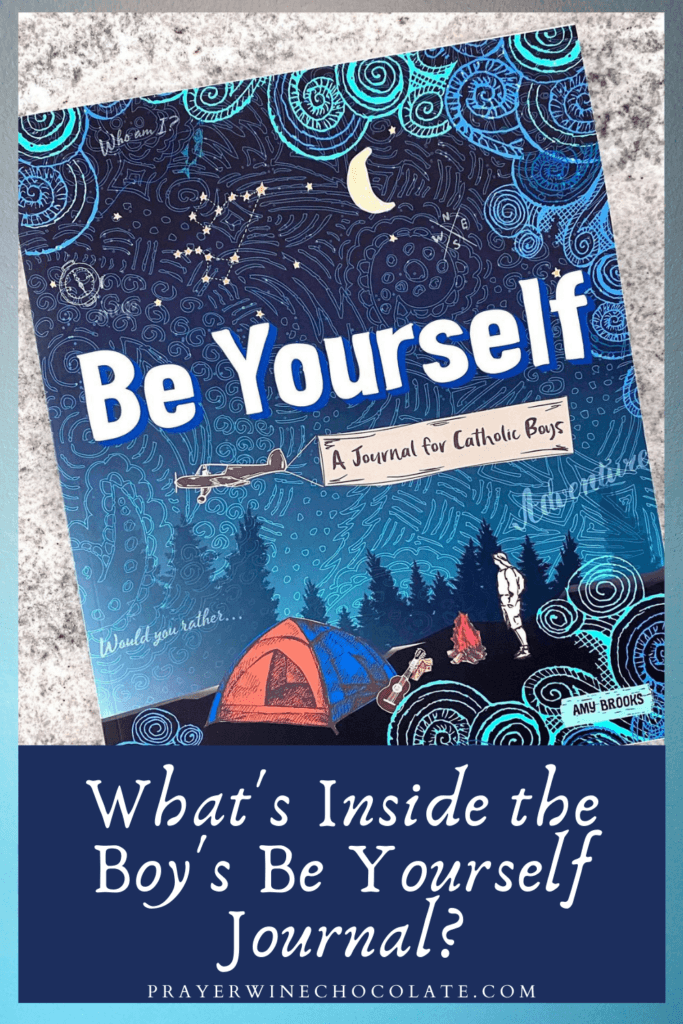 This post contains affiliate or associate links with several businesses (which means if you shop through the links, I earn a small commission). As an Amazon Associate I earn from qualifying purchases.
Be Yourself: A Journal for Catholic Boys is designed to meet young men where there are and encourage them to think about themselves as a child of God, made out of love for a purpose.
*** If you are located in the United Kingdom, you can purchase both Be Yourself Journals over at the CatholicMothers Website!
Want to listen to a podcast interview about both the boys and girls journals? Listen here: Not a Lukewarm Catholic Podcast
Introduction: Questions young boys ask about God:
Some questions that a boy might have that are explored in the book are simply listed. For example:
Who is God?
Who am I?
Who does God want me to be?
How do I pray?
Why should I pray?
Are some of the questions listed. Then, there is a page for the reader to simply write questions he has in his mind.
I remember when I taught 7th and 8th grade, two boys loved that I gave them permission to write a quote on the board everyday. One quote or random fact they wrote stated that a large percentage of Popes were Italian. I then remember him questioning that – so even a question like, "why were so many Popes Italian?" are encouraged to be written in this space.
Part 1: Who Are You?
Why did God create me?
Boys can explore this question and find a glimpse to the special mission for which God created him.
This part of the journal gives a few short statements from Scripture and the Catechism of the Catholic Church that describe who we are as people.
So God created mankind in his image in the image of God he created them male and female he created them.
Genesis 1:27
God established you in his friendship. (CCC, 355)
God created you, body and soul. (CCC, 382)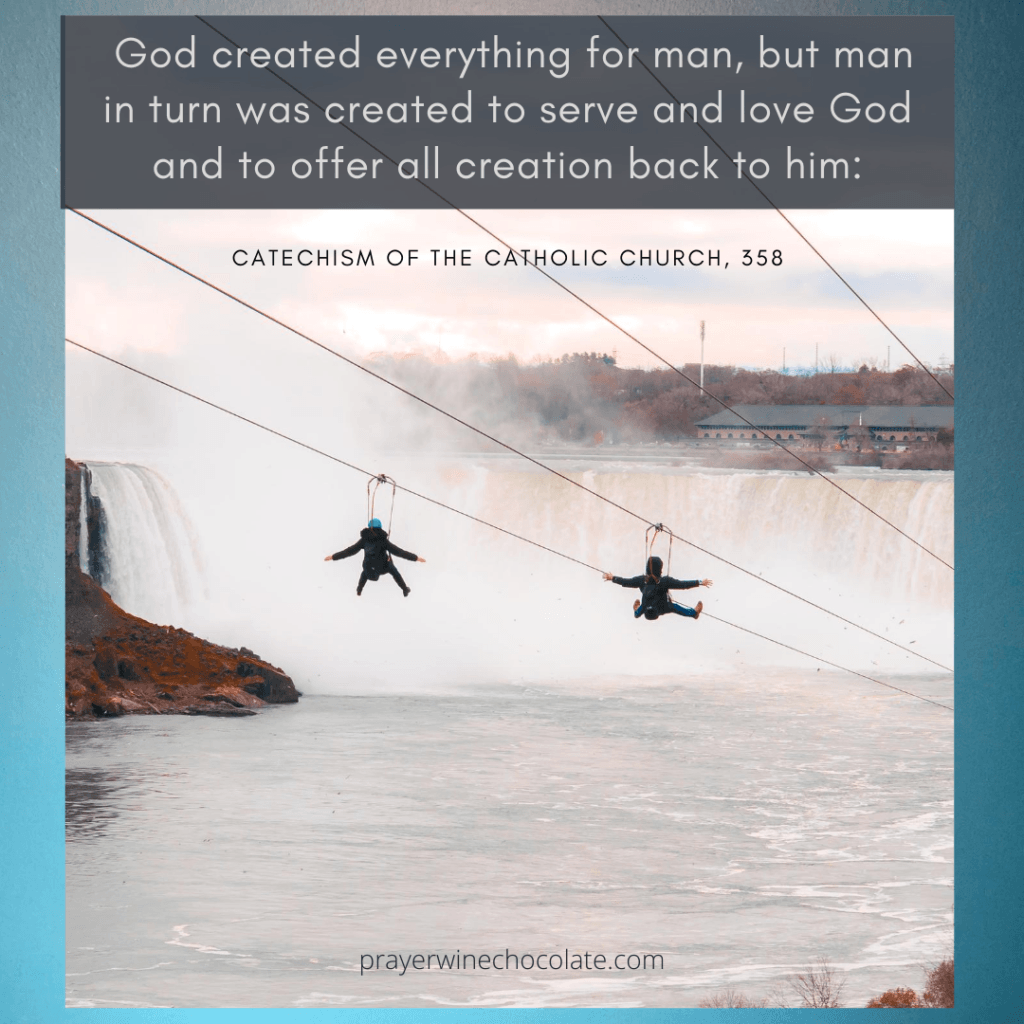 Part 1 guides the reader to think about themselves – at first simply but gradually in a more deep way.
The reader knows his name and age, but is encouraged to think about what he enjoys about God's creation through a fun "would you rather" quiz. Then, the book gives a list of roles and titles – in on activity they are asked to circle the titles that describe him – and the next activity has a whole new list and encourages him to cross out what definitely does not describe him!
The reader is also challenged to find a saint he has something in common with – and Saints with short descriptions provide options that include being raised by a single mother, having a sense of humor, being a fan of science fiction, someone who enjoyed traveling and more!
I also included a coloring page – because to my surprise, I had more than one tween boy tell me they like to color!
The coloring page in this section is quote from actor Chris Pratt:
Part 2: You and God
How does a young man develop a relationship with Jesus?
This portion of the book talks a lot about prayer.
Boys are shown a variety of ways to pray and shown how he can "pray unceasingly".
Some fun activities include:
Does God Speak in Code?
Boys are encouraged to look up passages in Scripture and choose one to put on a billboard. They are also given a blank billboard to design.
A Time Travel Prayer
A Gratitude Exercise
A "Spiritual Exercise" DARE!
Spending time in silence in order to hear God's voice.
Part 3: Who Does God Want You to Be?
This portion of the book helps each young man to think about being a peacemaker, a fisher of men, a spiritual warrior, a friend and a saint.
Some of my favorite activities and are in this section! Those include:
A space to design a church.
Working for Peace: a discussion on bullying and a chance to write in dirt 🙂
A "Wreck It" Scavenger Hunt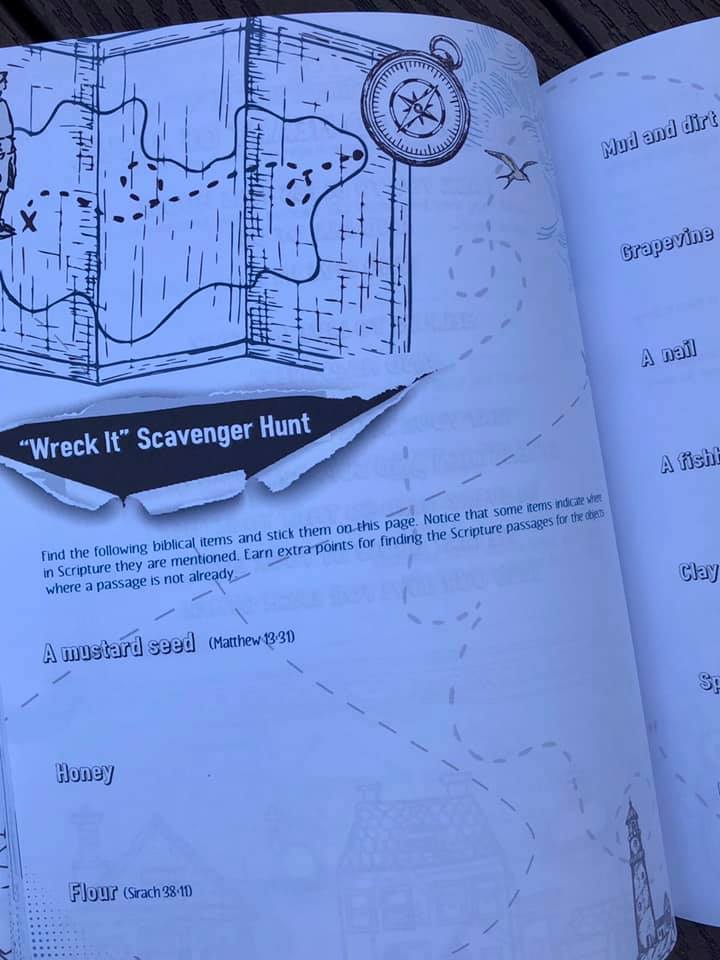 Designing a Bumper Sticker and place to talk about your favorite car.
Ninja Catholicism
Another Would You Rather Activity
and a Virtue Grafitti Wall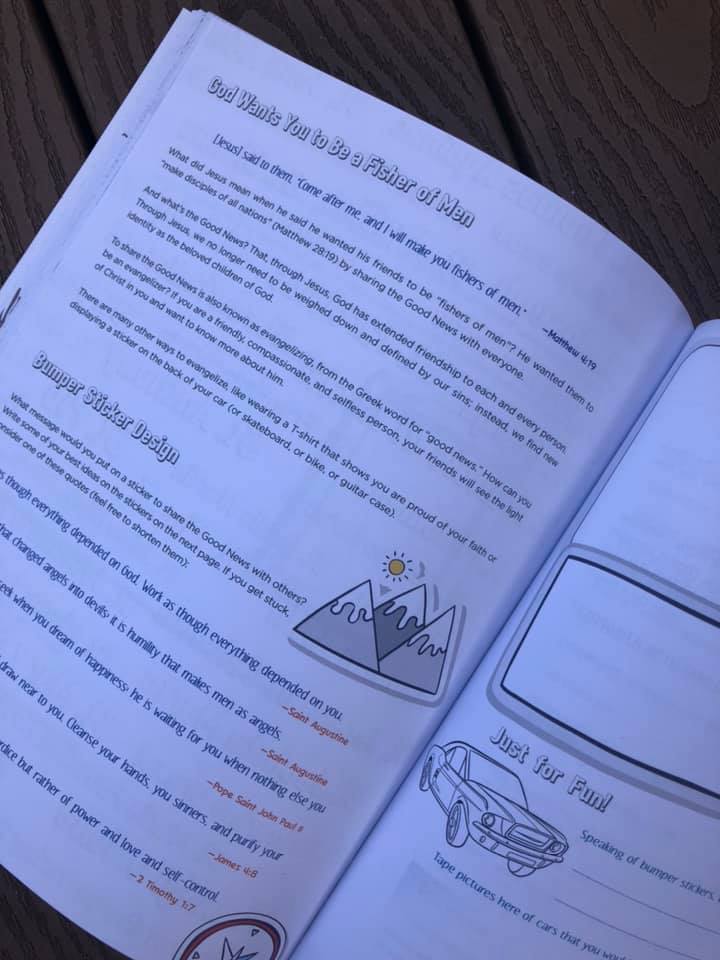 Part 4: Make a Plan
When I was in the early stages of writing this book, I reached out to a friend of mine, Mark, who has been teaching Theology in a Catholic High School for about 20 years. I was telling him some of my ideas and when I said, "make a list" he stopped me right there. Mark said, "girls make lists; men need a plan".
HOW DO YOU BECOME THE MAN YOU HOPE TO BE IN THE FUTURE?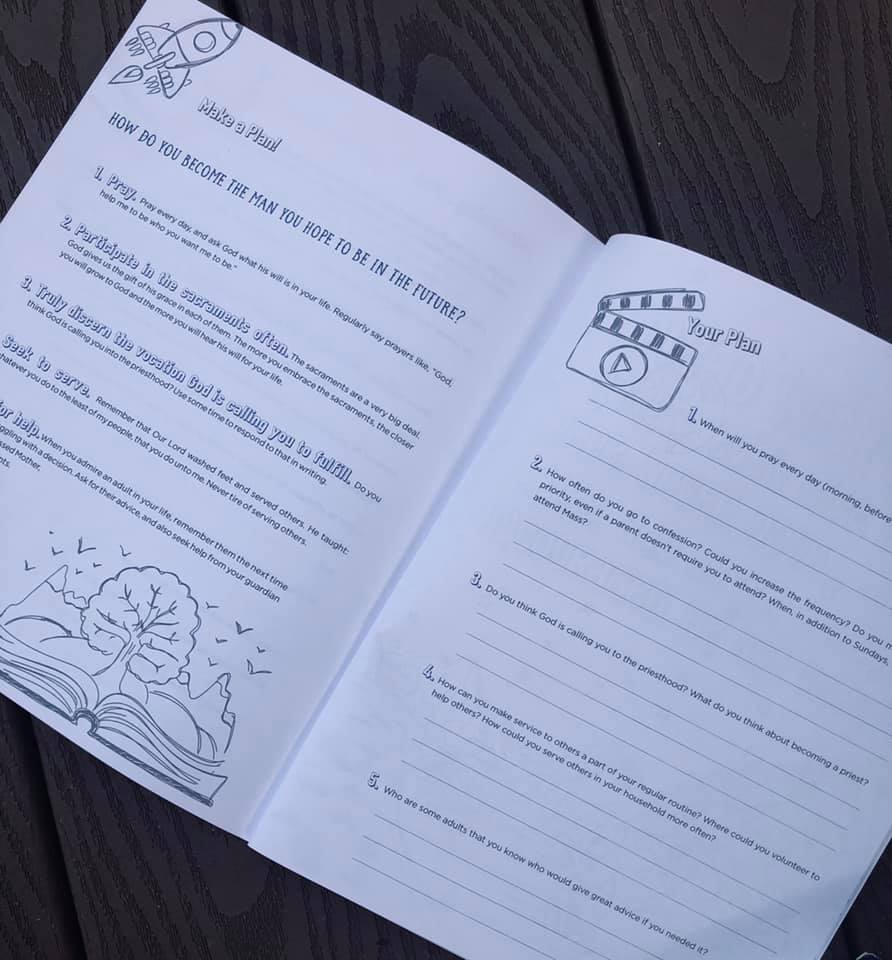 So, I listened and this last part of the book helps the reader to make a plan.
As the author, I do my best to help the young man start making a plan for his life. I ask him to think about a few adults they really admire and to write down why they admire them.
The reader will also be led to envision Jesus with Saint Joseph in the workshop; and to think about what discussions might have happened while woodworking.
Then I ask the young man to choose from a list who they would like to work with and learn from – some choices include a priest, an IT professional, a mechanic and an architect.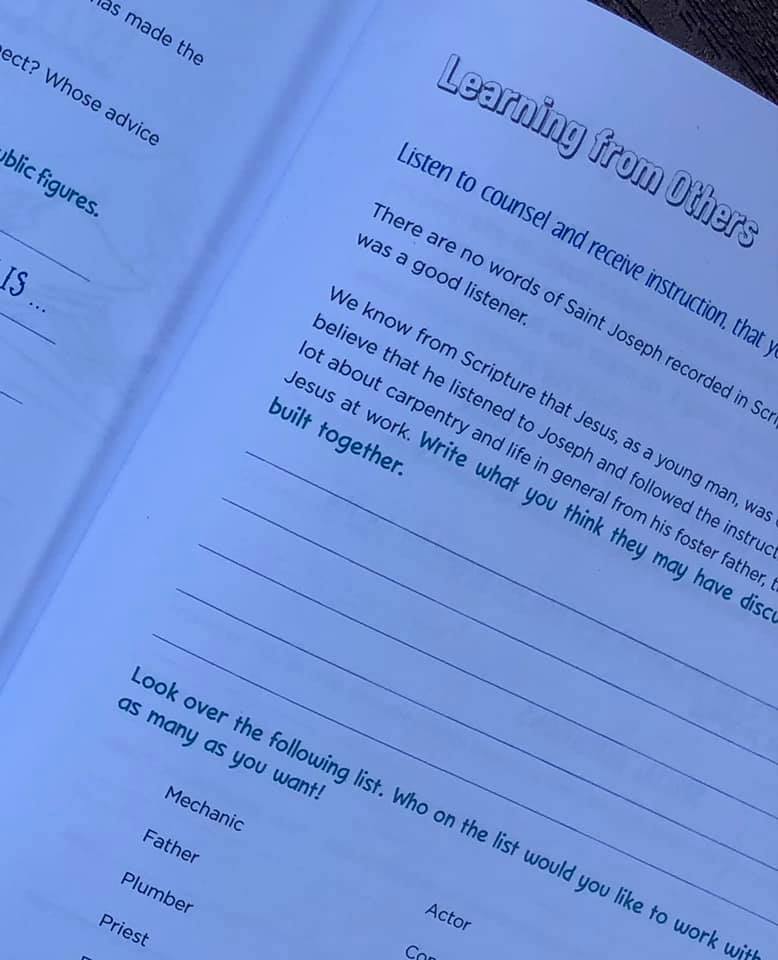 There is also an exercise where the reader will imagine how he would be introduced to a crowd at the age of 30.
Want to know how to use both the boy's and girl's journals in the classroom? Check out: 3 Ways to Use the Be Yourself Journals in the Classroom
Want more ideas on how to use this journal in a youth group setting or at home? Sign up for my newsletter to see future posts!
SIGN ME UP TO BE ON PRAYER WINE CHOCOLATE'S NEWSLETTER!