This post contains affiliate or associate links with several businesses (which means if you shop through the links, I earn a small commission). As an Amazon Associate I earn from qualifying purchases.
My little boy needs fine-motor skills practice.
I would love to someday be able to sit down with him and say "lets journal together" . . . and then have 15 minutes where we sit together and write in our prayer journal. I don't know if that will ever happen . . . but we have been working on a "pre-school prayer journal" for over a week now – and it is going great!
My son asks if we can "do a project"almost daily now!
I got him to color all the fruits of the Holy Spirit today!  This is a big deal in this house since our little boy is not a huge fan of coloring!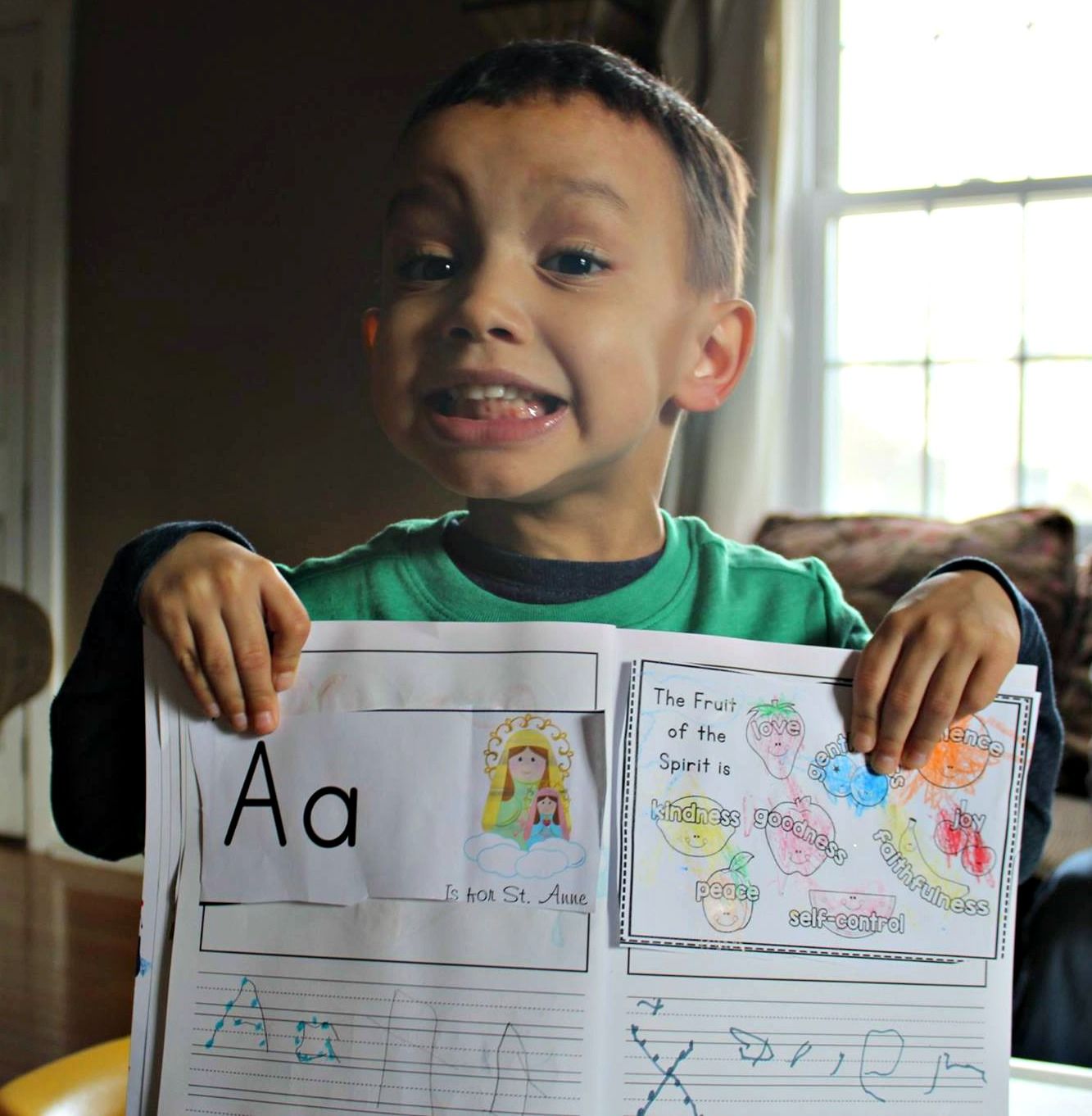 Working on his prayer journal has become some nice one-on-one bonding time, much needed fine motor skill practice and has provided some teachable moments and faith-centered discussions!
(For example, when he was coloring "patience" and he had to be reminded to be patient!)
Here are some ideas for "Pre-school Prayer Journaling"
This book provides a space to draw, paint or glue pictures and lines for your preschooler to practice writing.
I have no background in early education (former high school teacher here)!  So, since my son is in desperate need of fine motor skills, I went to Pinterest for some ideas – you can follow my Preschool board here: Pre-school Activities.  My son has no interest or love for coloring – but he loves using Q-tips, taping and cutting!  So we cut out a cross and glued it to his prayer journal.  He likes to write words if I provide dots for him to trace, so under the cross we wrote, "I love you Jesus, Love Xavier".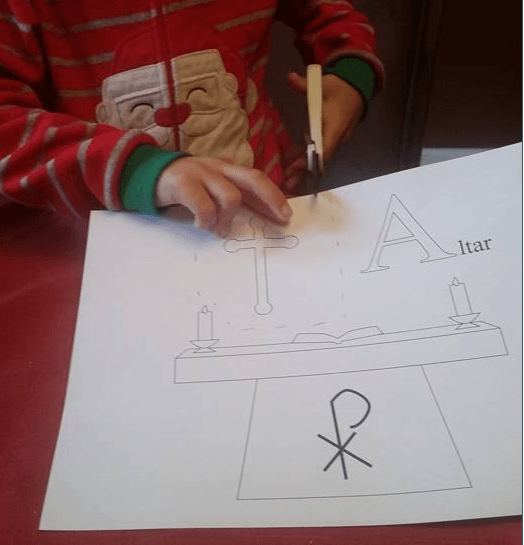 This coloring page is free (along with a page for each letter of the alphabet) when you subscribe to Do Small things with Love!
3. Dot Painting!
I finally found a Pinterest activity I can use my wine corks for! We found some free printables for practice – and  Xavier LOVES this activity!  He has asked to do it again already!  I love how the wine cork is small, so therefore encourages the "pincer grasp".  We are still working on this skill – so finding an activity that he enjoys is such a gift!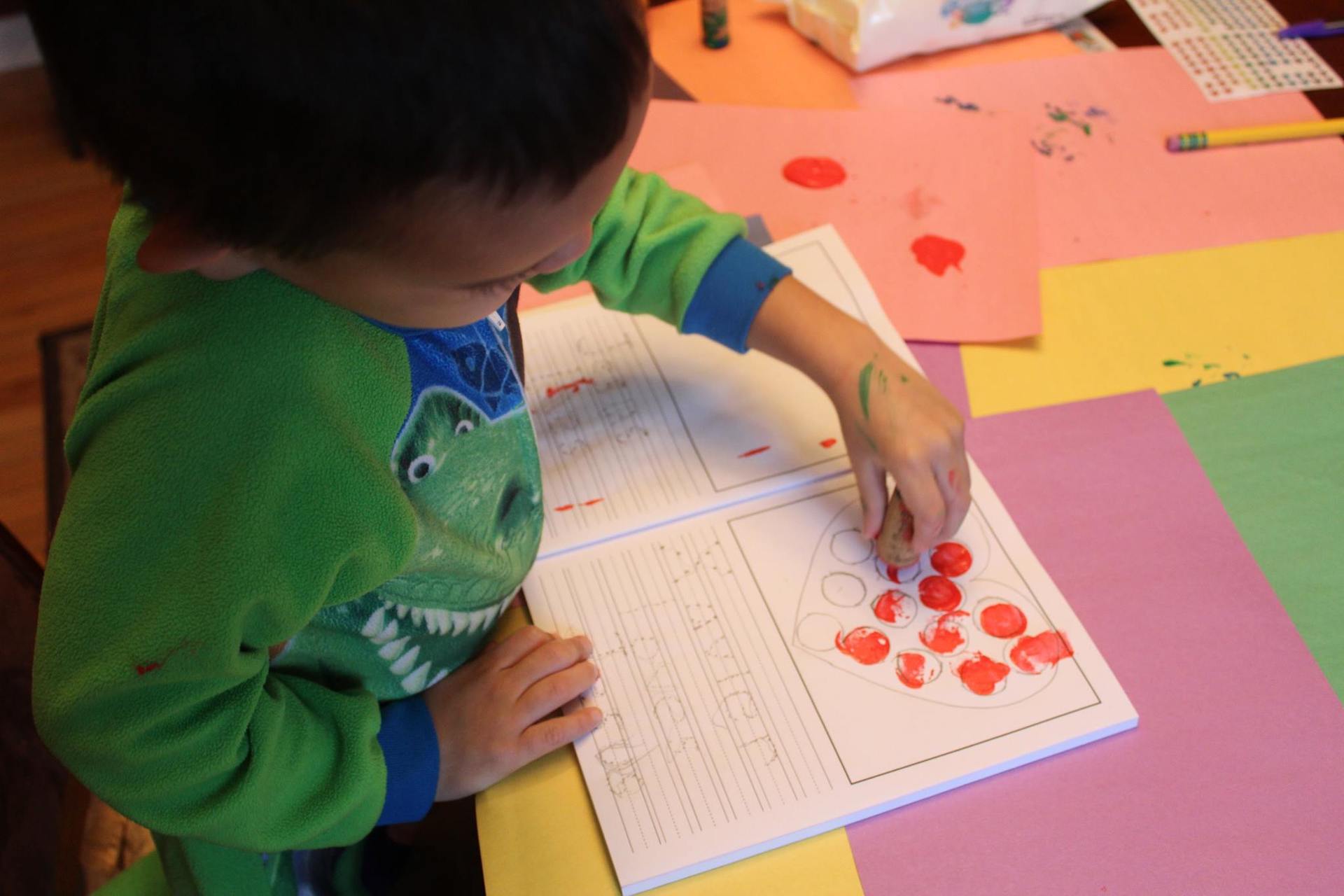 SaongJai, one of my favorite Etsy shops, sells prayer cardsets for children!  They are adorable and once you purchase them you can print them out right away.  I loved giving Xavier the choice of which Saint he wanted to cut out and glue to his journal.  He picked out Saint Margaret and I have to admit – I had to look her up!  Once I did, I discovered that she spread the devotion to the Sacred Heart of Jesus.  Xavier traced Saint Margaret pray for us and he put heart stickers around her prayer card.
*** You can enter win an entire package from SaongJai by subscribing to prayerwinechocolate.com and sharing this post!  See more details below!
Once again, SaongJai provides an excellent tool in teaching both how to write letters and numbers, while at the same time discussing our faith.  I love how the set uses Saint Anne for the letter A.  Xavier loves his "Gram" so it was easy to teach him "Who is Saint Anne?" Jesus' Gram!!! SaongJai also has Alphabet flash cards that would fit in the journal – or could be laminated and used for all sorts of learning activities!
*** You can enter win an entire package from SaongJai by subscribing to prayerwinechocolate.com and sharing this post!  See more details below!
You can find plenty of coloring pages online with Catholic and Christian themes. I found a cute "Fruits of the Spirit" packet where you can color all the fruits together (which we did) and also each fruit has it's own half page where you can trace how to write each "fruit" (patience, love, gentleness, etc).  We plan on using more of this packet to practice drawing fruits this week!
7. Use what you have and be creative!
We had a play-doh activity book that included a scene of a road and stickers.  We glued the scene to our page and wrote "Lead me Lord" under the picture.  Then Xavier picked out stickers to put on the road and in the sky. We have some prayer books, so one activity I may try this week will use one of those.  Perhaps I will read him a prayer or short story and ask him to draw a picture.
Have a tween or teen daughter?  Get her the Be Yourself Journal!
Here's a peak inside at some pages!