This post contains affiliate or associate links with several businesses (which means if you shop through the links, I earn a small commission). As an Amazon Associate I earn from qualifying purchases.
Quite often, I get an email, message or phone call from someone who is considering adoption.  Since my husband and I have been through the process once, we do have some insight and advice.
Here is my advice to all couples who feel called to adopt:
1. Ask God to Open all the right doors and close all the wrong ones.
Starting the adoption process is overwhelming.  Before you officially start by getting a home study, you will have to choose a path – foster, domestic or international.  If you choose international, you will have to choose the specific country before you start your home study.
* A great book to read is Instant Mom by Nia Vardolos.  She will make you laugh and discuss her and her husband's journey to adopting through foster care.
2. Attend Free Information Sessions
Adoption agencies hold free information sessions.  I suggest you attend at least two of these.
*** This does not mean you must use an adoption agency – it is just a great place to get to know the basics and find out about the laws in your state and the states near you.
When my husband and I started our adoption journey, we were not sure if we wanted to go the domestic or international route.  We attended information sessions about both types of adoptions.  We finally decided on domestic.  There are a ton of questions to seek answers to once you choose a path.  Each state has different laws, so in a way, each state is like "its own country" when it comes to adoption.  Educate yourself on the laws of your home state – and the surrounding ones. You can learn more about your state's adoption laws here: State Adoption Laws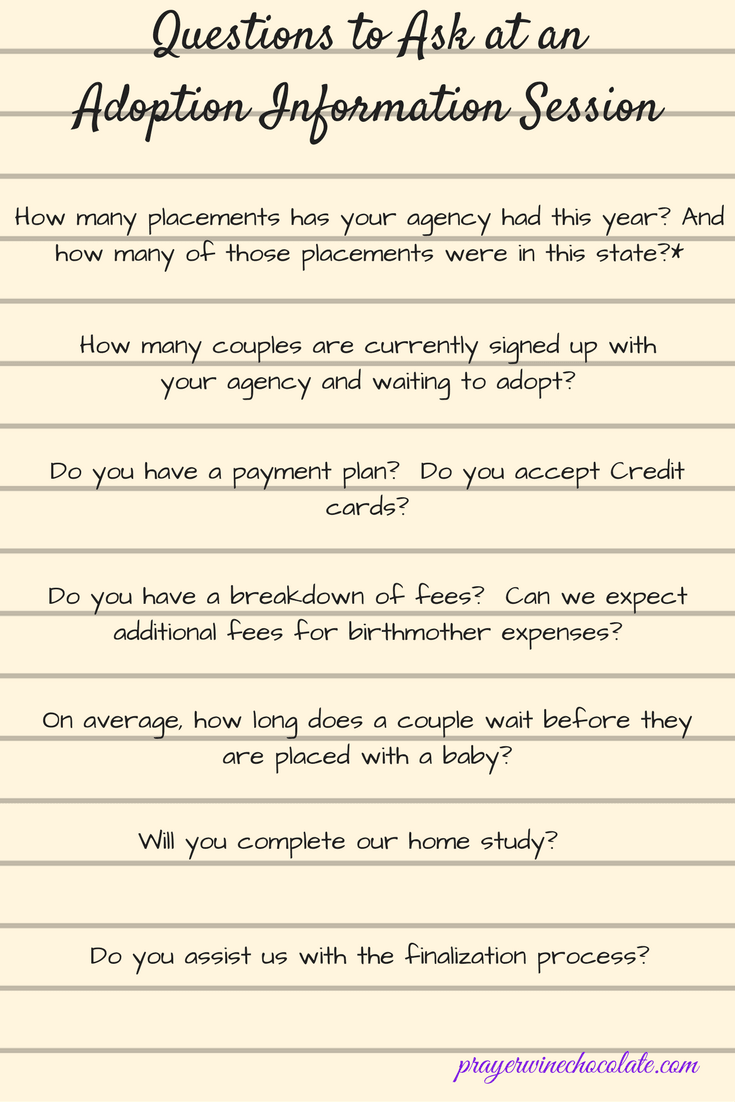 Click below for a  FREE PRINTABLE (more questions than the photo above)
3. Connect with other Adoptive Parents
Chances are you know someone who adopted – or you know someone who knows someone. My aunt and uncle had adopted so I was lucky enough to have someone close to talk to.  However, I also reached out to a woman who attends our church who I had only seen at Mass.  We talked on the phone and I still remember her saying, "I thank God for Infertility three times a day"! (Her and her husband adopted 3 children from China).
When you meet other adoptive parents, ask them about their adoption attorney.  Did they like him or her?  Do they recommend them?  Often – whether you adopt privately or with an agency – you will have to hire an attorney.  Find out who the adoption attorneys are that are local to you and if others had a good experience with them. You will especially need this information if you are going to adopt independently (connecting with an expectant mom without the help of an agency).
Look for a local adoptive parent support group.  This will be a great place for you to hear about agencies and once you adopt, it will be nice to have this group for support.I run an adoption support group on Facebook and in Warminster, Pa called The Rose Garden (new members welcome), if you are on Facebook and want to join, click here: The Rose Garden
4. Tell Your Family and Friends
There are a few reasons why I suggest this:
I have heard many stories where someone you know actually knows a young woman who is pregnant and wants to place her baby with an adoptive family.  This will make the process A LOT easier and less expensive. Plus, often the young woman is comforted to know that the couple she picked is a friend of a friend.
You may have to reach out for financial support.  Adoption is expensive and you may be seeking different ways to raise the funds.  We had a lot of family support (one thing we did was have a yard sale, and many of our family members donated items for us to sell).
It may lessen the questions about "when are you two going to start having kids?"  It might, but I can't make any promises . ..
5. Inquire about Adoption Benefits at Your Workplace
For our son's adoption, neither my work or Matt's work had these benefits.  Fast forward four years, his work now has them! Since the adoption process can take some time, you may want to look into How to Lobby for these benefits.  From what I hear, it really doesn't cost the employer much to implement them.

6. Purchase a notebook, a folder and a binder
There is A TON OF PAPERWORK! Those information sessions you attend will have handouts, your home study will feel like more paperwork than buying a house and the list will go on and on . . . Having all of this paperwork in the same place and somewhat organized will make the process a little easier.  Most home studies expire in a year, so if you are still waiting after that one year mark, you will need to re-submit most of your documents.  Also, criminal and child abuse checks need to be renewed each year as well.  Once you do it, you'll want to save it so that the next time around it will much easier and less time consuming.
7. Pray for women who are facing unplanned pregnancies and the unborn.

 
Many women choose adoption over parenting and abortion!  This is not an easy situation to be in and prayers for these women (and birthfathers) will do more than we will ever know. I absolutely LOVE the Spiritual Adoption prayer and experienced first hand how incredibly powerful it is!  Read the amazing story here (or don't -but PLEASE PRINT OUT THE FREE PRINTABLE!!)
Please print out this prayer and post in on your refrigerator! Pray it every day – or close to every day for nine months!  Who knows, you may adopt the baby you prayed for!!!

8. Don't let the road to parenthood take over your relationship
Go out on dates.  Write a "couples only" bucket list (write a family one too, but also write one for just each other)! Go to the movies, go wine tasting, go to a paint night, do a 5K together, go for walks . . . whatever it was that made you fall in love – revisit those places together.  Try to "Wait without Worrying".  This road can be rough on a marriage – make sure to nurture yours!
9. Know that all of the above is totally worth it !!!!


Please don't hesitate to email me with more questions!
Praying for you!
Love,
Amy