When you were younger, did you ever write your name vertically – then use the letters in your name to describe yourself?  We did this in school when I was young, but I could not for the life of me recall what they were called until I googled an extensive description.  Maybe you already said, "Oh, yeah, an acrostic."  Or maybe you have never heard of such a thing – or, maybe you had no idea, like me, that they had a name or what the name was.
When we did this in school, the teacher usually told us to use our first names.  It was probably the quickest I ever did any assignment – since my name has only three letters.  I never really got to creative.  A – Awesome. M – Magnificent. Y – Young.
Done.  Not my best work.
I like the idea of using this type of "poem" to write a personal prayer.  I thought it would be fun to write an acrostic prayer using the word chocolate.
I know our lives tend to be busy, so short prayers can be convenient and easier to fit into our days.  I hope you like this prayer I penned!  Feel free to enjoy a cup of hot cocoa as you read and pray!

C
Christ Jesus, my Lord
H
Help me to love and live according to Your will
O
O Most Holy Trinity; Father, Son and Holy Spirit
C
Cleanse my heart and my life;
O
O Most Holy Mother of God
L
Lead me closer to your Son through your love and intercession
A
Almighty God our Father
T
Thank you for every breath I take and for Your
E
Everlasting and eternal love.
Amen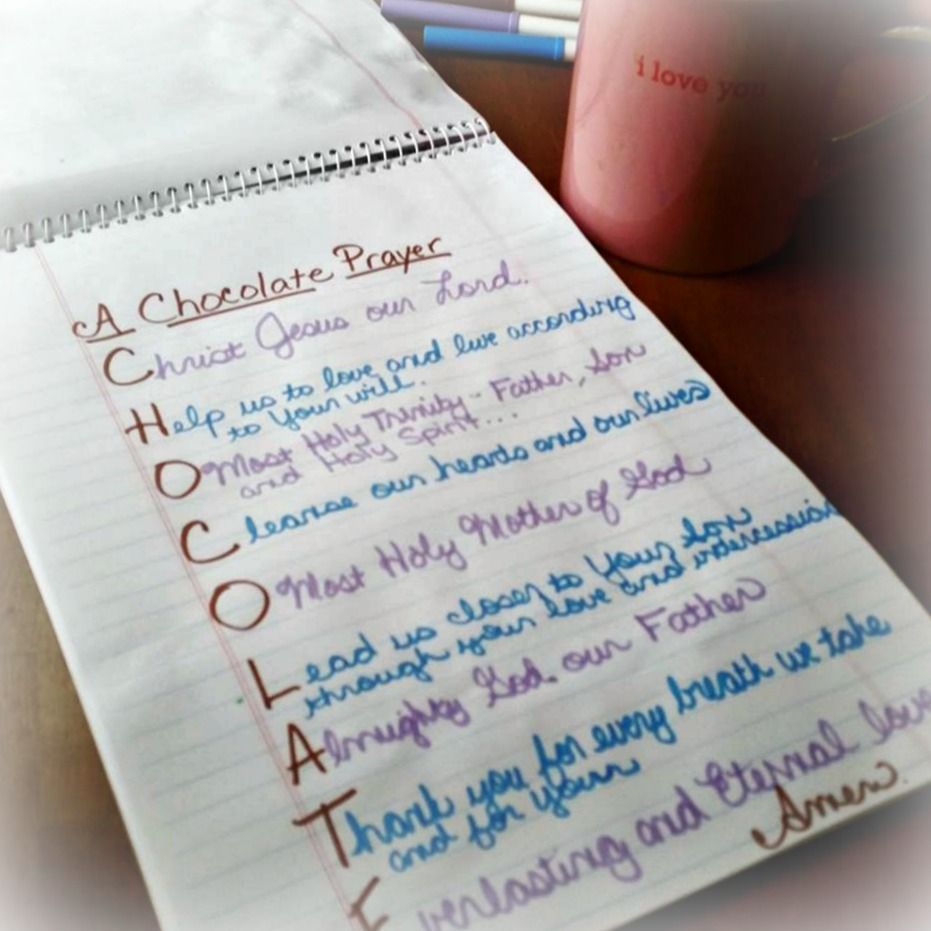 I took this idea to my prayer journal.  I'm not an artist, but I enjoy using a journal when I pray because it helps me pay better attention, gives me a creative outlet and allows me some time to "be still".
Would you ever write a prayer like this?  What word would you choose?