This post contains affiliate or associate links with several businesses (which means if you shop through the links, I earn a small commission). As an Amazon Associate I earn from qualifying purchases.
At the Prayer Wine Chocolate Retreat in October of 2021, I introduced a new idea that went over so well I had to share it with you!
I call it, The Catholic Sticker Bar.
Introducing the Catholic Sticker Bar
The Retreat I held was for Catholic women. Most of which grew up in the 1980's – a time where trading stickers and owning a sticker book and collecting stickers was a staple of childhood.
Here is part of an email I received after the Prayer Wine Chocolate Retreat featuring the Catholic Sticker Bar:
" I had such a wonderful time at the retreat. My friend had invited me to join and I ended meeting seeing friends from high school and connecting with Fr. Walsh that he knows my husband's aunt very well. It was amazing all the connections made on Sunday (Divine Providence and not coincidence!).
All the details and special touches – especially the sticker bar were so amazing!"
But Catholic stickers are not just for middle aged women.
Chris Lewis, owner of Baritus Catholic, makes extremely impressive Catholic stickers that appeal to a large number of Catholic men.
And my 9 year old son had a ball picking out a Catholic sticker for each of his classmates as a Christmas gift last month.
How does a "Catholic Sticker Bar" fit into a Retreat or Day of Reflection?
See this Instagram reel to get a visual of how a Catholic stickers can be used at a retreat: Prayer Wine Chocolate Prayer Journal Reel
Part of our Prayer Wine Chocolate Retreat this year was a talk on using a prayer journal.
I gave a talk about how I use a prayer journal. I gave each woman at the retreat a new blank notebook.
I encouraged them to take some time to decorate the front of their new prayer journal (watch this reel).
After my brief explanation of praying with a journal, I invited everyone to gather supplies in order to decorate the front of their journals and start a entry.
I had two locations set up.
One location had scrapbook paper and washi tape (and some prayer cards I happened to have).
The other location was the "Sticker Bar".
The women were directed to choose two stickers to keep. They could put their stickers on the cover of their journal, use the the sticker as part of a journal entry or simply just keep it!
(Curious about prayer journaling? See my post: How to Start a Journal in 3 Easy Steps and sign up for my newsletter (all subscribers get a free download 40 Prayer Journal Prompts for Lent)
If prayer journaling is not on your retreat's agenda, you can still use the idea of a sticker bar!
Allowing attendees to choose 2 or 3 stickers to leave the event with will help them remember that special day. Also, Catholic stickers often feature a Scripture verse, a prayer or a Saint – so that extension of faith will be carried home with them!
How do you set up a Catholic Sticker Bar?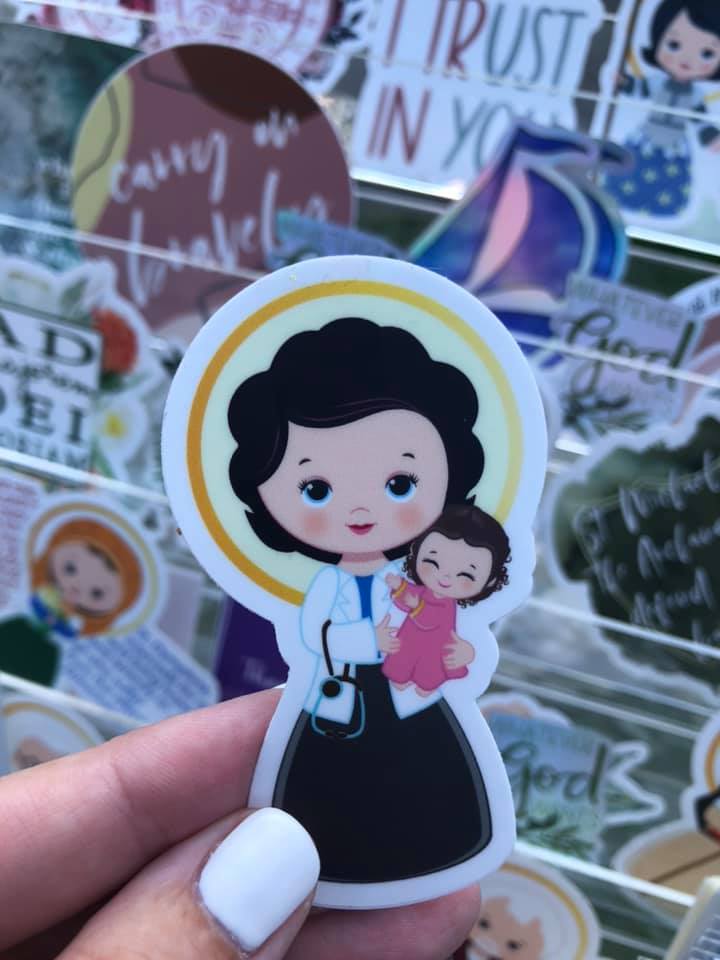 What you need:
Catholic Stickers of course! My favorite shops that sell Catholic stickers are:
Kidderbug Kreations (Saint Gianna sticker pictured above)
2. You will also need to display the stickers in an appealing way.
I bought this nail polish organizer rack from Amazon to display stickers. Getting a couple of those is a great way to have the stickers on display.
I also brought some baskets I had at home, and simply laid some out on the table (I got lucky, there was a bar for me to use at this location!)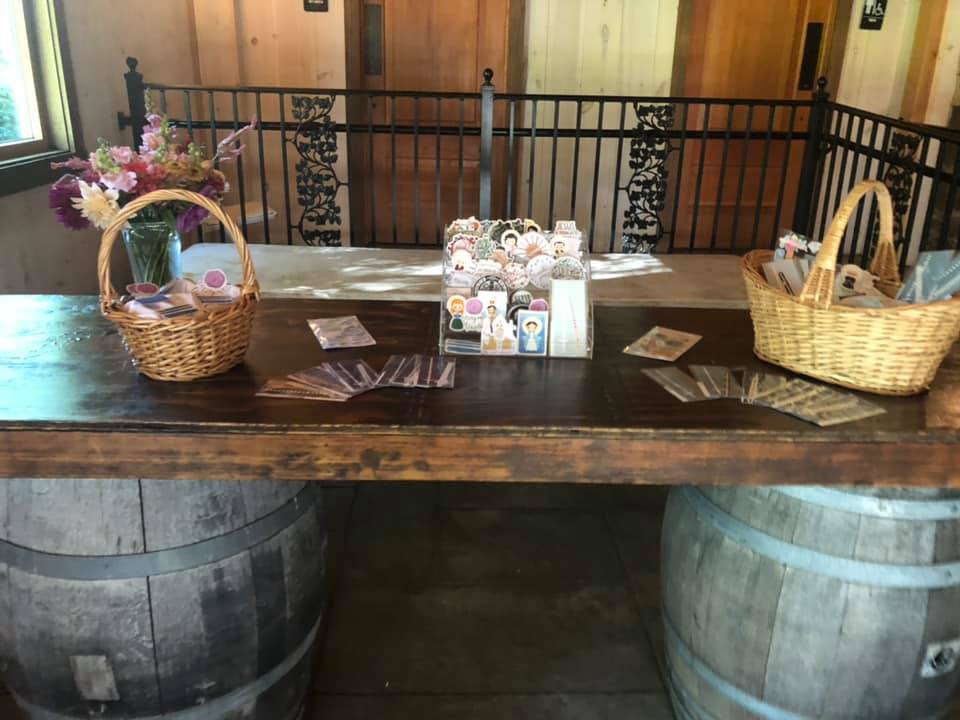 The Catholic Sticker bar would be an excellent choice when planning The Perfect Catholic Mini-Retreat for Tween Girls!!!
What events would be ideal for Catholic Sticker Bar?
Confirmation Retreats
Days of Reflections for Teachers or Parish employees
Youth Ministry Events
An RCIA introductory meeting
Bible Study Events
Want to plan a Prayer Wine Chocolate Retreat?
You can now purchase this digital guide to help you plan one!
When will you set up a Catholic Sticker Bar?
Tell us in the comments!