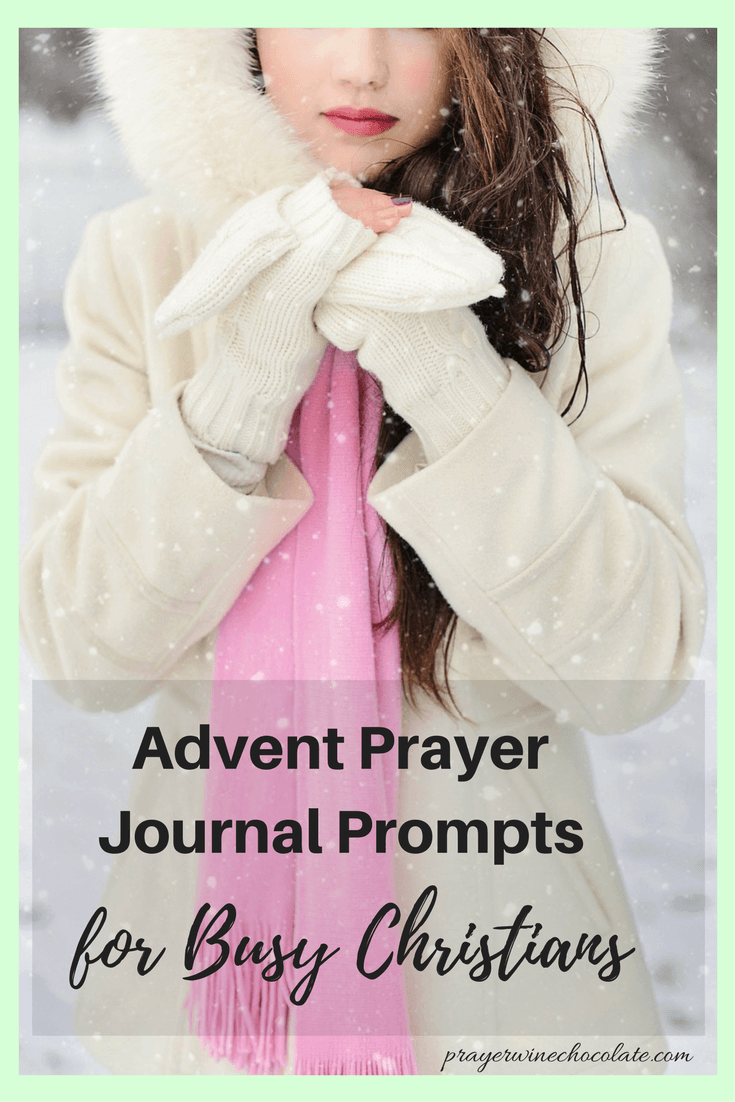 This article contains affiliate links.As an Amazon Associate I earn from qualifying purchases.  If you purchase from these links I make a small percentage . . . and I do a huge happy dance 🙂
I have a confession to make: I just googled "when does Advent start"?
So it probably isn't a big surprise that I get lost in the Christmas music, the shopping, visiting Santa and all the twinkle lights.
Something tells me, I'm not the only one.
I would probably enjoy Christmas even more if I took the time to enjoy Advent!
At the same time, my responsibilities as a mom and the opportunities to make joyful memories with my loved ones, will not be far from my mind.
So, I decided to make a list of Advent Prayer Journal Prompts for those of us that feel super busy, but want to make a true effort to remember that Jesus is the Reason for the Season. (if you would like more info on how to start a prayer journal – go here: How to Start a Prayer Journal (in 3 easy steps)
Advent Prayer Journal Prompts for Busy Christians

♥Write out the Saint Andrew Novena Prayer (or cut it out and paste it in your journal)!  Sara has this prayer as a printable through her Advent post: Prayer Guide for Advent.
Hail and blessed be the hour and moment in which the Son of God was born Of the most pure Virgin Mary, at midnight, in Bethlehem, in the piercing cold. In that hour vouchsafe, I beseech Thee, O my God, to hear my prayer and grant my desires through the merits of Our Savior Jesus Christ, and of His blessed Mother.

Amen.
♥Draw a chart in your prayer journal.  Make 3 columns.  Write the names of who you are shopping for that week or day.  Title each column "Name", "Gift Ideas", and "Prayers".  If you are able, go to Adoration for 10 or so minutes before you hit the mall.  Write down ideas for shopping – and also write a prayer for each person you are shopping for!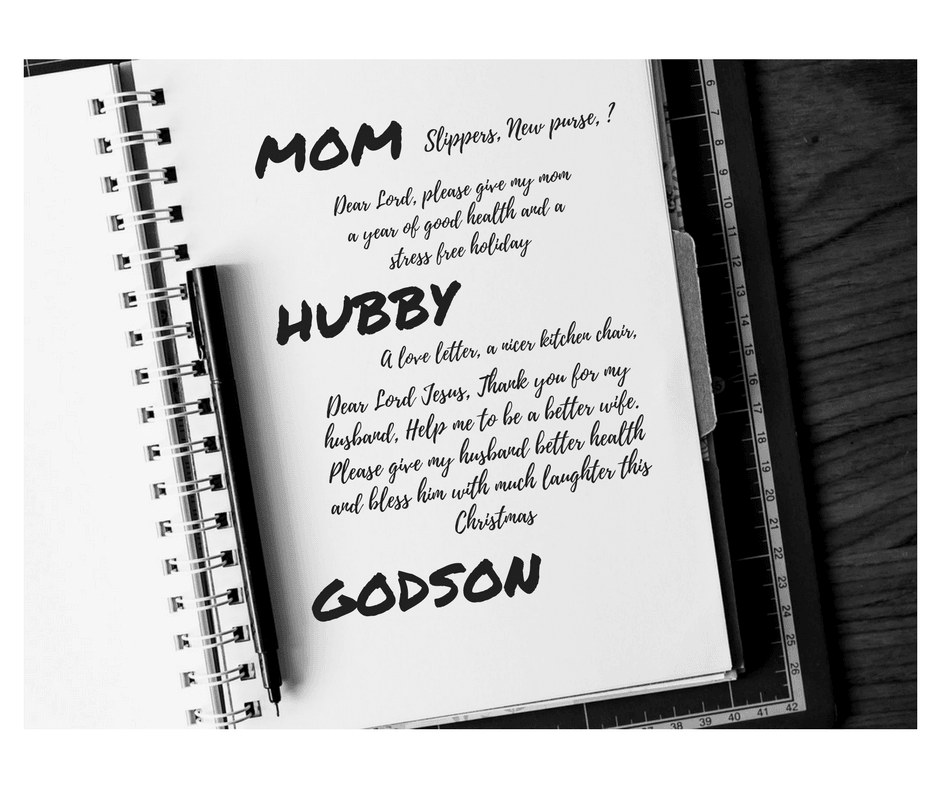 ♥Write out the words to an Advent Hymn such as O Come, O Come Emmanuel or Soon and Very Soon.
Soon and very soon
We are going to see the King
Soon and very soon
We are going to see the King
Soon and very soon
We are going to see the King
Hallelujah hallelujah
We're going to see the King
♥Use the Advent Journaling Kit from Open Journey to inspire and motivate you!  It has beautiful prayer prompts, stickers and lots of fun crafty ways that make journaling fun and easy!
By the way, the DaySpring Journaling pens are awesome (Journaling Pens)!!!!
Copy this: Short and Sweet Advent Prayer. Decorate the page with whatever you want to draw or doodle!
Father, all-powerful God, your eternal Word took flesh on our earth when the Virgin Mary placed her life at the service of your plan. Lift our minds in watchful hope to heart the voice which announces his glory and open our minds to receive the Spirit who prepares us for his coming. We ask this through Christ our Lord. Amen.
♥Glue a Christmas Card picture of the Three Wise Men to a page, write a prayer combined with your "to-do" list of the day.  For example: Dear Lord, Help me to seek you in every act I perform today.  Help me to seek you in washing the dishes, in paying my bills, in writing out my Christmas cards and in caring for my elderly loved one . . .
♥Go to this Pinterest Board for inspiration and ideas.  Follow the board to remind you to keep up with prayer journaling all Advent!
♥Take 10 minutes (or more) to read part of this book: Be Merry: How To Advent Without Losing Your Mind (it is FREE on Kindle)!  Write something that made an impression or a thought that was provoked from your reading.
♥Keep it simple: write Jesus a letter.
♥Color an inspirational Advent message, picture or prayer.  I love Look To Him and Be Radiant's selection of free downloads!  Katie's What Does Advent Look Like printable could be used for over 10 prayer journal prompts!
♥ Copy and pray the St. Gertrude prayer (prayer for souls in Purgatory).  Write down names of family and friends who have passed away.
"Eternal Father,
I offer You the most precious blood
of thy Divine Son, Jesus,
in union with the Masses said
throughout the world today,
for all the Holy Souls in Purgatory,
for sinners everywhere,
for sinners in the universal Church,
for those in my own home,
and in my family. Amen."
Color one or more of the pages from The Be Yourself Journal!  You can purchase all 20 here: Be Yourself Coloring Pages – Instant Download
Purchase the whole journal here: Shop – Be Yourself: A Journal for Catholic Girls
♥Paste photographs from past Christmas seasons.  Write a sincere Thank You letter to Jesus for the people, moments and memories. Once you give a ton of thanks, ask the Lord to bless your friends and family with a peaceful holiday.
♥Advent begins on the Feast of St. Francis Xavier.  This Novena of Grace card has prayers and questions to reflect upon.  Print it out or copy from it.
♥The Feast of Our Lady of Guadalupe is December 12th.  I love the words Our Lady spoke to Juan Diego.  Write the words of Our Lady down and trust that she is speaking them to you!  If possible, paste an image of Our Lady of Guadalupe on the page.
"Hear me and understand well, my son the least, that nothing should frighten or grieve you. Let not your heart be disturbed. Do not fear that sickness, nor any other sickness or anguish. Am I not here, who is your Mother? Are you not under my protection? Am I not your health? Are you not happily within my fold? What else do you wish? Do not grieve nor be disturbed by anything." 
— Our Lady to Juan Diego

Incredible story about Our Lady of Guadalupe here: Our Lady of Guadalupe: Her Image Still Appears
♥Copy the Responsorial Psalm from the first Sunday of Lent in Your Journal.
Lord, make us turn to you; let us see your face and we shall be saved.
List ways you can see the Lord's Face in your life.
If you would like a FREE PRINTABLE, click here!
Want more journal prompts?  Subscribe and get the Lent prompts that can truly be used all year long!  Subscribe here: