Before we were blessed by adoption, we bought a cute Cape Cod style home.  There are two bedrooms upstairs, and one bedroom (we use as an office) is on the main floor.  It's a cozy home.  We only have one bathroom, we have great hardwood floors, and although it is small, it is big enough.
One thing we loved about the house were the exposed beams in the two upstairs bedrooms.  However, the style of the house includes slanted ceilings and only about three feet of traditional wall space, so, decorating is a challenge.
For a long time that second bedroom upstairs was a "guest room" that was maybe used twice.  Our adoption agency suggested we set up a nursery and take pictures so that when we met a potential birthmother, we could show her the special place we had waiting.  My friend came over with her kids' blankets and nursery decor, and we created a neutral animal theme.  It was okay . . . but I didn't LOVE it.  I wanted to LOVE it.
So, I looked at the room that I knew would make a great child's bedroom and scratched my head with the thought of decorating it.  Then, I did what anyone would do before Pinterest was big . . . I googled it.
When I searched the internet for ideas – I was extremely disappointed.  I googled "decorate Cape Cod bedroom".  And barely anything impressive came up.  I also learned that our Cape Cod was not exactly like others.  Our ceilings are quite overwhelming when we even begin to think about decor.
But those exposed beams inspired me.  They were perfect for a fish net.  Once we knew we were bringing a baby home, we started there.  This post is for the few people out there that are like me . . . looking for ideas on how to decorate a room with slanted ceilings.
I absolutely love the nautical theme!  It doesn't have to be for a boy AND it grows with the child.  I loved knowing that our son would not outgrow this decor like he would if we had chose Winnie the Pooh or any other "baby" themes.
The exposed beams made this theme really fun!  Throwing fishing nets up there and adding starfish easily brought a happy, peaceful environment to the room.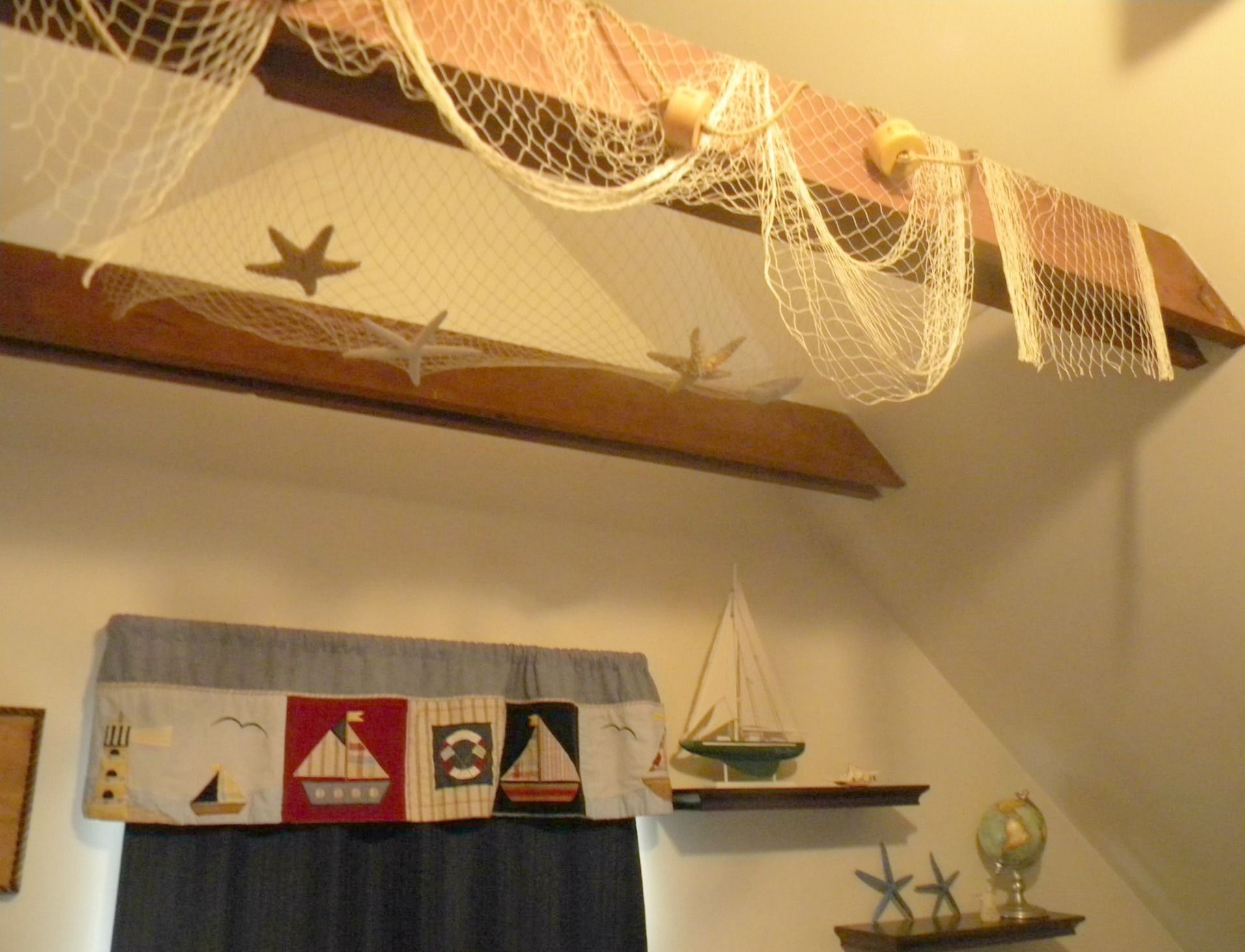 What little wall space we had, we decorated.  We found anchor hooks which are great because they not only add to the decor, they are also very useful. We bought two sets from Amazon – they are available here: Anchor hooks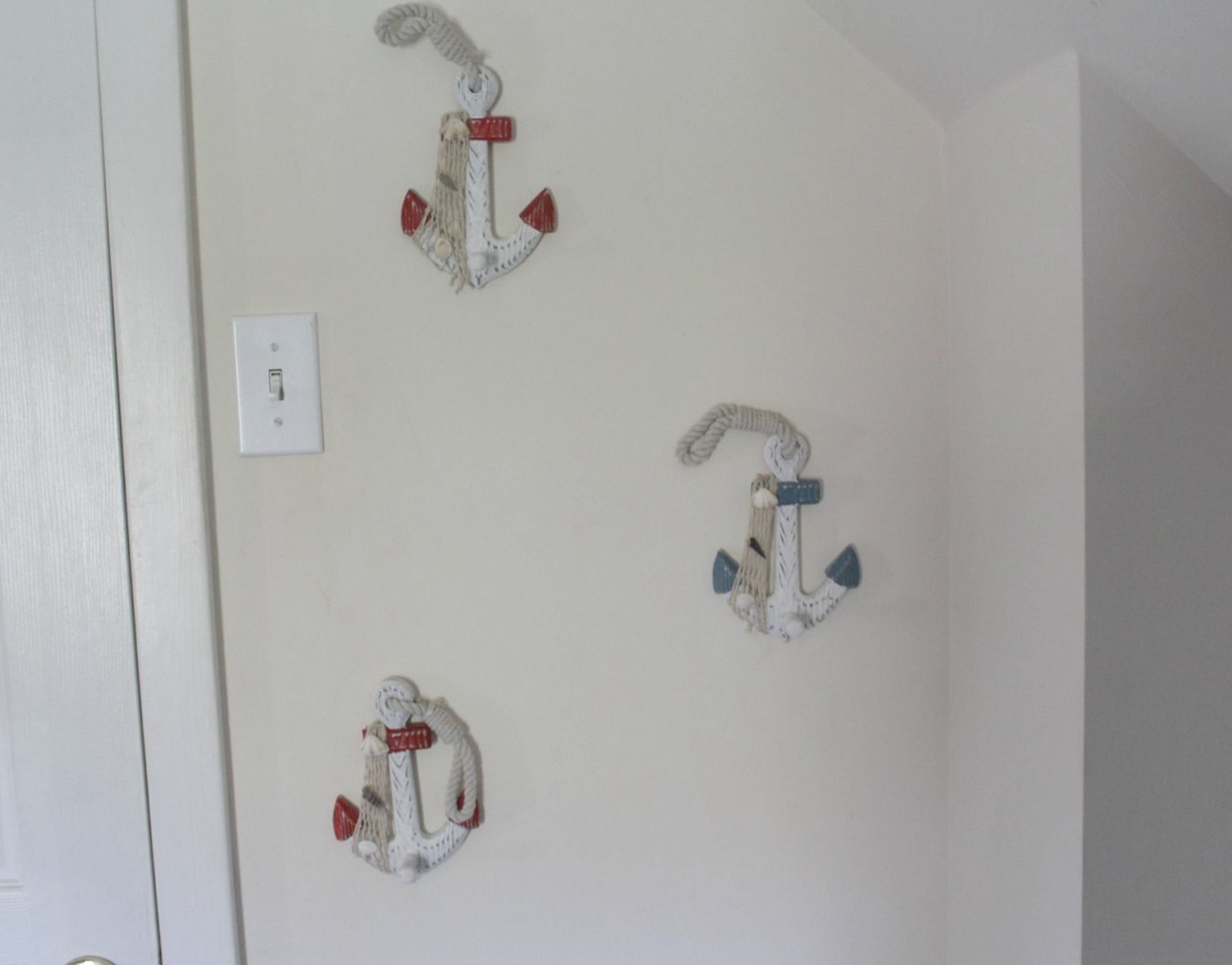 In my "previous life" I was a history teacher, so I love the feel of the Age of Exploration this room has – and the added bonus of a globe.  Our son and his friend take down the globe and pretend his bed is a boat!  They say things like, "We're going to Chocolate World, Australia, the beach and Africa"!  It's so cute, especially since they are three year olds 🙂
We still gave it a little nursery love by hanging up the framed poem my mother gave me at my shower (which we did not have until our son came home).  Since my mom made an "I love Mommy" work of art, I made an "I love Daddy" piece to match.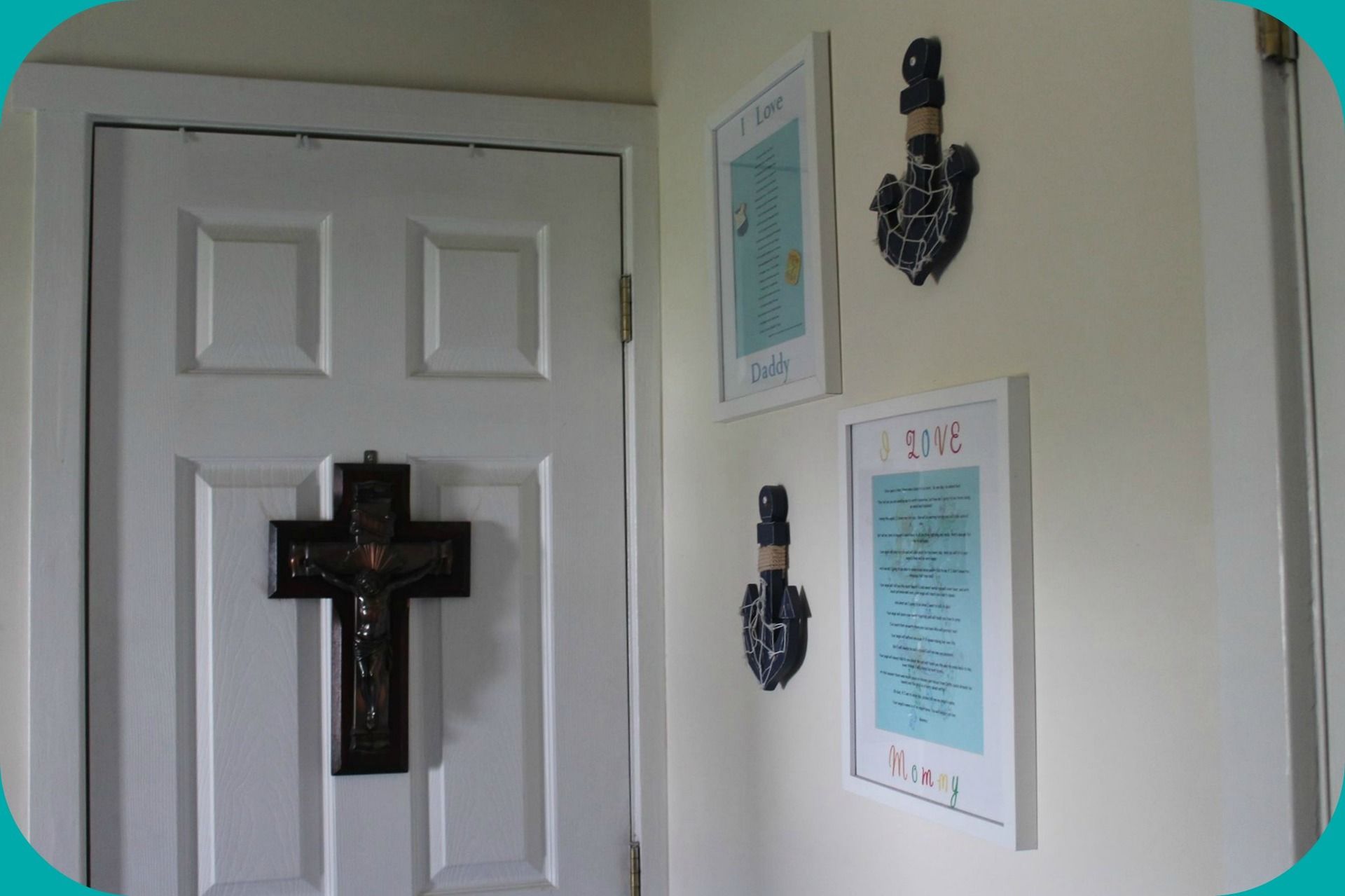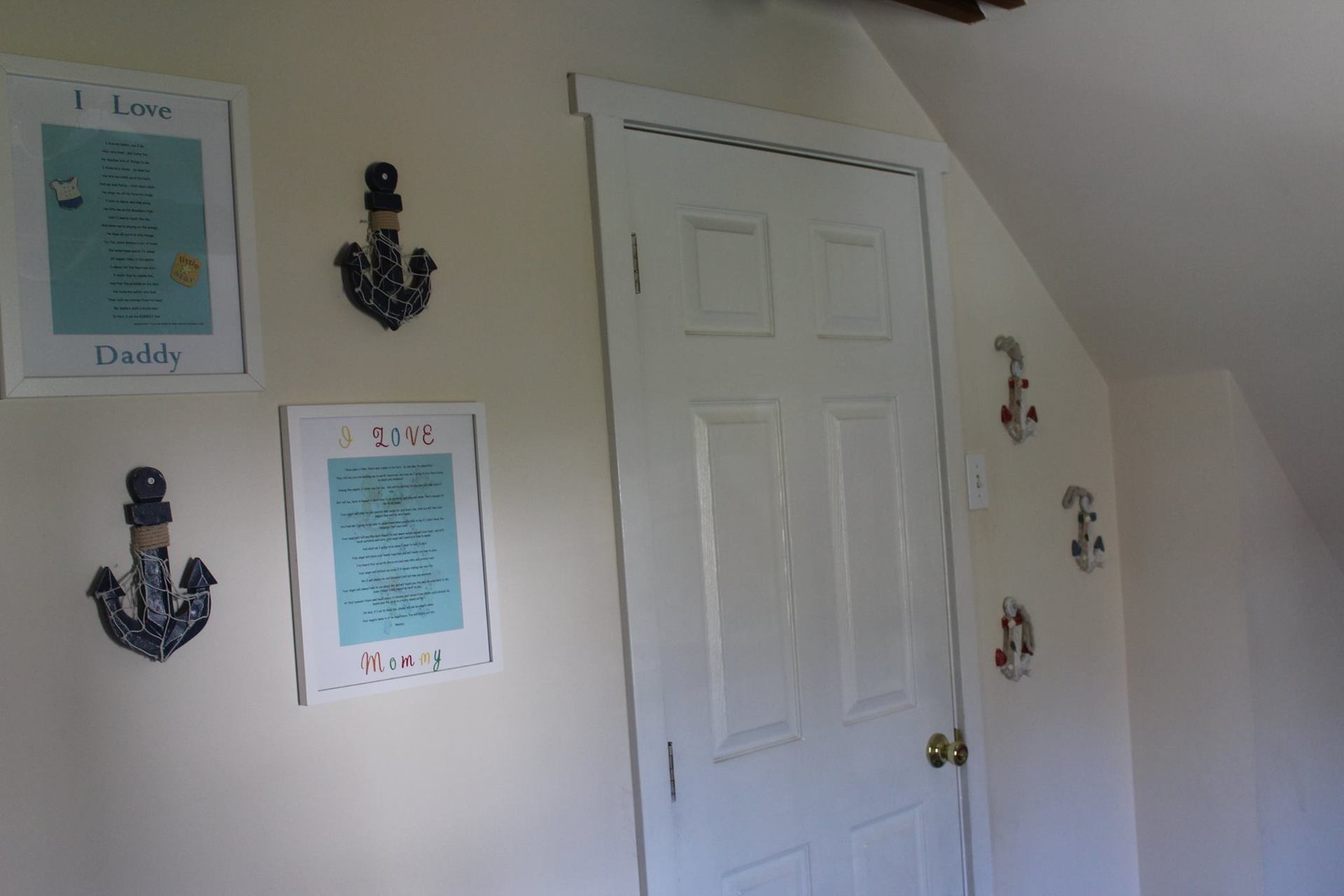 One of my favorite features of this room is the Wood Ship Wheel.  We found this, and a lot of the decor on Amazon.  Matt made sure that he hung it in a way that the wheel could be turned!  Xavier has sailed me to the beach many times with that wheel!
You can order that same wheel on Amazon here: Wood Ship Wheel
Another cool feature we added to the room is a chalkboard wall.  In the picture above, you can see part of it to the right.  Below you can get a better idea of how big and fun that is – for all ages 🙂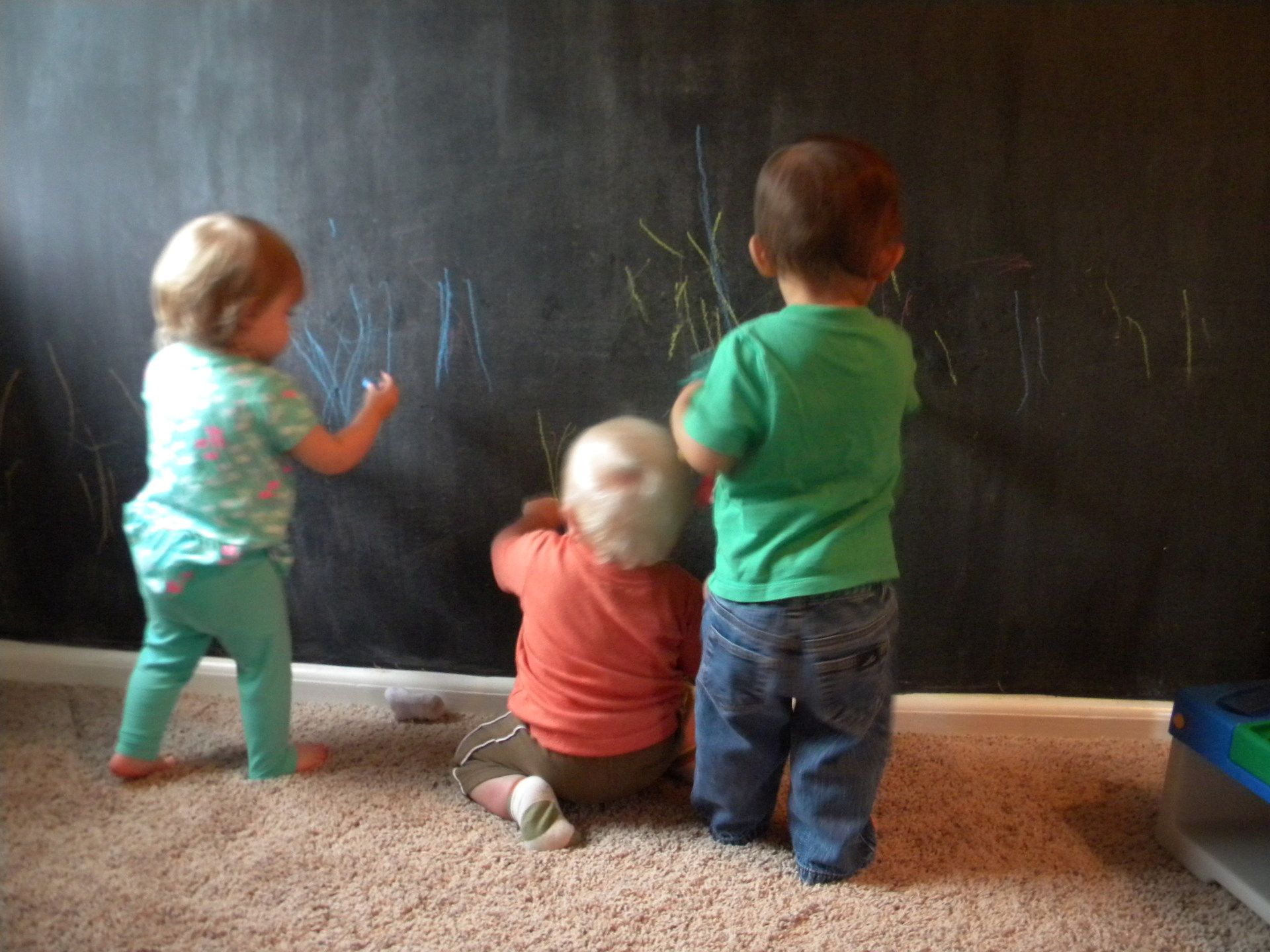 We also had a little fun with a "Poop Deck" sign we found!  It's small – which is good since it says poop, but it's fun!  Here is the one we hung up: Poop Deck Sign.  I took a picture of it in the room and noticed it is a little crooked . . . ugh.  But, here it is 🙂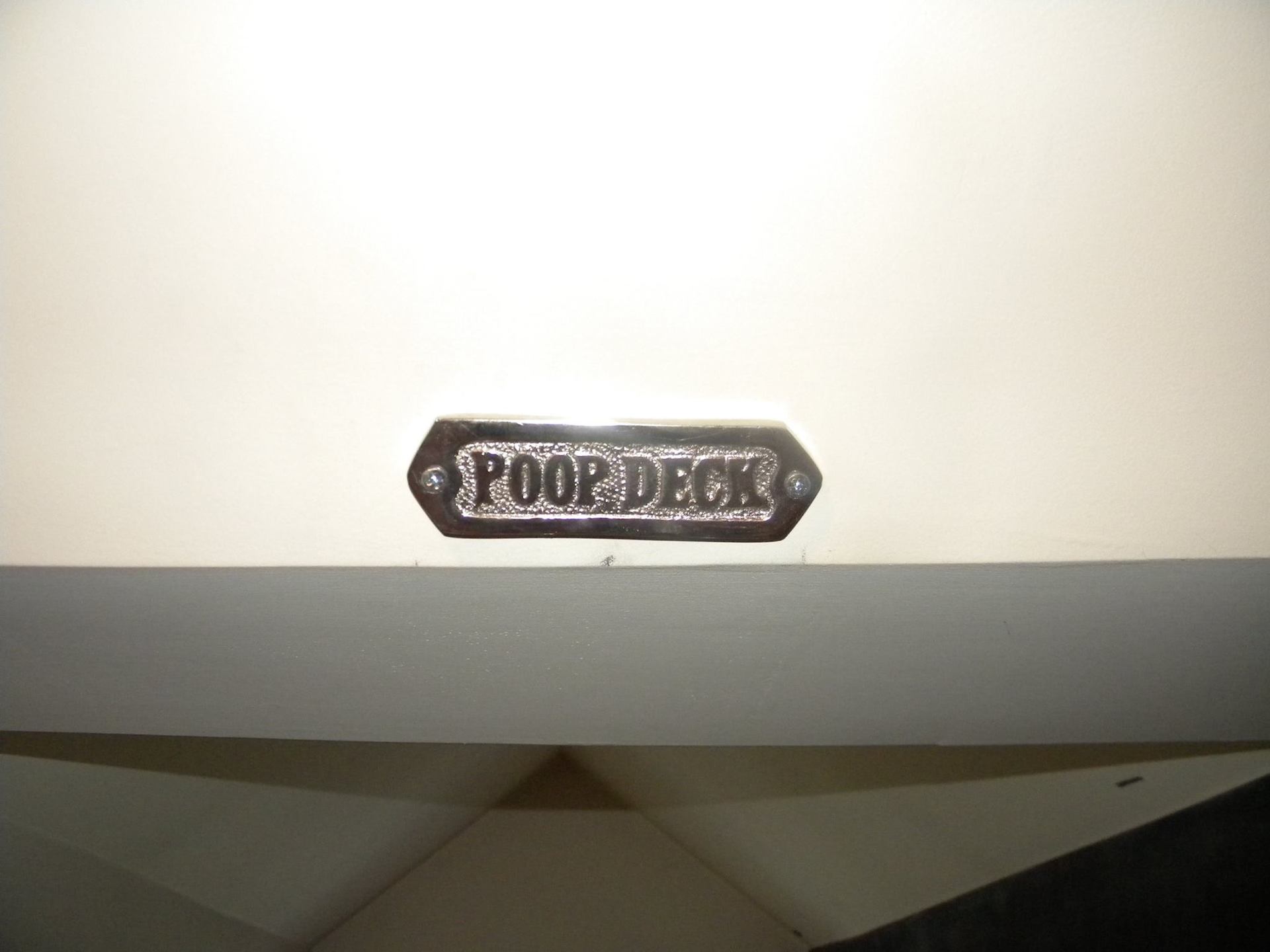 We could do more with it, but for now – it works!  Here's a little book nook we have in there now: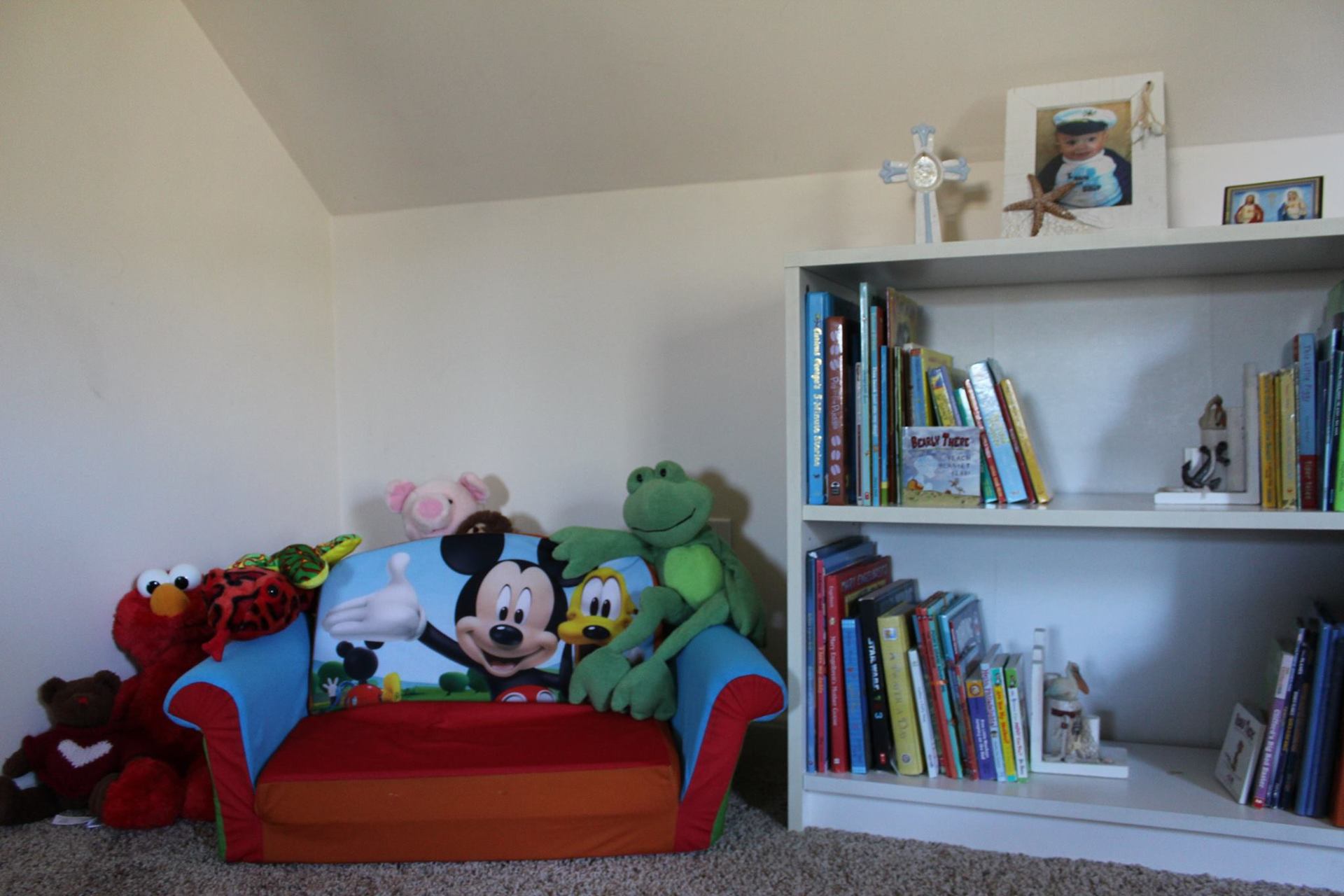 But, of course, the best part of this room is . . .