Catholic Social Media Influencers is a group I created and manage on Facebook.  This amazing community of both men and women write, own businesses, create products and truly embrace God's will in their lives.  Each of them inspire, educate and genuinely care for their readers.
Do you Pin?  Follow all the Catholic Social Media Influencers on Pinterest here:
Today I am sharing two interviews.  The first is with a young blogger currently residing in California, and the second is from a Mom "across the pond"; an Italian living in London.


Caitlyn Anderson
Blogger at Mrs. Andy: Anchored by Faith
Tell us about yourself!

My name is Caitlyn Anderson, but I am also known as "Mrs. Andy"- a nickname that my husband's coworkers gave me the first time we met that has stuck ever since! I'm a blogger, fur-mama, Navy wife, and Catholic: in reverse order.
I have been happily married to my husband Jacob for two years. We are currently living in Southern California with our beloved fur-child Remington. The three of us enjoy eating pizza, binge watching classic movies, and going to the beach. We also enjoy growing in the faith and finding ways to incorporate our Catholic beliefs into everyday activities.
I started the Mrs.Andy, Anchored By Faith blog as a way to share my Catholic beliefs and how they helped me navigate life as a military spouse. As I continued to share my experiences, this blog grew into a place for me to link everything about my life- mind, body, and soul- back to my faith in God and my relationship with Jesus Christ. I hope that by sharing how the faith keeps me anchored in my crazy life as a young adult and military spouse, I can inspire others to anchor themselves in faith and face their temporal and spiritual storms knowing God is by their side.
Where can you be found on social media?
Facebook- https://www.facebook.com/mrsandyanchoredbyfaith/
Instagram- https://www.facebook.com/mrsandyanchoredbyfaith/
Pinterest- https://www.pinterest.com/mrsandy2016/
What type of wine is your favorite?
I only turned 21 a few months ago, so I haven't had a whole lot of time to explore the wine world… but so far I am a fan of Merlot! I'll update you later on if this changes.
What is your favorite chocolate?
I love me some dark chocolate! Unless it is a Dove Milk Chocolate Square… but anything white "chocolate" is a no-go for me.
What is your favorite prayer and/or quote?
I love praying the Holy Rosary. I am a total mama's girl, so being able to ask the Blessed Mother for her intercessions has always been very special and reassuring to me. Never underestimate the power of the rosary!!!
As far as quotes go… It would have to be a tie between Hebrews 6:19 (the verse that inspired my blog title) and "Welcome to the military, where everything is set in jello!" I think both of those sum up my life pretty nicely. It is a combination of faith and humor that get me through the day!
What services do you provide?
Through social media and the Mrs. Andy, Anchored By Faith blog, I provide support and encouragement for women of all vocations. Being a 21-year-old Catholic Navy wife, I am able to provide a unique perspective of Christian living in a modern world, offer faith-based advice for young adults navigating relationships (platonic, romantic, or spiritual), and shed light on the different challenges married people face with a focus on military life.
I am available to write for faith-based websites and do sponsored posts. Please contact me for my rates!
Contact info
Feel free to contact me on any social media sites (especially Facebook and Instagram) or email me at contactme@mrsandyanchored.com   


Chiara Finaldi
Founder of Catholic Mothers group on Facebook, blogger at The Pearl of Great Price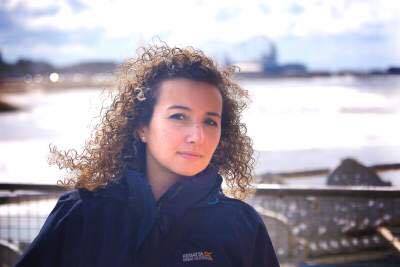 Tell us about yourself!
My name is Chiara (37) Italian living in London UK where I moved 18 years ago after marrying my teenage sweetheart, Pierpaolo (40). We have six children (17yrs-10months) and with the help of God we try to live our life to the fullest, fighting together for the Truth. We are fruits of Pope Saint John Paul II's Papacy. We blog as part of our apostolate and run the 'Catholic Mothers' Facebook Page. Eating good food and drinking good wine is part of our Mediterranean culture, I have fun cooking and I am not afraid of feeding an infinite number of people. I enjoy painting Icons, creating elaborate Christmas crèches and making pretty things. I love dancing flamenco, listening to my husband's beautiful baritone voice and singing with my musical family. My mum used to call me a 'volcano' when I was younger because I was constantly erupting with ideas and grand projects … things have not really changed, so watch this space!
I blog at 'The Pearl of Great Price' https://catholicpearl.blogspot.co.uk/ . The name is taken from a passage from the Gospel of Matthew (13:45-46) 'Again, the kingdom of heaven is like unto a merchant man, seeking goodly pearls: Who, when he had found one pearl of great price, went and sold all that he had, and bought it.'
Where can you be found on social media?
You can find me on twitter at @CFinaldi
On Instagram as Chiara.fin
Or you can join us on Catholic Mothers https://www.facebook.com/groups/catholic.mothers/
There you will discover a beautiful virtual community of mothers sharing, praying and walking together on this journey of faith.
What type of wine is your favorite?
I have really expensive tastes but no money and that goes for wine too…For this reason I am even more grateful to be Catholic…Though to fast or to make sacrifices (whether because of lack of money or because of the liturgical season) can, at times, be hard… we are asked really to make an effort around important feasts and to celebrate them to the full.
To mark important liturgical festivities (especially Christmas and Easter) we stock up usually with full bodied reds like Amarone, Barolo, Chateauneuf Du Pape or Brunello di Montalcino.
Out of the ones I have just mentioned I would say Brunello di Montalcino is definitely one of my favourite wine. Exquisite red, delicate, gentle on the palate and yet full of flavour, a wonderful companion to a good English roast or a fine steak.
When summer comes I really enjoy accompanying a nice salad with a big cold glass of Retsina, a white, resinated unsophisticated Greek wine with a very singular taste and very refreshing. It reminds me of our honeymoon in the Peloponnese!
 What is your favorite chocolate?
Green and Blacks is my favourite English brand of chocolate. The company was founded in 1991 and produces a beautiful range of high quality chocolate bars. Among the large selection offered my favorite one is the organic dark chocolate with crystallised ginger pieces. It gives me the right boost to face the school pick up and I really enjoy it in the evening with Pierpaolo (and his mint chocolate) accompanied by a nice cup of tea and the well-earned silence of hardworking household. 
What is your favorite prayer and/or quote?
The Prayer of the Heart, 'Lord Jesus Christ, Son of God, have mercy on me, a sinner.' is one of my favourite prayers. It is nice and concise. I recite it on a loop at any point of the day especially when feeling discouraged, during stressful moments or when upset and about to lose my patience.
What services do you provide?
I've written for the Everyday Ediths blog, Regina magazine and have some writing projects in the pipeline. I'm planning a series of interviews with Catholic Mothers who have other extraordinary stories to tell. Beginning with pro-life speaker and novelist Fiorella Nash.
I run the Catholic Mothers Facebook group, which I founded in 2015 as a reaction to a secular Mother's group I was part of. Within that group I encountered a microcosm of all the things I disliked and went against my Catholic faith.
It was a group for mothers but that somehow hated motherhood and was constantly trying to reinvent it. It was a group for women who despised the very fact they were women and their attributes, were disrespectful to their husbands, partners or any male figure in their life.
Catholic Mothers is an apostolate where women are encouraged to live their femininity to the full and to embrace their vocation with God as their leader and Christ before them to show them the way!
Though based in the UK, Catholic Mothers is an International community that is constantly growing. Moved by the wonderful American spirit and 'can do' attitude, we have many projects lined up to support us in our calling and in the passing on the faith to our children.
A Catholic Mothers' planner will be available for sale soon, children's books will be published in December and we hope to organize the first Catholic Mothers Conference in London. We have started a little Youtube channel so that our Mothers from across the pond can participate and we can walk together on this journey towards the Father's house.
You can join us here https://www.facebook.com/groups/catholic.mothers/
Support here: Catholic Mothers Fundraiser
Contact info
Want to read about other Catholic Social Media Influencers?  Check out these posts:
Catholic Social Media Influencers: Volume 3
Catholic Social Media Influencers: Volume 2