I was given a Catholic Goodie Box to review.  All thoughts and opinions are my own.
Whenever I am going through a challenging time, or someone I love is hurting or sick, I often ask others for prayers.
I truly and honestly appreciate when others pray for me. I am sure you do too!
We often pray for others when they ask or when we can see they are going through a rough time.
But sometimes, we want to give them more than our silent thoughts and prayers.
Other times I personally feel as though I'm not praying enough, or I find myself forgetting people that asked for prayers.
As I looked through the Catholic Goodie Box, I thought, what an awesome way to give more than prayers!
The Catholic Goodie Box includes prayers through each and every product.
By giving someone the The Catholic Goodie Box, you transcend your thoughts and prayers into a tangible reminder of your love and concern.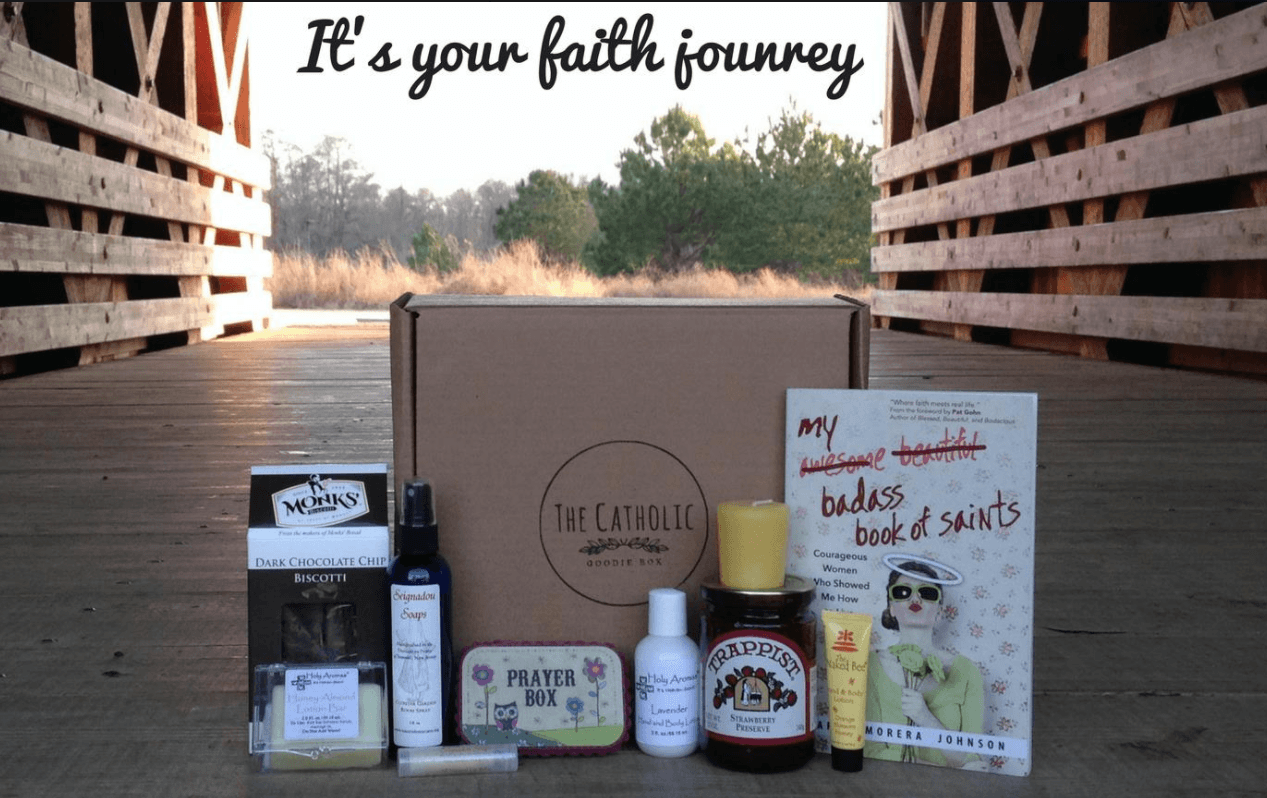 And maybe, the very person that needs that reminder is yourself!
Or maybe it's a lonely person, or a sick friend, or someone experiencing many challenges in his faith and life right now.
Whatever the case, I love that this option is available.  Although there is nothing better to give someone than a heartfelt, faith filled prayer to Our Lord, sometimes we need reminders that prayers are being said, and that we are loved.
Sometimes people need that extra boost.
The founders of the Catholic Goodie box want to make that "boost of inspiration" available to you and your loved ones.
Joanna, one of the Catholic Goodie Box founders, explains:
We started The

Catholic

Goodie

Box

because we believe in stepping out of your comfort zone to receive God's incredible gifts. To us that means trying new things, engaging with new people, being present in our faith community, and pursing an inspired faith filled life.
What a challenge to all of us in the midst of our busy, daily lives . . . to step outside our comfort zone.
To not only say, "I'm praying for you"; but to send a prayerful goodie box.
To not only say, "I think it is so great that nuns make soap", but to support those nuns in their soap making.
And to not only say, "I am proud to say I believe in God", but to continue to grow in our relationship with Him by reading spiritual, faith filled books often included in a faith based subscription box.
Our human nature make signs and symbols important to us.
We could all use  some "tools to assist us in deepening our faith"!
If there is someone you wish you could "give more than prayers" too,
 Don't stop praying!  Your prayers are the greatest gift you could ever give to someone!
Consider sending them a Catholic Goodie Box!

USE COUPON CODE PRAYER15 and receive 15% off any order!
Getting mail that is not a bill is always fun!  Send someone a box of prayers and love today!
Want to see what has been in past boxes and what gift options are available?  Check out TheCatholicGoodieBox.com
SPEAKING OF GIVING MORE THAN PRAYERS:  I had this coloring page sketched just for you!  Take some time this weekend to relax and color – and maybe even prayer journal!  Enjoy!
Download here: Love and Flowers Coloring Page