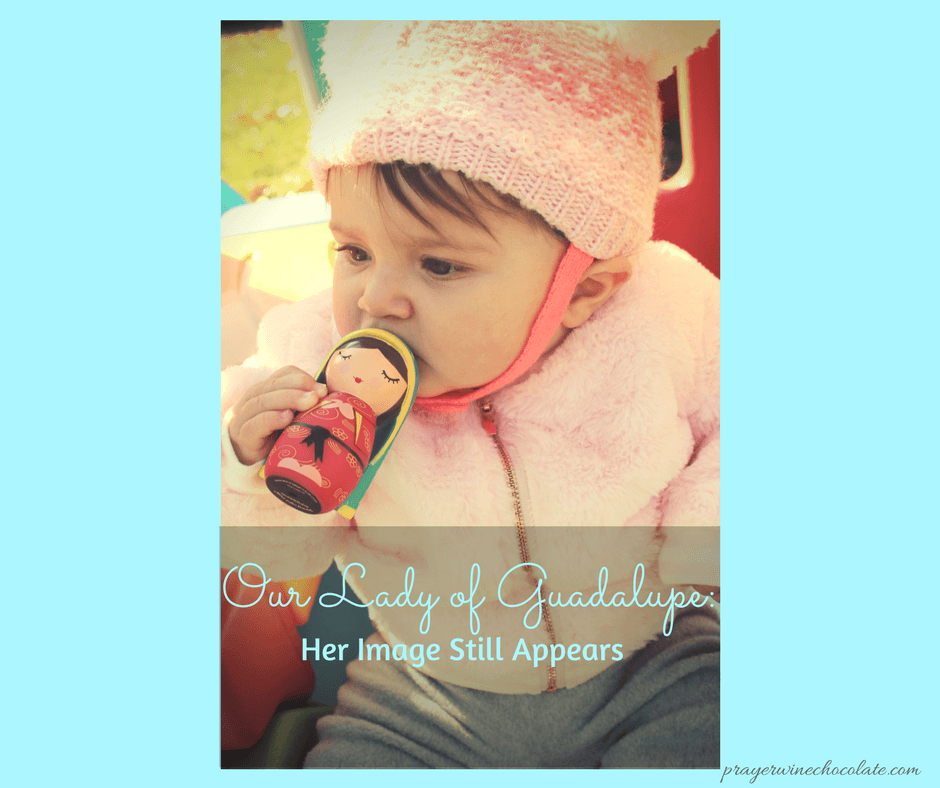 This post contains affiliate links.  See my disclosure policy on my About Me page for more details.
"I don't know what is going on, but Our Lady of Guadalupe is stalking me."
I said this to my husband sometime in early 2017.  I was sitting on the couch, scrolling through Instagram and her image was there . . . AGAIN.
It had been something I started noticing months before.  At first I'm sure I didn't think anything of it.  But then I started seeing her image, hearing her title and it seemed like almost every day, in some way, Our Lady of Guadalupe crossed my path.
I probably started taking note of it in the Fall of 2016.  For years I would hear about this parish retreat our church ran annually.  I always wanted to go, but felt funny because my husband and I – in my mind- were only a couple.  I thought, "you gotta have kids to go on that".  Well, last Fall, my husband, son and I went.  It was that weekend that the Retreat House was having a Shrine dedication – to Our Lady of Guadalupe.
It was a huge deal, the Archbishop of Philadelphia Charles Chaput came to give the blessing.
The event plan also included a reenactment of the Our Lady of Guadalupe story, a Mariachi band, folk dancing and light fare inside the Family Life Center.
I remember thinking there, that's so weird, I keep coming across Our Lady of Guadalupe so often lately.
During the Retreat I attended a talk . . . about Our Lady of Guadalupe.
The woman who gave the talk said, "It's funny how God works, I had planned to talk about this topic before I even knew about the Shrine dedication this weekend!"
Insert twilight zone music.
Weird.
Other ways I noticed Our Lady showing an increased presence were:
Seeing images of her weekly.  One time my husband, son and I went out to lunch.  We went to a Mexican Restaurant that had the largest tapestry of Our Lady I have ever seen.  At that point I was convinced she was really trying to tell me something, so I made my husband and son pose for a picture with me in front of it!  I wish I could find that picture now!
Holy cards with her image surfacing everywhere.
Being invited to give a talk at a local parish . . .name of the parish . . . Our Lady of Guadalupe.
Seeing shrines of her at churches not named after her.
Seeing her medal on bracelets and other jewelry.
By the time I made that comment to my husband, I had been scratching my head about it for months.  So I said to Matt, right after my "Our Lady is stalking me" comment, that I was going to look up what she is a patron of . . . honestly, I already knew.
OLG is patron of the unborn and of the Americas (two topics I prayed most for this past year – the unborn and our country).
Still . . . I wondered . . . why is she constantly showing up?  What is she trying to tell me?
I really was seeing her that frequently.
 It was bizarre.
Then, on April 5th, we got THE CALL.
A woman was in labor – at SAINT MARY'S MEDICAL CENTER – and she was having twins.  She told the doctor delivering the babies, she wanted to place them with an adoptive family.
A nurse working heard her, told the doctor about Matt and I and before I knew it, I was on the phone with the doctor giving him my attorney's information.
We never met the birthmother.  I was told she looked Hispanic.
I thought, she must have been asking the Blessed Mother to help her throughout her pregnancy, and she must have entrusted Our Lady of Guadalupe with the hope that they would go to a safe and loving family.
She must have asked Our Lady to take care of her babies.
The day we were driving to court for the adoption finalization gave another incredible sign.  Perhaps, a true "signal grace"?
We drove to the court and found ourselves looking for a parking lot.  I was driving so Matt sent a text to our social worker:
"Is there a parking lot?"
She answered, "no, park on the street".
I knew there was often parking spaces the block before the court, because our attorney's office was there and I had found parking in front of his office each time I visited.  So, I drove around the corner and purposely drove an extra block so that when I turned I would be parking on the same side of the street as the court.
Right before our turn we were stopped at a red light.  I looked up, and saw . . . this: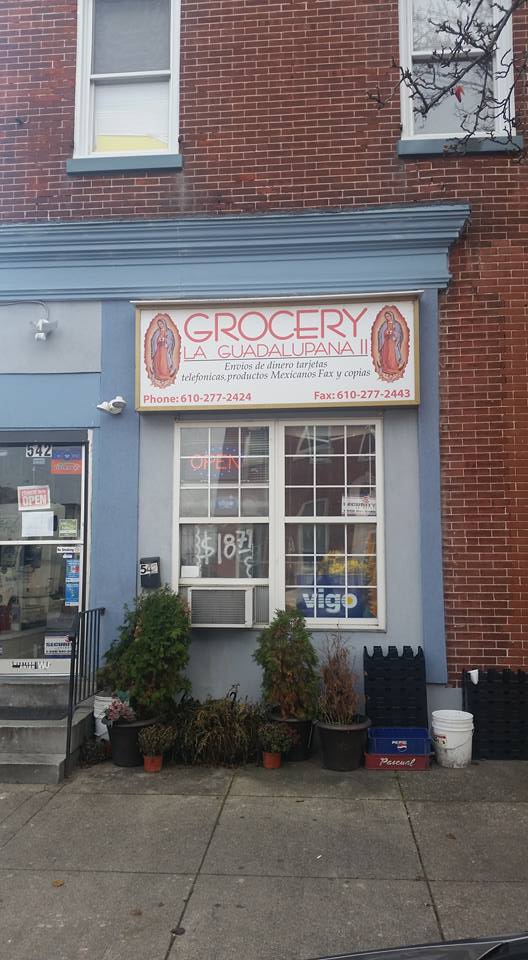 I must have said, "Oh you have got to be kidding me".
I had never seen this store before (I had never been on that corner before).  But I have NEVER seen a store named after Our Lady – any title of Our Blessed Mother – before.
Ever.
And then I laughed and said, "nicely done Mother".  I see you.
And thank you.
I still see her more than ever. . . and as I wrote this I think I realized why.
I am convinced the twins first mom prayed for them before, and still prays for them now.  She has entrusted Our Lady with their care.
I don't know if that brave, faithful woman will ever read this – or if I or the twins will ever be able to share this story to her . . . but if you are reading this . . .
Thank you for praying for your babies.  Thank you for choosing life.  Thank you for allowing us to be their parents.
I am certain that is wasn't until this year that I had read what Our Blessed Mother had said to Saint Juan Diego.  These words were not just meant for him, they were meant for us too.
So if you are the woman who gave life to these precious babies, or considering adoption over abortion, or a person praying to be blessed with children, or none of the above – these words are for all of us.  Read them slowly and know . . . she is our Mother.
"Let not your heart be disturbed.
Do not fear sickness, nor any other anguish. Am I not here, who am your Mother? Are you not under my protection? Am I not your health?  Are you not happily within my fold? What else do you wish? Do not grieve nor be disturbed by anything."
Side note: There is a whole other spiritual, miraculous layer to this whole story.
In September, 7 months before the twins were born, our family of 3 began praying the Spiritual Adoption Prayer for a little girl.  A few weeks later, we decided to add a boys name too.  It was the first time we had spiritually adopted twins.  Ironically, we adopted boy/girl twins.
I wonder if it was in September that our twins' mother discovered she was pregnant.  I wonder if those few weeks later is when she found out she was carrying twins . . .
I want to thank Our Lady of Guadalupe for walking with me every day, and leading me and my children, and their birthmother, to Jesus <3

Here are some of my colleagues products honoring Our Lady of Guadalupe!  Add them to your Christmas shopping list and assure your loved ones that Our Blessed Mother is our protection and that we are "happily within" her fold!
Pink Salt Riot's Our Lady of Guadalupe Necklace Stack