One day, when I was moderating lunch as a seventh grade teacher, I received instructions from the principal to "keep the kids down there longer".  So, like a good listener, I did so. I wondered why the students were being gifted a longer than usual lunch break, but didn't give it to much thought.  Later that afternoon, I found out why we were instructed to keep the students in the lunchroom for an extended break.  The reason was, well . . . the principal was dealing with the naked man that had ran into the school building.  I believe it was handled by a call to the police so that he could be escorted out . . . and brought into custody.  I wish I knew more about this story so I could share, but I don't.  But on that day, someone truly clothed the naked – and shielded myself and my students from witnessing it.
I hope and pray you never have to perform this work of Mercy in such a literal way.
But how do we "clothe the naked"?
We provide for our children and in some cases our spouses.
We fill up bags with our own clothes and donate them to friends or clothing drives.
We donate gowns so that girls who are financially struggling can buy a pretty dress to wear on prom night.
But what else can we do?  What else should we do? Or is that enough?
In 2002 I witnessed an event that made me realize how lucky and blessed I am in the clothing department.  It was that year that I was lucky enough to chaperone a mission trip organized by Sister Lisa Valentini, a Missionary Sister of the Most Sacred Heart of Jesus. The mission trip was to El Factor, a small town in the Dominican Republic. At the time, Sister Lisa was living there.  She was the principal of two pre-schools, in charge of choir and youth group and, with no priest living in that parish, a very important connection for people in the community.  My participation in this trip was very last minute. Another chaperone was needed, and by word of mouth I found out about it and jumped at the opportunity.
In the next two weeks I was sent a lot of paperwork.  Much of it I didn't read.  I somehow managed to get my ducks in a row and go to the airport.  There, I met the other chaperone and all the teenager missionaries for the first time.  The missionaries had A LOT of baggage.  And that was not because they were young women that wanted to pack lots of choices for outfits.  It was because they were bringing with them donations.  Many of the donations were clothing.  During the two weeks we were spending there, one event we were going to help organize was setting up and working a sale for the village residents.  This sale would allow families to purchase clothes, shoes and other things we take for granted.
Now, back to that paperwork I didn't read.  We arrived at the airport, where Sister Lisa picked us up, then drove us over an hour to the village where she lived and worked.  We got dressed for our first assignment – clean the convent.  I was in the Caribbean so I wore shorts.  Guess who was the first to shop at the "donation store"?  Yep.  Yours truly.  The information I should have read discussed a dress code.  I was a chaperone – way to go, I was making a banner impression.  Shorts were a no no.  Long skirts and baggie shirts were the acceptable attire.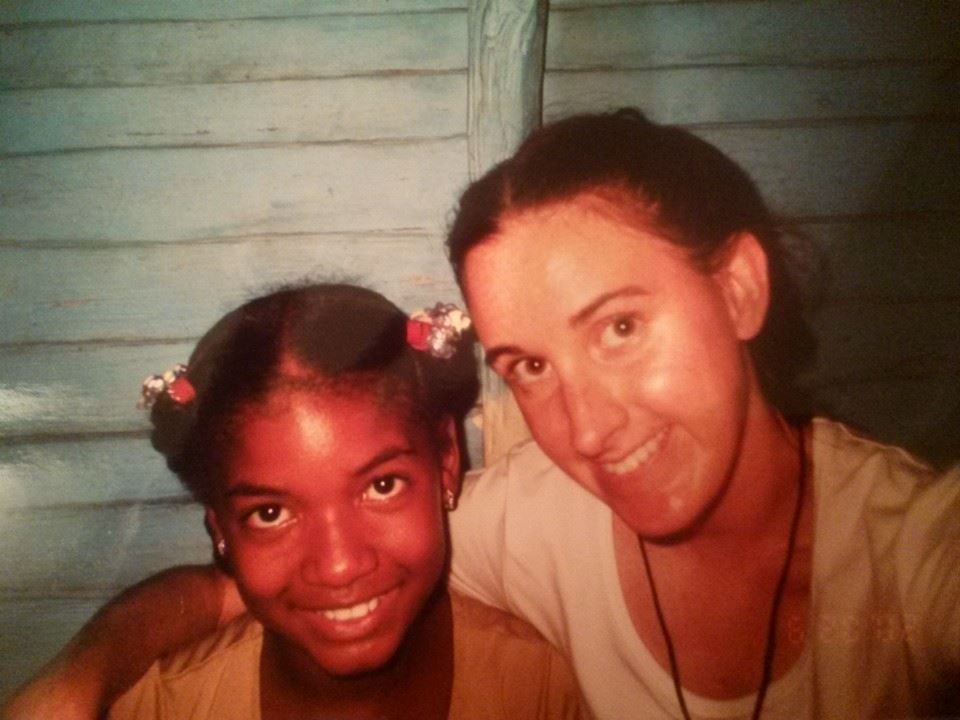 Anyway, once my wardrobe mishap was straightened out, we all helped sort and prepare for the big sale.  Young people were coming by asking with excitement, "when is the sale?" (in Spanish, of course).  The excitement was for clothes that people like you and I easily throw in a bag, because we don't need them nor do we want them.  This sale had the whole community excited.
The day finally came for the big sale.  I'm pretty sure the whole town showed up at the community center.  In order to control the crowds, only a certain amount of people were permitted to enter and shop for a given amount of time.  Once the first group was done shopping and exited, the next group were permitted to enter and do their shopping, and so on.  But the crowds got restless, and chaos broke out.
The long anticipated sale had turned into a mob scene.  Sister Lisa had to shut it down. She was heartbroken.
Some of us were working outside for crowd control, others were inside "selling the wares".  I was outside and had taken a picture of the crowd before it was closed down.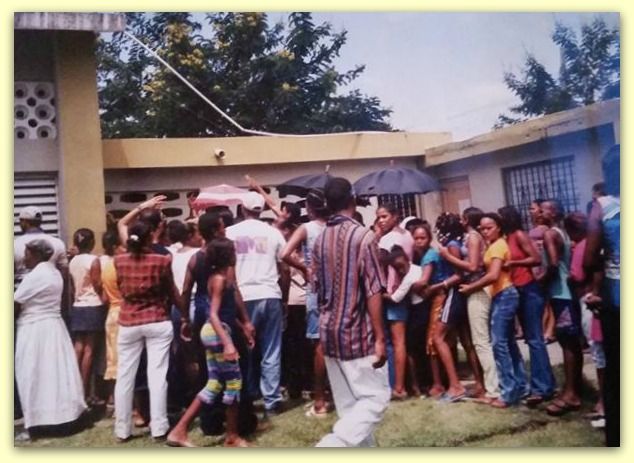 A mob scene – for used shoes and old tee-shirts.
As Americans, we don't need a stitch-fix, we need a Jesus Fix.  We need a Mercy Fix.
But how can we get our "fix'?  Here are some of my suggestions . . .
If you can, go on a mission trip – or sponsor a young person that has a desire to go, but not the funds.  It's life changing.  It's up-lifting. It's hope giving. You'll help clothe the naked, feed the hungry, give drink to the thirsty, shelter the homeless, and much, much more.  I personally recommending reaching out to Sister Lisa!
Fill those bags and give them away!  Even if you have a hard time letting go. Whether you give those clothes to a third world country, or a family who is down on there luck, it is still a great gift.  Just because it didn't cost you anything, doesn't mean it didn't bring joy to someone else.
Find an organization that has a need for clothing.  In the Philadelphia area the Saint Francis Inn helps people daily. Last week I noticed they were in need of several items.  Two of those items were diapers (clothe the naked) and coffee (give drink to the thirsty).  I picked up some and this week I'll mail it to them.  Every little act of love is still an act of love!  I also noticed the Media Food Bank requested more glove donations because they didn't have enough in men's sizes.
How do you clothe the naked?  What other suggestions could help us live this work of mercy?
Have you ever gone on a mission trip?  If so, would you recommend the experience to others?
Please share!