"This baby is very sick" the nurse told our adoption agency social worker over the phone.  The nurse had told the social worker at the adoption agency that "the mother changed her mind – tell the waiting couple she has decided to parent."
The conversation between the social worker and the hospital nurse would normally stop there – but for some reason the nurse was compelled to say, "this baby is very sick".
Hearing this news made my heart sink.  Matt and I were devastated.  This was the fourth time we had our hopes up in a one year span – we were finally going to be parents!  This was the fourth time the plan was changed.
But this time, it was even more devastating. Matt was certain this was our child.  I didn't know what to think.  But I knew a baby was born, "very sick", and needed prayers.
I went to adoration and prayed for the baby's health.  I thought, whether we adopt him or not, he needs to heal.
Then, about two weeks later, we got a call we didn't expect.  The biological parents changed their minds again, and decided that adoption would be best for their baby.
The social worker told me over the phone that all she could tell me is that the baby is sick.  She needed to know if we were still interested.  I thought YES, and talked to Matt.  All I kept thinking was – we will pray and he will be okay!
We told the adoption agency we were still interested.  I then went to the members of Saint Gianna Beretta Molla, Pray for us! group on Facebook.  I posted:
Please pray to St. Gianna – ask her to heal a little boy in the NICU. We may adopt him . . . we have been praying to be parents for 6 years!!!!!!
Nine days later, I posted this on that same group page . . .
For those of you praying for the little baby boy in the NICU – THANK YOU! We are adopting him!  We can't wait until he is healthy enough to bring home. I taped a St. Gianna card to the back of his name sign on his crib in the hospital. St. Gianna please continue to pray for him!!!! He's the most precious, beautiful baby I have ever laid eyes on!!!!!!!!!!!!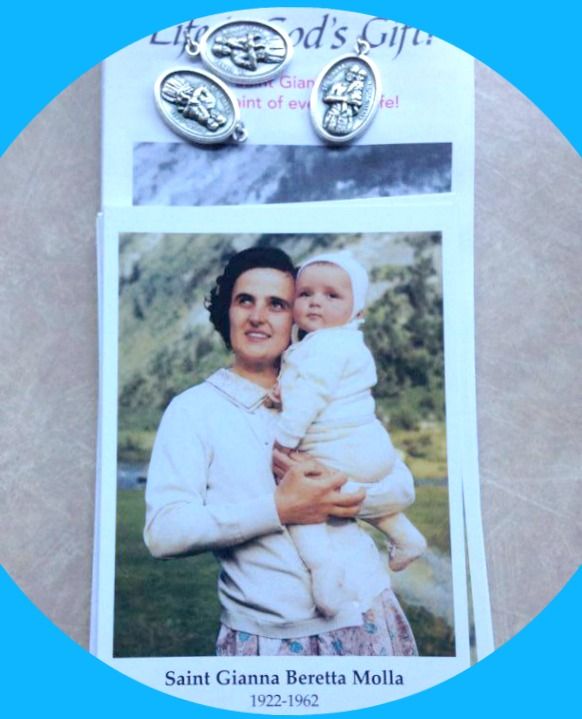 Sixteen days later, I posted this . . .
Xavier came home from the hospital today! He had to come home with a feeding tube, but other than that he's all good! We finally found out when we were coming home after I took 2 Saint Gianna prayer cards that had been touched by her gloves and pressed them over him – from head to toe!!!!!!!!!!!!
I write this post/testimony on Saint Gianna's daughter – Gianna Emanuela Molla's – 54th birthday.  Gianna Emanuela only knew her mother for a little over a week.  The husband of Saint Gianna, Pietro Molla, recalled:
I still see Gianna when, on Easter morning in 1962, in the maternity ward of the Monza hospital, she took the child in her arms with great effort, she kissed her and looked at her with a sadness and an anguish that to me are the proof of her awareness that she would soon orphan her. From that day, her pain became constant. – Pietro Molla, husband of Saint Gianna
Saint Gianna passed away on April 28, 1962.  Her life and death were lived for the glory of God and her love of Jesus.  Anytime is a great time to ask for her prayers and intercession.  There are many books written about her, some exclusively recount miracles attributed to her intercession.
Our family could add at least one more testimony.  Here is the novena prayer to Saint Gianna:
Novena To Obtain Graces Through Saint Gianna Beretta Molla

God, our Father, You have granted to Your church the gift of Gianna Beretta Molla. In her youth she lovingly sought You and drew other young people to You, involving them, through apostolic witness and Catholic Action, in the care of the sick and aged, to help and comfort them.

We thank You for the gift of this young woman, so deeply committed to You. Through her example grant us the grace to consecrate our lives to Your service, for the joy of our brothers and sisters.

Glory be …

Jesus, Redeemer of mankind, You called Saint Gianna to exercise the medical profession as a mission for the comfort of bodies and souls. In her suffering fellow men and in the little ones, deprived of all support, she saw You.

We thank You for having revealed Yourself to this servant as "one who serves" and who soothes the sufferings of men. Treasuring her example may we become generous Christians at the service of our brothers and sisters, especially those with whom You deign to share Your Cross.

Glory be…

God, Sanctifying Spirit, who love the Church as Your Bride, You poured into the heart of Saint Gianna a share of Your Love so that she could radiate it in her family, and thus cooperate with You in the wonderful plan of creation, and give life to new children who could know and love You.

We thank You for this model wife and, through her encouraging witness, we beg You to grant to our families the serene and Christian presence of mothers committed to transform their homes into cenacles of faith and love, rich with generous activity and sanctifying service.

Glory be…

O God, Creator and lover of mankind, You were close to Saint Gianna when, affected by illness, she was in the painful dilemma of choosing between her own life and the life of the child whom she was carrying in herself, a gift long-awaited. Trusting You alone, and aware of Your Commandment to respect human life, Gianna found the courage to do her duty as a mother and to say "yes" to the new life of her baby, generously sacrificing her own. Through the intercession of Mary, Mother of Jesus, and after the example of Gianna, inspire all mothers to welcome with love the sparkle of new life. Grant us the grace we are praying for …………. and the joy to find an inspiration in Saint Gianna who, as a model spouse and mother, after the example of Christ, gave up her life for the life of others.

Hail Mary…
If you are eager to learn more about Saint Gianna, here are some resources (including an affiliate link):
An informative website and details about the National Shrine: Saint Gianna Beretta Molla
If you would like to join the Facebook Group Saint Gianna Beretta Molla, pray for us!! click here: Saint Gianna Beretta Molla, pray for us!!!