Whether you are unsure what to get your dad, husband, son, Godfather, uncle, pastor or friend this Christmas, or you already know exactly what he wants . . . I hope this list gives you an extra way to tell all the men in your life that you love them!
You could also win a few of these gifts by commenting below the article! Tell me what you would like to give or receive from the list and you are entered to win!  
Some links in this article are affiliate links.

This standard Miraculous Medal for men can be ordered from The Catholic Company. It's only $18.95 and most men like this design.  Usain Bolt proudly wore the Blessed Mother around his neck when he won several gold medals at the Olympics this summer.  His medal was gold.  You can browse the Catholic Company, The Miraculous Medal Gift Shop or even Amazon  to find the perfect medal for each man on your shopping list.  Our Lady told Saint Catherine Laboure that anyone who wears the medal around his or her neck would receive extra graces – so this gift is not only from you, but the Queen of Heaven too!
For a really awesome gift; pair this with a Drink Shaker with a built in shaker.  This one is 70% right now -such a great deal! MYXER Cocktail Shaker Set 24 Oz – Premium Bar Tools Kit with Jigger, Built-in Strainer & Recipes  This book looks awesome and the reviews reassure that it is!  The book contains both great spiritual reading and cocktail recipes! I like how Father Mitch Pacwa, S.J., host of EWTN Live describes the book, in his words:
"Drinking with the Saints becomes an occasion (if not an excuse) to slow one's pace, savor a drink, and slip not into inebriation but a relaxed look at the saints."
Definitely a unique, fun gift!
I asked both my brother and my husband to choose something from The Catholic Company's website – and both of them chose a book.  One chose the Manual for Spiritual Warfare and the other chose Cultivating Virtue.  Both books provide short readings, but strong messages.  They also both look and sound manly 🙂
This Rosary from SaongJai is a simple and masculine hematite rosary with gun metal beads, Miraculous Medal center, and pardon Crucifix. The natural stone gives this rosary a substantial weighted feel in your hands. The gun metal finish rosary is the ultimate weapon for spiritual warfare!  Another option for a more unique gift would be a wrist Rosary from Small Things. Great Love.  This hand knotted rosary is cool for a guy to wear and a constant reminder of prayer. If your guy is not one to wear a bracelet, Small Things.Great Love has pocket rosaries too! Catholic Company also has a nice copper pocket rosary!
The holy Rosary is a powerful weapon.  Use it with confidence and you will be amazed at the results. St. Josemaria Escriva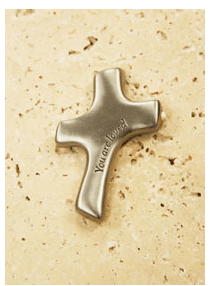 I love how this matte silver cross fits nicely in a pocket and the palm of your hand – and perfectly in a stocking! There is a hole through the cross for you to place a piece of paper with your thoughts and prayers written down (paper included).  It's simple and will serve as a constant reminder to thank God for His blessings and ask Him for help with whatever is needed. IF YOU MAKE A PURCHASE with Christian Bling through ctbling.com/HisGoodness, WRITE IN PARTY NUMBER 1825, AND YOU ARE AUTOMATICALLY ENTERED TO WIN FREE HOSTESS SHOPPING! WINNER WILL BE CHOSEN DECEMBER 14TH!!! Merry Christmas – it's a giveaway wrapped up inside another giveaway 🙂
But not just any chocolate . . .chocolate made with love and prayer.  Trappistine Quality Candy is made by the nuns at Mt St Mary's Abbey with great joy and love knowing how much people enjoy their candy.  It is truly quality candy and absolutely delicious!  What a great way to support the cloistered nuns who make it and a way to give a sweet gift
 P.S.  Dark chocolate goes great with red wine . . . and I heard it is good for you 😉  Also, I gave my dad a box of the dark chocolate hearts last year and he LOVED it.  Trust me, it's good.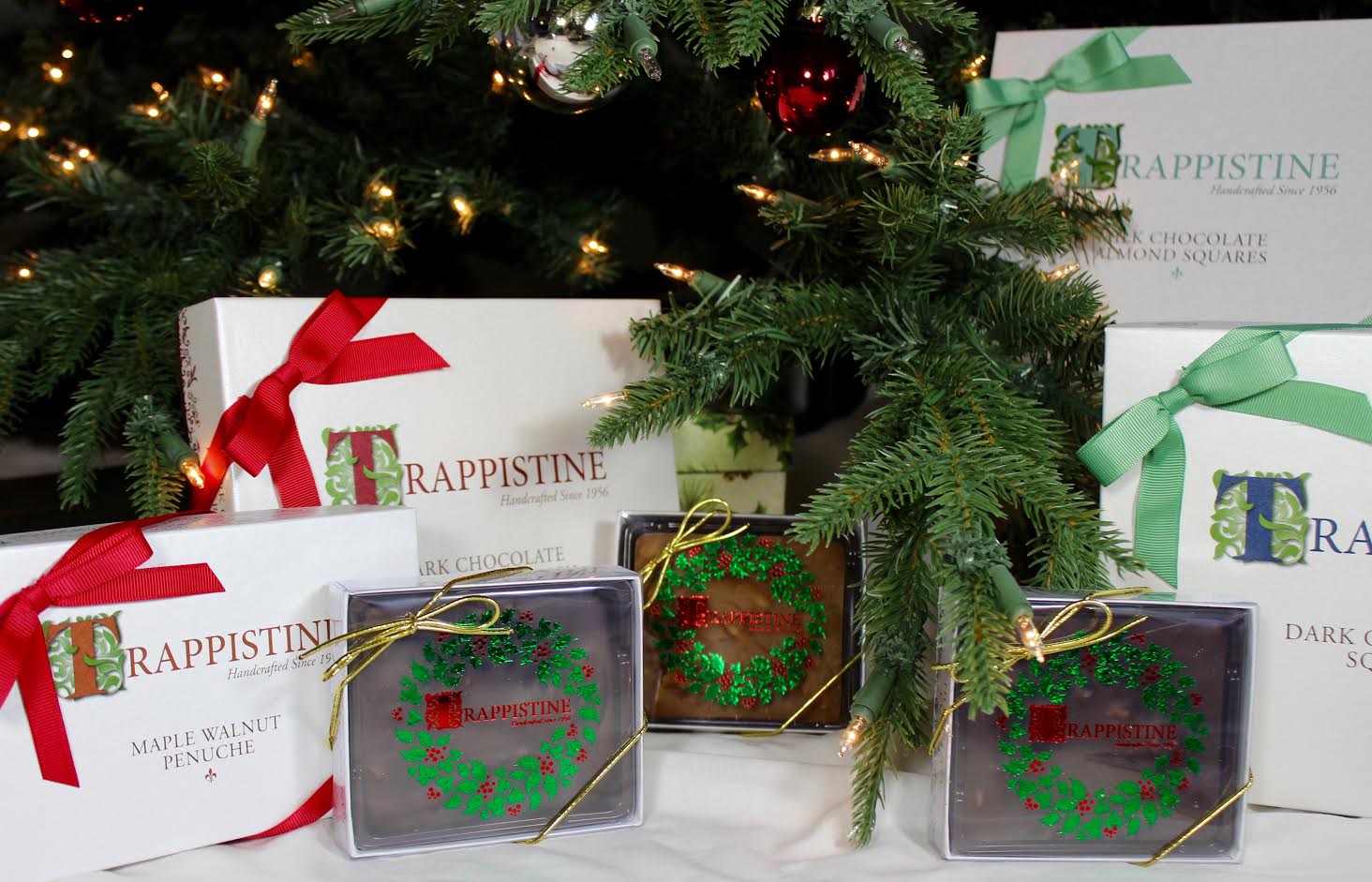 Made with a genuine military paracord, this sacramental is unique and a shorter devotion than the Rosary.  Many men have a special devotion to St. Michael and have chosen him as a Confirmation Saint or see him as the ultimate defender of the faith.
Lifeboat Coffee gives back 10% of it's profits to Pro-Life Pregnancy Centers and other pro-life centers.  The coffee comes from all over the world.  You can purchase K-cups or sample packets to see which roast or origin is the perfect brew.
Scattergories has a Catholic Edition!  This game is so much fun – and now there is a faith twist to it!  How fun will it be to see what answers the man in your life comes up with – and how many laughs you will have together while playing!
This Prayer Cross from Amazon reads "Dear Lord, protect me, my passengers and all I pass by with a steady hand and a watchful eye".  You can also purchase a Saint Christopher/Miraculous Medal Visor Clip which some prefer since St. Christopher is the Patron Saint of transportation, traveling, storms, epilepsy, bachelors and more.  This is a very affordable gift and a very loving gesture that let's your loved one know that you pray he is always safe.
ENTER TO WIN A STOCKING FULL OF SOME OF THESE GIFTS!