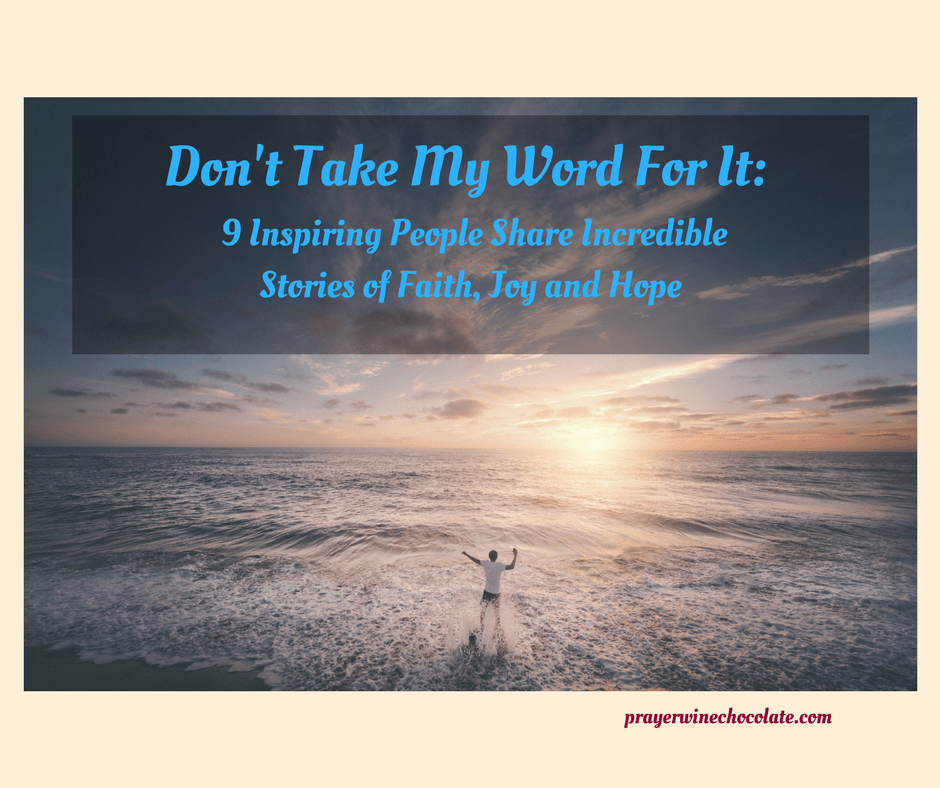 Just a few days ago I published a letter titled Dear Beautiful Woman Who Stopped Going to Church.
That letter got me thinking that there are many people out there that might be considering returning to their faith, or turning toward faith for the first time; but may need to hear the words of someone who was once in his or her shoes.
So, I asked around and got some suggestions.  Some of these books I have read.  Some I now want to read! Check out this list, and consider reading one that tugs your heart!
All of us could grow closer to God.  He thirsts for us – all of us!
Here are some resources for those searching for a reason to return to their faith, their church or a more focused prayer life!
Highly Recommended:
Jennifer Fulwiler tells her story of how she came from a atheist background but eventually found faith and joy.  I have yet to read this book, but it sparked my interest – especially since it is described as "often funny" and I love a good laugh.  Many people have told me they loved this book.  It is on the top of my "to read" list.  I hope you pick it up and read it as well!  Let me know what you think of it when you do!
Books written by my friends!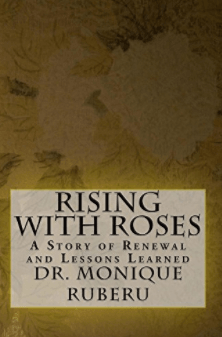 Dr. Monique Ruberu shares how most of her life she was a "cafeteria Catholic" where she picked and chose which parts of the faith she would accept and embrace.  Her marriage almost ended . . . then came a huge change which she shares in this book.
The author, Kimberly Cook, explains that this book is written for:
 those who are outside the Christian faith, outside the Catholic Church, or simply feeling distant and questioning if God is really here . . .
Once I Was Blind is a fascinating story about one man's search for truth.  He left the Catholic Church and tried out many other faiths.  He spend some time engaging in occult practices.
The Book that was recommended over and over again: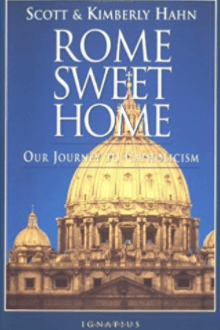 Scott Hahn was a Presbyterian minister and militantly anti-Catholic … until he reluctantly began to discover that his "enemy" had all the right answers. Kimberly, also a top-notch theology student in the seminary, is the daughter of a well-known Protestant minister, and went through a tremendous "dark night of the soul" after Scott converted to Catholicism. Their conversion story and love for the Church has captured the hearts and minds of thousands of lukewarm Catholics and brought them back into an active participation in the Church.
Authors I have read and highly recommend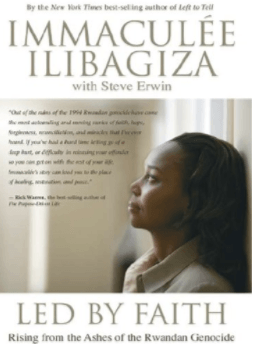 I loved Immaculee's Led By Faith.  My friend Anni from A Beautiful Camouflaged Mess of a Life highly recommends Our Lady of Kibeho.  Anni says the book is:
a gentle reminder that there is something bigger than us out there.
Immaculee's first book is the incredible story of how she survived genocide.
I am currently reading Immaculee's  The Rosary: The Prayer That Saved My Life. 
Talk about an inspiring personal testimony!
Immaculée Ilibagiza believes that praying the rosary spared her from being slaughtered during the horrific 1994 Rwandan genocide, in which her family and more than a million other innocent men, women, and children were brutally murdered.

Nearly two decades later, Immaculée continues to pray the rosary every day and marvels at how she is constantly renewed and richly rewarded by this glorious prayer. It has helped her in every possible way, from strengthening her faith to changing heartache into happiness and landing her a dream job . . . and that's just for starters.

Description of book from Amazon
Personally, I always empathized with non-Catholic who could not understand the devotion many Catholics give to Our Blessed Mother.  I honored her, but my prayers mainly began with Dear Jesus or Dear God.  I prayed the Our Father much more than the Hail Mary.  I found 33 Days to Morning Glory to be fascinating.  So much about Mary as our mother makes more sense to me now.  In the past couple years I have grown closer to her and I truly believe she walks us toward her Son in a very special way.  If you wonder about why Catholics hold Mary in such high esteem – or you want to grow closer to her – I highly recommend this book.
Simply Inspiring Catholics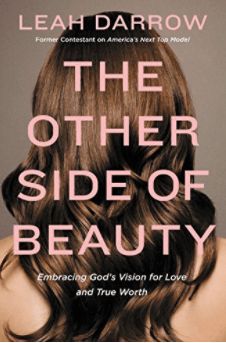 Leah is a former America's Next Top Model contestant. As a Christian speaker she urges her audience to not settle for popular culture's distorted idea of beauty but to discover how their natural desire for beauty is a good thing, revealing a deep desire for God.
Currently, Leah has two books published; and a very popular podcast.
Father Mike has a unique, relatable story of his own personal road to the priesthood.  He also has an incredible way of explaining Church teachings that simply make sense.

When I asked my colleagues for suggestions for this post, several of them named the author/editor Patrick Madrid. This book provides eleven personal accounts of conversion and has a ton of great reviews!