Ever since high school, I have always found refuge, peace and hope at The Chapel of the Immaculate Conception in the Germantown section of Philadelphia.  When starting on a new adventure – video blogging – it was without hesitation that this shrine be visited on the first day of my Summer Shrine Tour.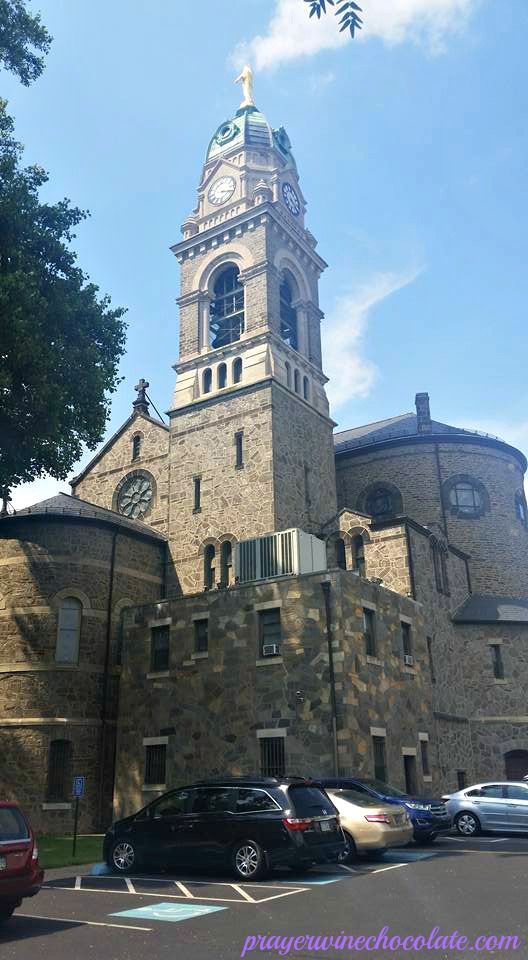 Eight Reasons Why I Love the Miraculous Medal Shrine:
1. The Prayer Petition Papers

The first time I went to this shrine I was 15 years old.  I often felt lonely and unpopular.  I watched my peers have crushes on boys and those boys "liking them back" – while I faced repeated rejection.  For some fifteen year olds, this is no big deal.  For me, it hurt – a lot.  I often prayed that I would have a boyfriend.  When we walked into this shrine I saw something I had never seen at a church before – petition papers.  On this paper, many common requests are listed.  Two of the requests written were: "Catholic boyfriend" and "Catholic girlfriend".  This made me feel like what I desired was not "bad" or should not be asked for in prayer.  I felt so much relief that I could check off that box and leave that petition in the Church.  I love writing my prayers because they feel more real to me.  I still love to go back, check off boxes and add intentions and names to these papers.
2. The Schedule on Mondays
Whenever I visit the Central Association of the Miraculous Medal Shrine, it is usually a Monday.  I make it a point to go there on Mondays because I know that whatever time I arrive, there will be a novena, a sermon, an opportunity to go to confession, Eucharistic Adoration and a chance to pray in a holy environment within the hour.  I have to admit, I love that convenience.  Oh, and after visiting this shrine for more than 20 years, I learned on my last visit there is free lunch after the 12:00 Mass!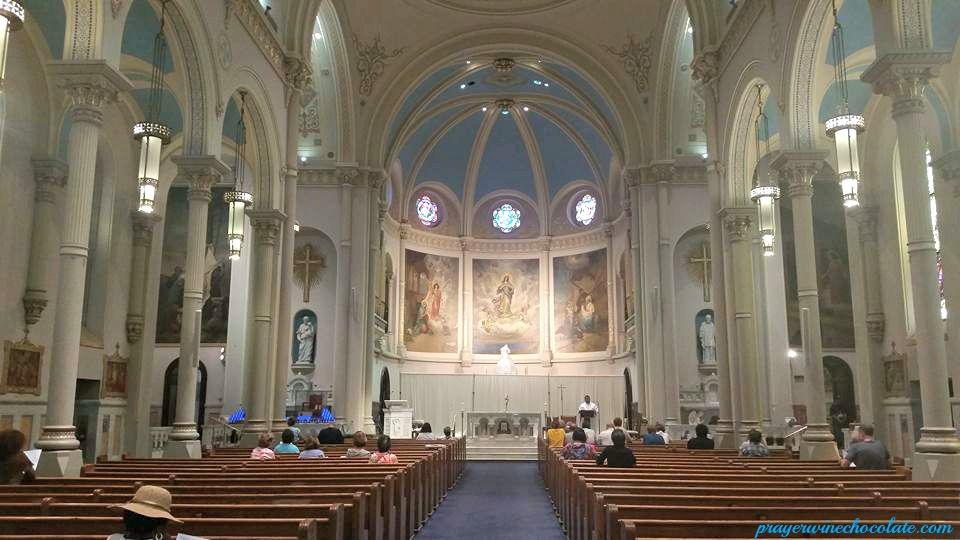 3. There are always testimonies of hope 
Each hour, before the Novena officially begins, a priest stands on the alter and reads some of the notes of thanks people have returned to write.  Many people come to the shrine to pray for healing, employment, freedom from addiction, fertility, safe delivery of a baby and so on.  When these prayers are answered, they return and write a thank you note to Mary and Our Lord on the back of the petition papers previously mentioned.  The priest selects some of them to read.  It gives great hope to all those who are listening.  Yes, Mary is praying for us and the Lord is granting our requests!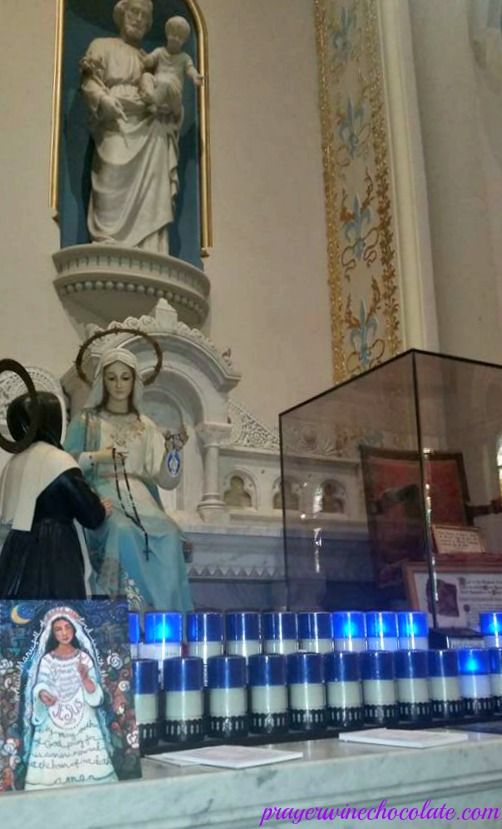 4. There are so many places to kneel, pray and meditate
The upper church has several places you can kneel an light a candle with a loved one.  Each area has stunning Marian art that tells a story of faith.  One place, to the left of the tabernacle, holds a piece of the chair that Our Blessed Mother sat on when she spoke to Saint Catharine Laboure.  It is the only place in the United States that claims to have an object that Our Lady once touched!  There is a replica of the chair encased in glass and a stature that depicts how Saint Catherine and Our Lady conversed.  There are several other areas that are in the upper Church that really help one invoke a state of prayer. Downstairs there is a chapel that is adorned with so much beauty.  Here are a few pictures: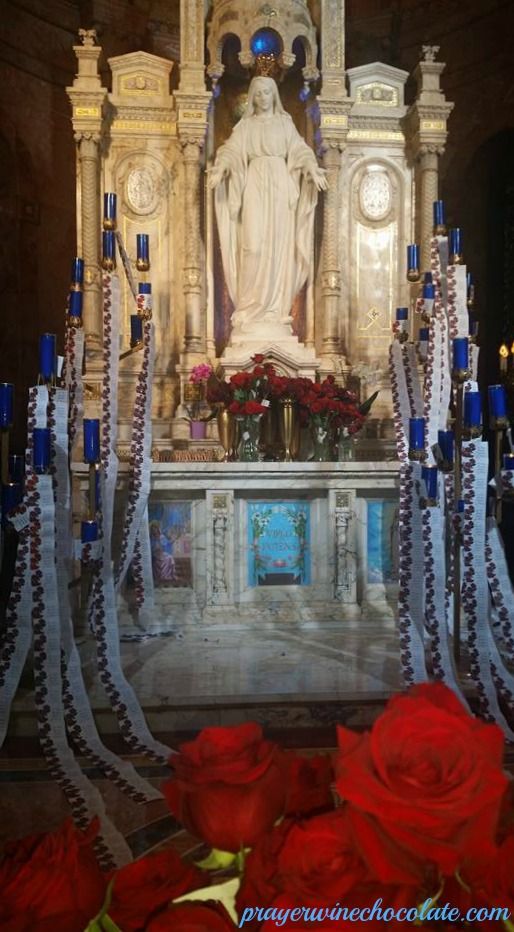 5. The People 
I love the people that pray there and the people that work there!  When I went last week, I met up with my friend and her one year old daughter. My friend, Maria, wanted to go to Confession.  One of the workers watched her daughter while she went to receive the Sacrament!  I was mesmerized by a group of nuns sitting in the front pew during the 12:00 Mass.  I loved their habits, and definitely knew I had never seen them before. I couldn't help but notice how young they looked.  After Mass I waited to speak with them (I wasn't the only one interested).  Turns out their order is called the Servants of the Lord and the Virgin of Matara.  Mother Incarnation gave me her phone number and told me to come visit them!  I am totally going to take her up on that offer! Curious about the habit?  Check out the Facebook Page set up by some of their moms!  And you know the employers there are cool when they make and set up this sign:
6. Blessing of Religious Articles
After each novena a priest announces that if anyone has a Miraculous Medal, or any religious article he or she desires to be blessed,  to bring them up to the alter.  You can bring an article from your home, purchase one in the gift shop or even receive a Miraculous Medal for free from the Association: click here to request a free Miraculous Medal!
7. The Art and Architecture
The beauty of the building, the magnificence of it's architecture and the artwork in it alone make this place worth the visit.  The Church was built cruciform in shape and in the Romanesque style. The side archways are modeled after those of the Hagia Sophia (Church of St. Sophia) in Istanbul (Constantinople), Turkey.  In addition to the impressive Church, there is an entire Marian and Religious art museum across the street!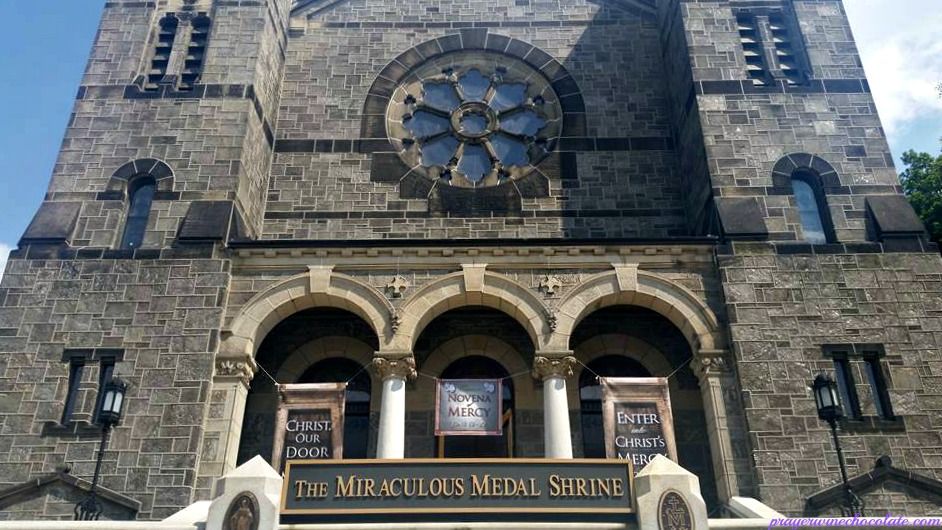 8. It is a Designated Holy Door Site for the Jubilee Year of Mercy
The Miraculous Medal Shrine was granted this privilege, along with all the Shrines in the Philadelphia area, in order to make this extraordinary gift of God's mercy available to more people.

"I AM THE DOOR.
BY ME, IF ANY MAN ENTER IN,
HE SHALL BE SAVED;
AND HE SHALL GO IN, AND GO OUT,
AND SHALL FIND PASTURES."
(JOHN 10:9)
This is only one of the places I am visiting and bringing YOUR intentions!  If you would like to see where else I am going or send me intentions, check out Summer Shrine Schedule 2016 and comment under this article your intentions!