We adore you, O Christ, and we praise you.
Because by your holy cross You have redeemed the world.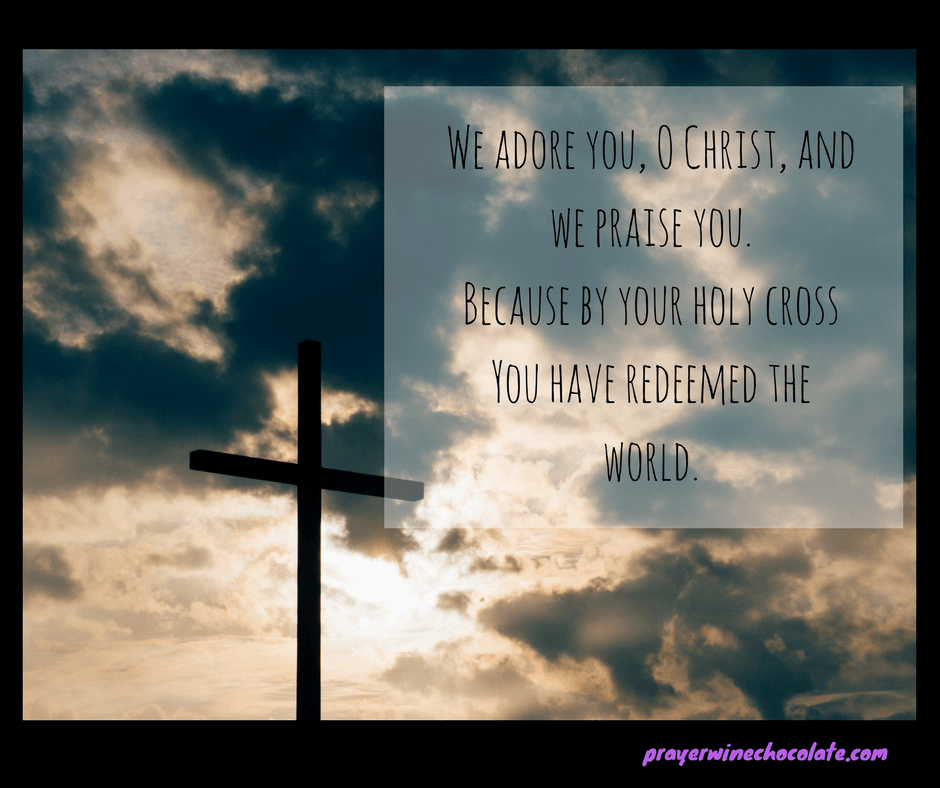 Jesus was fully human.
In prayer, I always go to Jesus as my Lord, my Good Shepherd, and my Savior.  It is not often that I contemplate on His humanity.
But a few weeks ago, when the Gospel recounted Jesus' weeping at Lazarus' tomb, I really began to think about Jesus in His humanness.
When I heard the Gospel reading state that Jesus wept by the tomb of Lazarus  . . . I was confused.
Didn't Jesus know He was about to raise his friend from the dead?  Why would He be weeping?
Then I tried to put myself in His place.  I thought, maybe what He must do is becoming very real to Him.  It's not something that will happen "one day" anymore.  It is something that He will endure soon . . . and He is terrified.
The priest gave His homily and said that this Gospel is foreshadowing the Agony in the Garden.
I can't imagine the terror.
About a week later, I thought of Jesus falling as he drug His cross to Golgotha, (the Hill of Calvary), where He would be stripped, nailed to a cross and left to die a slow death . . . I had another flashback . ..
I ran cross country for 8 years and after graduating I continued to be a long distance runner.  I coached both cross country and track.  I have seen how physical pain can effect mental will.
My entire life – until now – I thought that Jesus fell because of physical exhaustion.  While that may be partially true, I don't think that is the whole story.
Jesus was fully man . . .
Jesus could have very well thought:
Haven't I suffered enough?

If I refuse to get up, maybe they will just end it here.

I don't want to do this anymore

Why am I doing this for them, do any of them truly love me?

I'm still dying for them, why do I have to be humiliated too?
I fell once at an indoor track meet.  I don't really know if I was tripped, or fell by accident . . . but I can tell you I thought for a second, "might as well drop out".
But I got back up.
I remember workouts where I would be running up a hill and my legs felt like they were on fire and my muscles were screaming for me to stop.
Then there would be a mental battle:
"stop" 

"no, keep going"

"walk"

"jog slower"

"drop out"

"keep going"
Although my body could physically run the race, my mind had other things to say.
As a coach, you see this battle inside your athletes.  You watch them stop, walk, put their hands up and shake their heads no.
You see some drop out of the race.
You see others keep on going.
In our humanity, we often think of quitting.  We think of reasons why we should not forgive that person over and over again.  We hear voices in our head that may be logical, but are not Christlike.
Jesus chose to keep getting up.  Jesus continued the journey to the Cross because His Father asked Him too.  
Not because it made sense to Him.
Not because He knew we would be grateful.
Not because He felt like it would make us love Him more.
And certainly not because it really didn't hurt that badly.
Jesus kept going because He loves us in a way we should strive to love every day . . . with every fiber of our being.
This is my commandment: love one another as I love you.  No greater love than this, to lay down one's life for one's friends.

John 15:12-13
This is a very important lesson for me.
I'm extremely sensitive.  I am very defensive.
Those quirks are not always Christlike.
Next time I think:
I should defend myself verbally.

I need to point out what he or she did wrong.

I am right and therefore not obligated to do anything.

That person owes me an apology.

I'm no longer going to nourish that relationship.

I deserve better.

He or she should be nicer to me.
Really, the list could go on . . .
Jesus could have said all of them.  He would have been 100% right.
But He didn't.
He chose LOVE.
Let us pray:
Dear Father, Son and Holy Spirit,
Help me to love others the way Christ loved.  Help me to remember how Jesus demonstrated love the day he was put to death.
Help me to get back up and keep going.  Help me to follow You Jesus:
The Way; The Truth and the Life.
Amen.