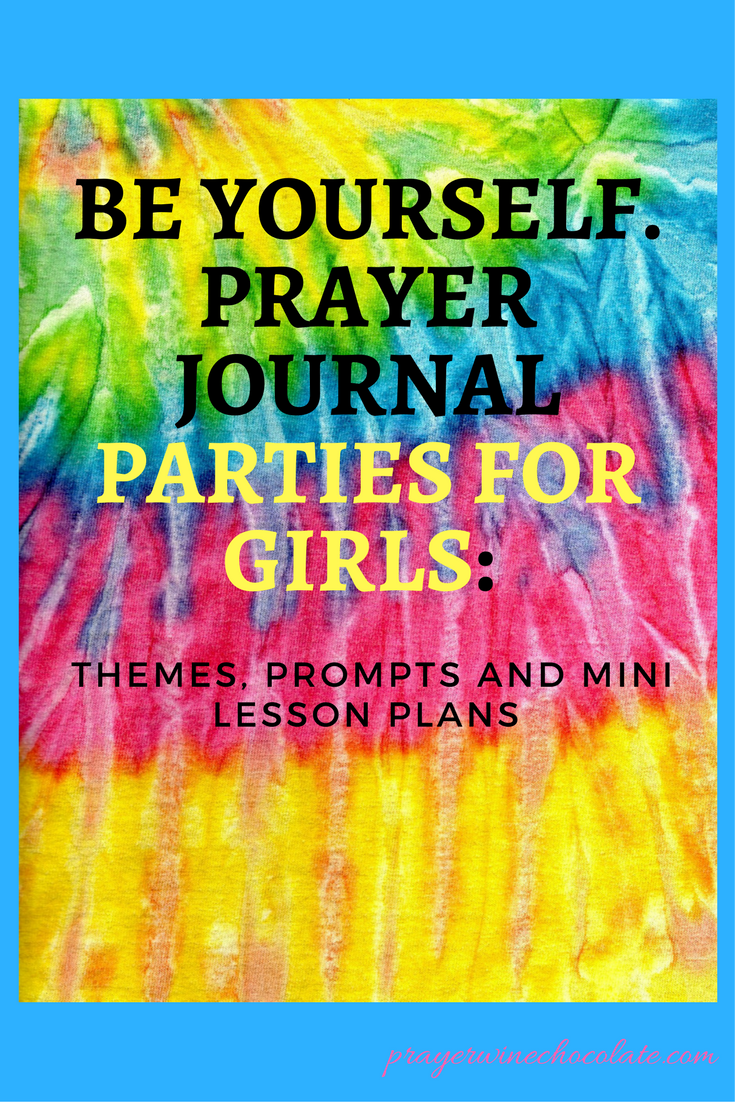 This article contains affiliate links.
The Be Yourself Journal can easily be used in a group setting. Some parishes are using it in small groups already!!
Other moms are considering using it for a birthday party/ sleepover theme.
Both are GREAT ideas and I encourage you to consider how you can share this journal in a fun way to a special young woman in your life!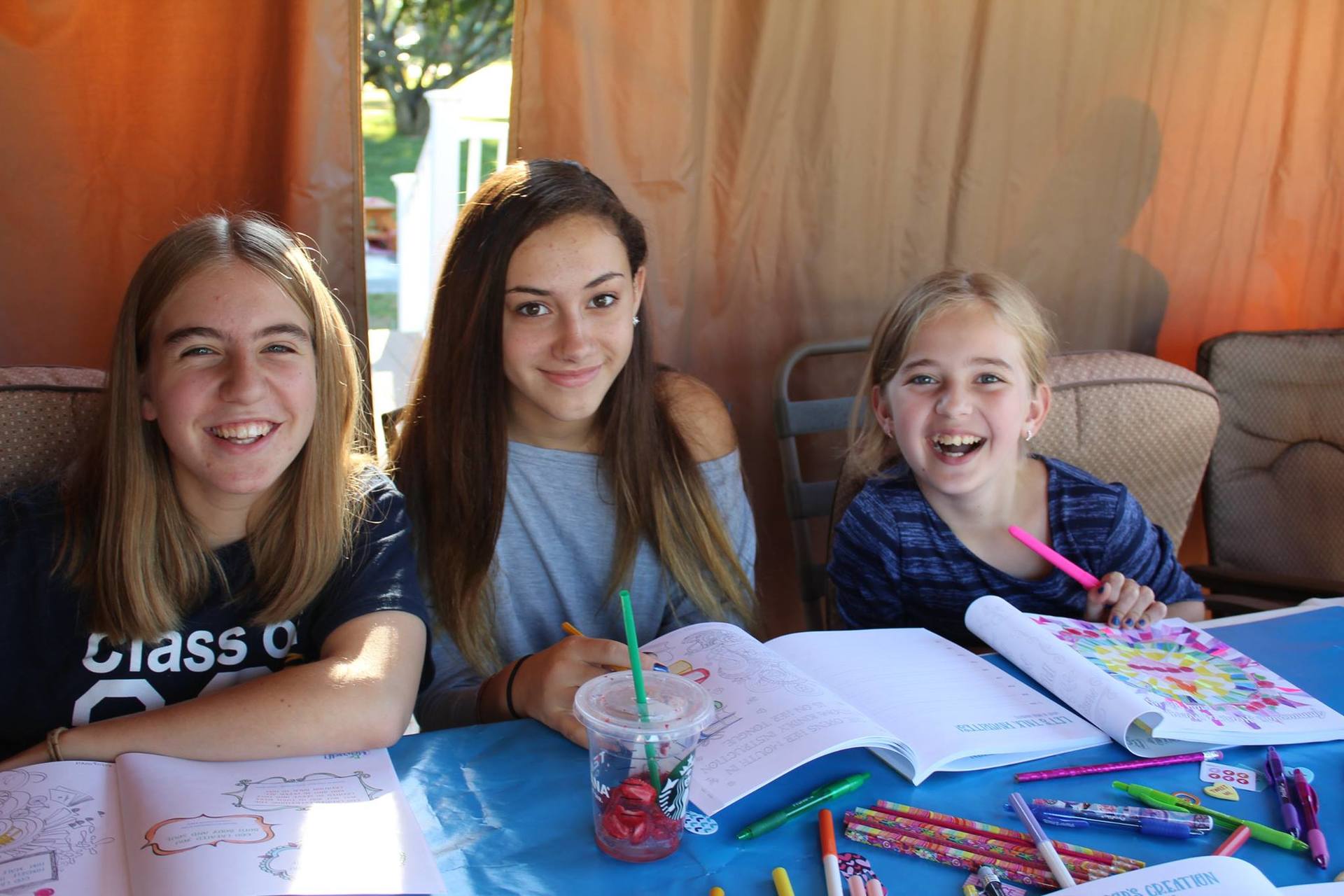 The Be Yourself Journal was written to meet young girls where they are; and no matter where they are on their spiritual journey, girls, like all people, are not meant to be islands. Girls are social by nature. Knowing that, I wrote the book with many pages that could be shared with friends. There are pages that the user will want to do alone and keep personal. But there is a great balance in this book of personal and social, light and serious, prayer and inspiration.
While I am working with Gracewatch Media to create a leader's guide for the journal, I wanted to give you a sneak peak on what to expect. Here are some ideas on how to use the journal in a group setting.
Theme 1: Creation- Meant for Fun
Materials:
Be Yourself: A Catholic Journal for Girls
Procedure:
Give the books to the girls and encourage them to check it out! Tell them to fill out the page titled "Your Beauty Basics" (If the "Let your light shine coloring page: page 1, then your beauty basics is page 4) and reassure them that it's okay to doodle and color 🙂
Once this is completed, allow them to share with one another. Then turn their attention back to page 2 which quotes the Catechism.  Ask for a volunteer to read each quote.  Then, draw the girls' attention to the beginning of the last quote, "GOD CREATED EVERYTHING FOR YOU . . .).  That will be the focus of today's session.
Turn the girls attention (and books) to the God's Creation page.  Have someone read the top out loud.  Allow the girls time to read the aspects of Our Lord's creation that are listed.  Encourage them to highlight, circle or draw hearts around all the ones they truly appreciate. Then ask them for suggestions on what else could be added to the list.  Finally, allow them time to choose and write their "top three".
Next, have the girls fill out the next two pages.  Give plenty of time, but ask them for this part that they stay focused on the pages titled "God's Creation & You" and "Would you Rather".  Allow them to talk and share if they wish – but not required.  Let them know that they will be asked to share and discuss the Would you rather page, but not the personal favorites page.
Have everyone pick a random partner and share their "would you rather" answers. Direct them to draw a heart next to the responses that match.  Switch partners several times and repeat!
Wrap it up!
Ask the group if they ever thought about or realized that God created so many things for them to enjoy. Point out that our uniqueness can be seen in that we all don't enjoy creation the same way.  Encourage the young women to take time each day to thank God for at least one aspect of His creation.
Have more time?
If at the end of any session, you find yourself with more time, allow the girls to color one of the 20 coloring pages!  Let them choose which one!



Theme 2: Bloom Where You are Planted
Materials:
Photographs of the girls with one or more people (tell them to bring at least 10 pictures!)
Holy Cards
Created to Create Starter Kit from DaySpring (optional, but these are perfect prompts for prayer journaling!)
Magazines
Procedure:
 Redirect girls to the quotes from the Catechism on page 2 of the journal:
GOD ESTABLISHED YOU IN HIS FRIENDSHIP.

based on Catechism of the Catholic Church #355

GOD CREATED YOU BOTH BODY AND SOUL.

based on Catechism of the Catholic Church #382

GOD CREATED EVERYTHING FOR YOU. BUT YOU IN TURN WERE CREATED TO SERVE AND LOVE GOD AND TO OFFER ALL CREATION BACK TO HIM.

based on Catechism of the Catholic Church #358
2. Tell the girls we're going to look at YOU today.  Reassure each young lady that God created her on purpose and for a specific mission.
3. Direct them to the first Saint Spotlight.  Take a look at the "snapshot".  Make sure they each know what a "pet peeve" is and give an example of one.  After they read the "snapshot" of St. Catherine of Siena, ask them if it were a snapshot of each of them, what would it say – ask for volunteers to give answers of nicknames, advice to others, pet peeves, etc.
4.  Read the letter from Saint Catherine.  First out loud, then have each girl read it silently.  Tell them to highlight or underline something they want to remember.  Once the letter was read twice, really talk about all the labels and pressures we put on ourselves and that our culture stresses.  Remind them that only one label is important . . . being the eternal daughter of God the Father.  Reassure the girls that yes, we should give the Lord our time and talents, but when those things become burdens or stressors, we need to trust God with them and only concern ourselves with our love for Him.
5. One way to serve and love God is to love and help others.  Mother Teresa had great advice:
Never worry about numbers. Help one person at a time and always start with the person nearest you"

Saint Teresa of Calcutta
Take the girls to this page of the journal.  Have them take out their pictures they brought and glue pictures of them with one other person.  Remind them that they have done God's will in their lives when they have loved others.  Allow girls to embellish the page with stickers, washi tape  and any other way their creativity prompts them.
6. Next, direct them towards the back cover.  The directions for the back cover are inside the book on one of the very last pages.  Give them time to pick out a holy card, a picture of themselves, inspirational words and pretty stickers.  Give them a piece of scrapbooking paper to use as a canvas.  Encourages them to color "Let your light shine" with gel pens.  Once they have completed the back cover, help them protect it with clear contact paper.
7.  If there is more time, allow them to explore the book on their own and pick something to read or questions to work on.  Advise them to write questions they have down on the page after the Saint Catherine of Siena letter.
These are just two samples of what to expect in a soon to be published "Leader's Guide".
***Contact Gracewatch Media for GROUP RATES!
Want to win a free Be Yourself Journal?
Enter here: