DaySpring sent me the Illustrated Faith Praise Book, Pens, Stickers and Clips Set for an honest review.  All opinions are my own.
This article contains affiliate links.
I have been perusing DaySpring's Illustrated Faith line for some time now.  I love that this company creates stickers, washi tape, pens, paint and die cut prompts specifically for Christians that Bible Journal.  Although I don't journal in a Bible – I often write parts of Scripture inside my prayer journal.  As I scoured over the website at all of the products geared towards prayer, I thought of how much I could do with them in my own prayer life.
I was so excited when I received the Praise Book, Pens, Sticker and Clips Set to review!
Seriously – it felt like Christmas morning!  Since I had planned on doing more journaling for Lent, I decided to dedicate the Praise Book as my Lenten Journal.

At first, I was super excited about the stickers and die cut prompts, but a little skeptical about the binder.
Up until this point, my favorite prayer journal was the good ol' fashioned Catholic school marble notebook (I'm sorry, Amazon calls these "composition books").  I had recently tried a notepad that opens vertically, and decided that I would never go that route again.  So the binder – I wasn't so sure about.
But, I dived right in.  Before even entering one prayer, I was so grateful for the inside pockets.  I often glue prayer cards to pages and write around them – so these pockets provided the perfect place to hold them.  I loved that the pockets were in the front and the back of the binder.
The next step I took to personalize the Praise Book and make it my own, was I wrote "Lenten Prayer Journal, 2017" on the first page.  I used one of the Illustrates Faith pens that came with the set.  I'm being totally honest here – I think I said out loud after I wrote:
Wow . . . these pens write nice!
Then like a dumb, dumb, I left the lid off of the one until the next day.  It was dry and I thought it was done forever.  Luckily the next day it worked better – but warning – put the cap back on the pen when you are finished using it!
I love the two pens included in this kit. Each one writes with a different thickness, so depending on what your preference is that day and how much you plan on writing, one of the two will be the perfect writing tool.
My prayer life was given a lift before I even started the official "Lent Journal".  I loved how the prayer cards looked in the front pocket and how I decorated my title page so much – I had to stop and take a picture!
I mean really – I even posted it on Instagram!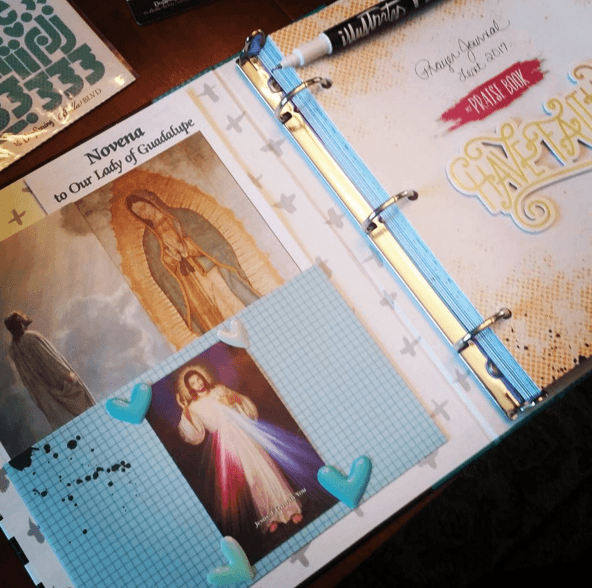 My first entry was simple.  I copied a prayer I found that really spoke to me, and used a colored pencil to highlight some powerful sentences.  The next entry I was so excited to use one of the die-cut prompts.  On almost every page I found myself using the stickers to be an added fastener for prayer cards and prayers.
Then I showed my husband the clips.  These were new to me, so I wasn't sure how I was going to implement them.  He picked them up and started saying "these are great, you can . . ." and he started describing ways they could be used!
Then, a few days into using the Praise Book Set, something awesome happened!

The extra features that were included in this set that were new to me, allowed my whole prayer experience to be brought to a new level.
The binder includes transparency dividers that you can write on and give one of your pages an added layer of creativity.  The first one I came across I took out and put in the back of the binder!  I had no idea what to do with it.
But one night when I was reading Resisting Happiness, the author, Matthew Kelly,  got me thinking about what my image of God is . . . He challenged the readers to really think about it and write down how we view God.  I thought this would be a great journal entry, so I did it.  When I was done writing, I looked at one of the cardstock sticker packs that were included in the set.  Almost every sticker was a title that described an "image of God".  I took a transparency divider and put the titles over the words I had written.  I then used the clips to put actual images over what I wrote.  It was really quite a mediative and prayerful experience!

I am really enjoying using all the elements of this set.  I feel like I have tapped into some creativity that I did not realize I had inside or maybe the materials themselves have allowed me to be more open to the Lord's inspiration.  Whatever the case, I am so grateful for this product!  Using it has given me even more ideas to share with you!  I am so excited!
And as for my pessimistic view of the binder . . . that went away the minute I realized I could take out a page I was working on and really get it to look exactly how I envisioned.  That mobility provided by the binder makes it another positive feature of the whole set.
I love using this set and I am truly happy with the quality and diversity of the materials included in it!  You can purchase your own Praise Book Set by clicking here: Praise Book, Pens, Stickers and Clip Set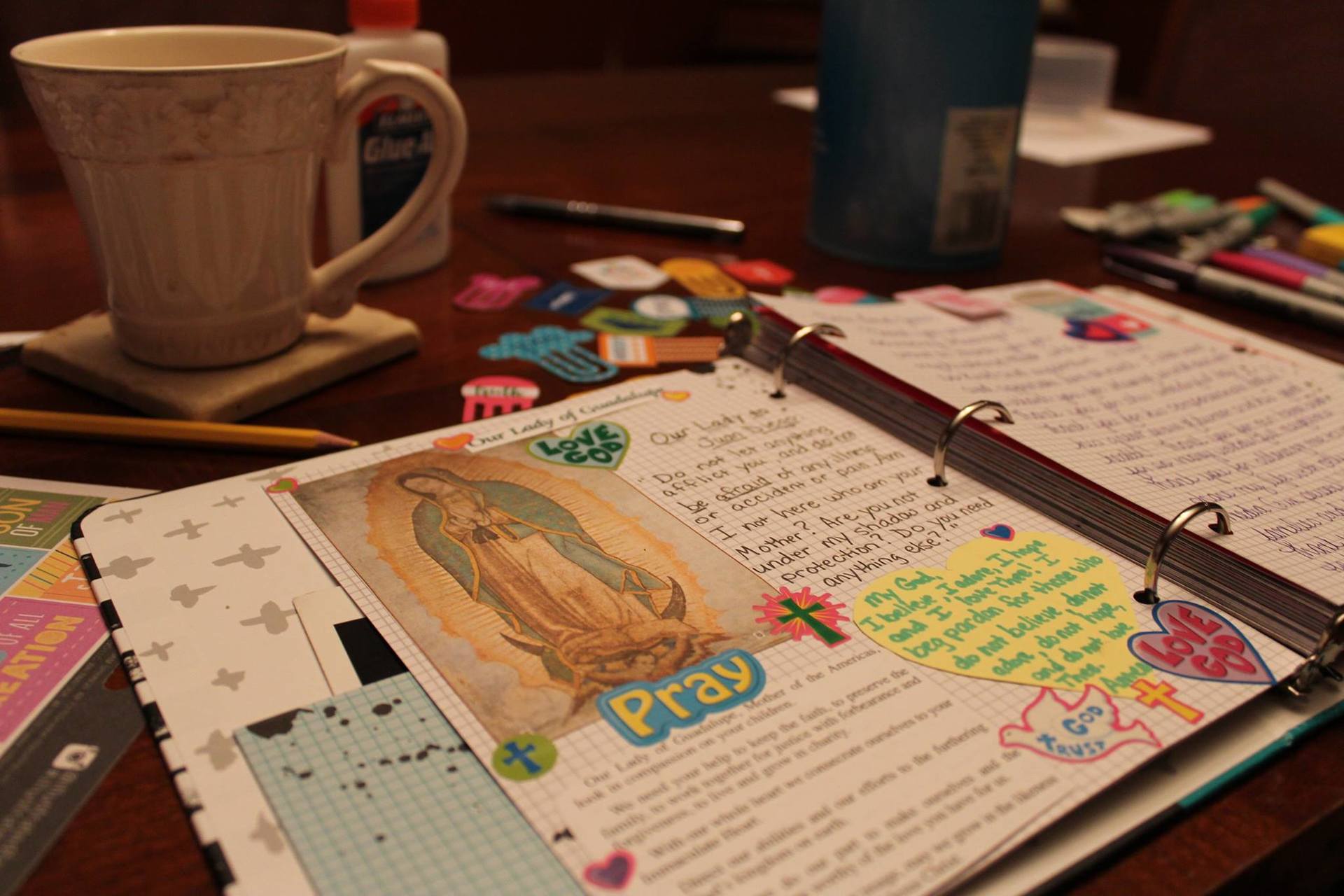 Also, if you order today – the Illustrated Faith – Starter Kit is on sale – $15.00 off the normal price!!!  This sale is only on until Wednesday – so even if you win the giveaway, this starter set will enhance your experience with some different materials!