When he picked me up for our first date, Matt handed me a red rose .  Seven months later we were engaged.  We were 30 years old when we married.  Our wedding song, "Bless the Broken Road" by Rascal Flatts was the perfect song for us.  We both had a past filled with many ups, downs and other people.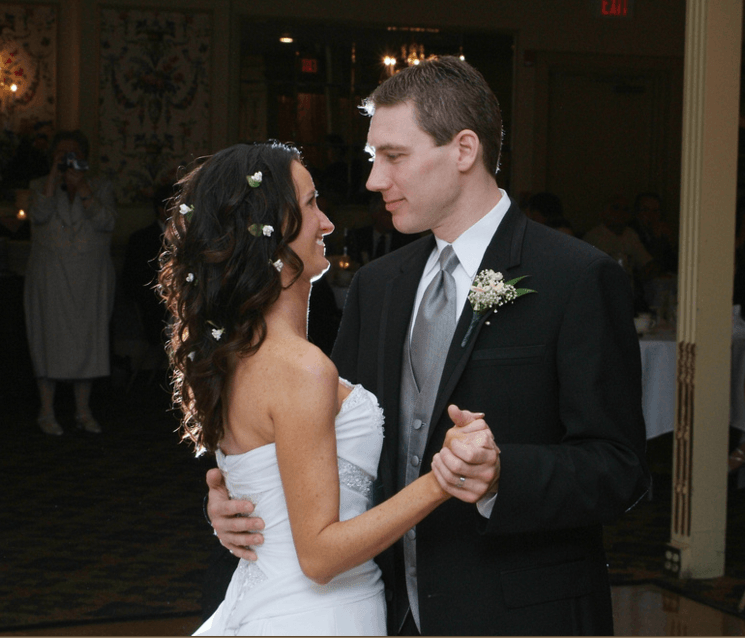 That every long lost dream lead me to where you are
Others who broke my heart, they were like northern stars
Pointing me on my way into your loving arms
This much I know is true
That God blessed the broken road
That led me straight to you . .
Life can be hard.  We all know that.  Life sends challenges.  When you find someone you love and start a new life together, there is a moment when you think . . . "ok, the hard part is over.  Now all the good stuff will begin."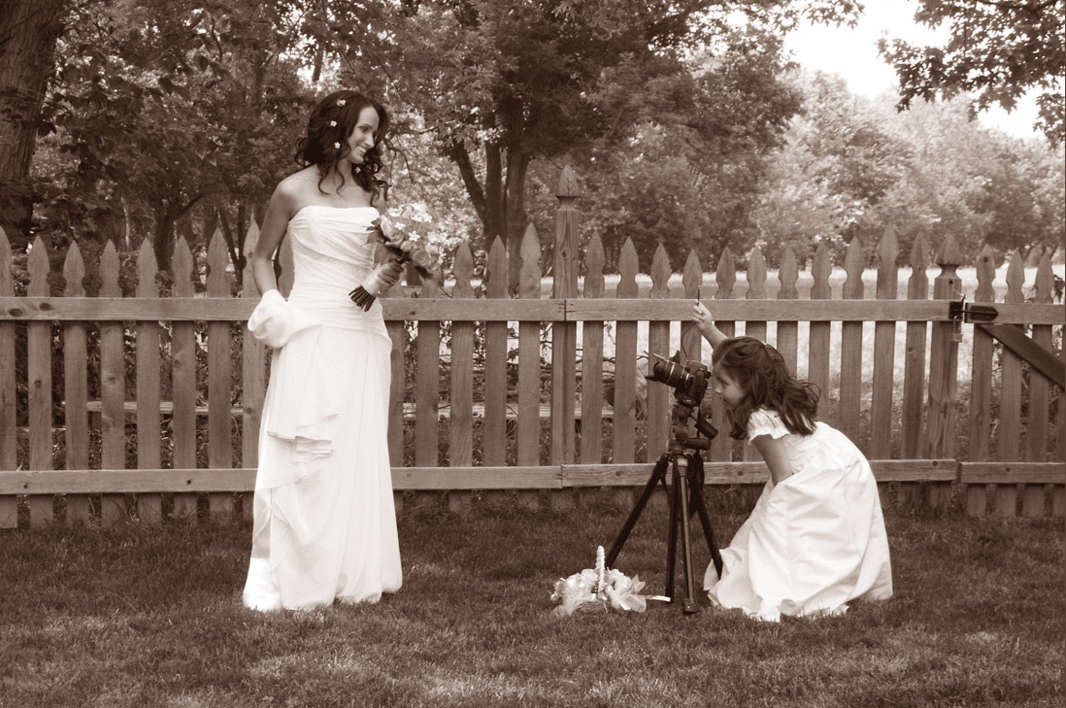 Then reality sets in.  Yes, good stuff begins; but new challenges emerge.  Marriage for me was a dream come true.  But it was also a new path, a new journey.  Like everyone's life journey, it has good times and bad, sad times, happy times and times where you are just getting through it.
I don't know how people without faith do this whole thing called life quite frankly.  Matt and I love our faith so much and rely on it often.  Although we are two very different people with different interests, our faith is one thing we hold in common.  And I thank God for that.
Here's a glimpse at the challenges we faced, and who we felt helped us with prayers along the way . . .
Saint Therese' of Lisieux 
It had always been my hearts desire to fall in love with a good man and get married. Through several relationships in my life I thought, "maybe he is the one". But, whenever I went to pray a novena that this person and I got engaged and married, I never made it through to nine days without changing the wording of my intention. Finally when I was single, I prayed to be called to the vocation of marriage and to find a faithful man who would be my husband.  As I mentioned above, Matt handed me a red rose on our first date. I had never been given a rose on a first date before.  St. Therese' has been my go to heavenly friend for years.  She has helped me and us personally so much, that when I first started thinking about blogging I wanted to call my blog "Raining Roses".  When I realized that name was already taken, I thought of prayer wine chocolate.  I wrote a whole post about how she has helped us in other ways.  If you want to read that post, click here! Raining Roses
Saint Joseph the Worker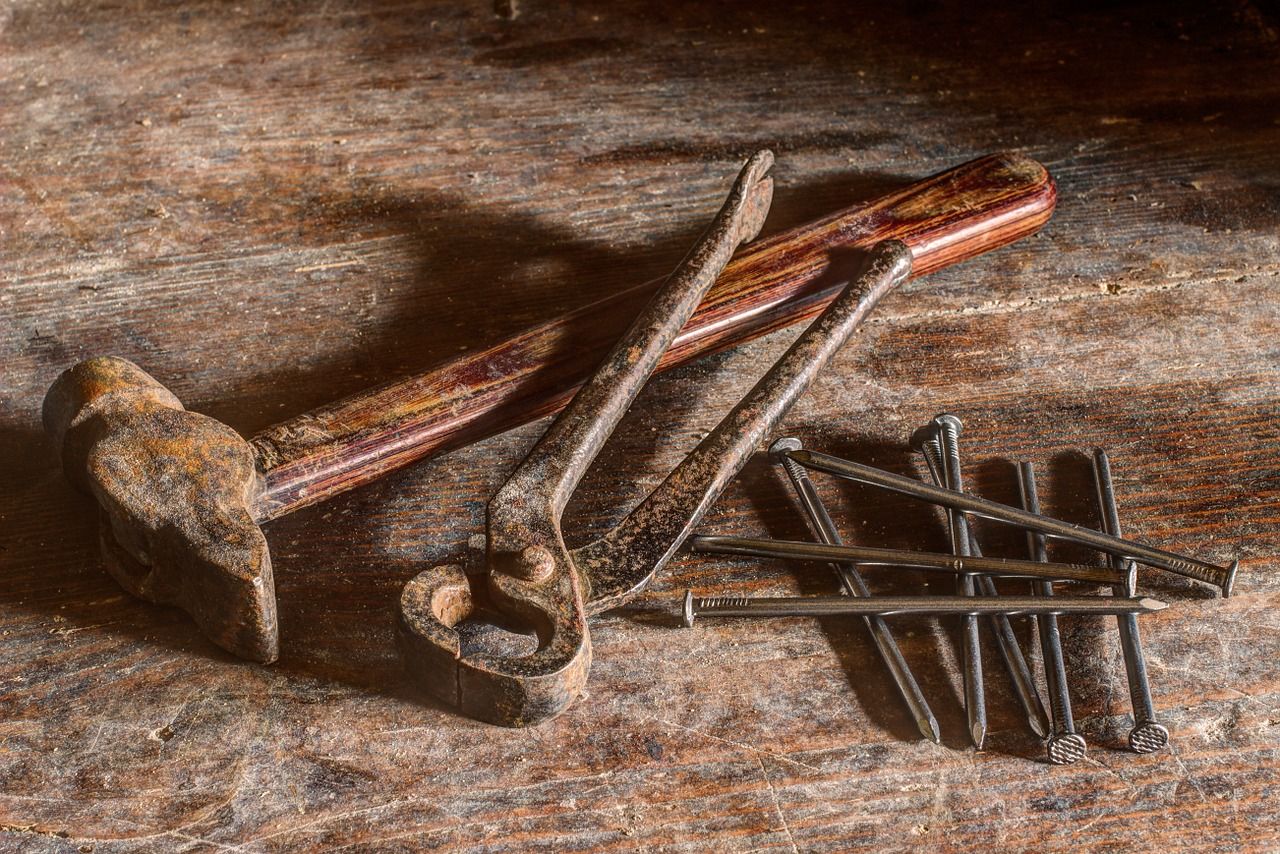 As adults, we realize how important it is to like our job – or at least like the people we work with or work for.  I was blessed to find a job I could put my passion into as a teacher.  When Matt and I were first married, Matt worked as a retail manager.  It was not what he went to school for; but he took the job because he wanted to be a good provider.  I could see how unhappy and stressful his job made him.  His job sent him into a depression, and his work was so stressful, he also went into the hospital.  He spent about a week in the ICU.  We had only been married about a year.  "In sickness . . ." came a lot quicker than I had ever imagined.  I prayed a novena to Saint Joseph for my husband.  He had went to school for IT and his dream since he was a little boy was to work with computers.  Shortly after I prayed the novena, the school I taught at announced a job opening . . . they needed an IT person. I gave my boss Matt's resume'.  My boss said that he is overqualified.  But there was one more "test" Matt had to pass.  The school had a very old-fashioned nun that ran the computer department.  That nun had to feel she could work with Matt.  Matt passed with flying colors.  Sister Anna Mary and Matt developed an incredible bond.  That job got Matt back in the industry and gave him the experience and confidence he needed to move on and up in the field.  I am so grateful for Saint Joseph's intercession.  And as an added wink and a smile, Saint Joseph passed on to Matt his love of woodworking.  All of a sudden, it's Matt's favorite hobby!
Our Lady of Kibeho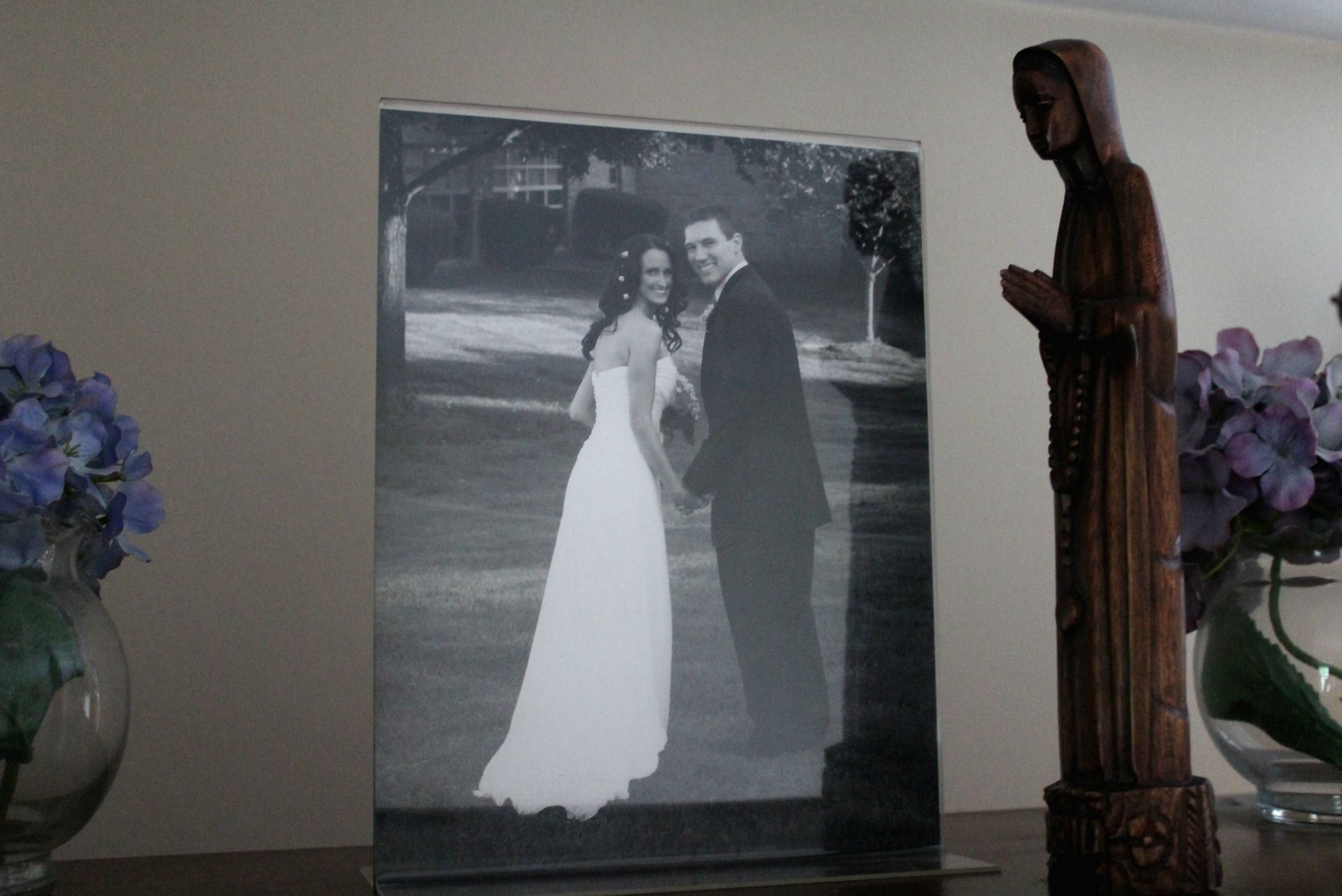 How I met my husband had a lot to do with the friends that prayed the Rosary with me. I continue to pray the Rosary for any intention I have, and I am extremely grateful for how many times my prayers have been answered. In addition to that extremely powerful prayer, we have a statue of Mary in our home.  This statue is from Africa.  It is Our Lady of Kibeho.  I placed it next to our wedding picture – facing outward.  No matter how many times I "fix it", she always somehow turns toward our wedding picture. I see it as a signal grace.  Our Lady is praying for us!
Saint Zelie'
Last year St. Therese's parents became canonized saints.  I became interested in learning more about them, especially Therese's mother, Zelie'.  One day I was writing a blog post, and Matt and I got in argument.  He was on his way out, and I honestly have no idea what the argument was about.  After he left, I began to read letters Saint Zelie had written.  I was taken back by how much she expressed her love for her husband – even in letters that were not to him.  One letter she wrote to her brother really struck me.  In the letter she wrote:
"I'm always so happy with him, he makes my life very pleasant.  What a holy man my husband is.  I wish the same for all women; that's my wish for them for the New Year." Saint Zelie Martin, telling her brother how much she loves her husband in a letter dated January 1, 1863.
I immediately prayed to Saint Zelie for her intercession:
Saint Zelie!  Please pray for my marriage!  Pray that I love my husband and always feel happy with him! Pray that we laugh together often! Saint Louis Martin, please pray for my husband and I to be happier every day!  Amen
Then, within minutes, Matt texted me, "I'm sorry".  This is a huge deal in our relationship – we are both not so generous when it comes to the phrase "I am sorry".  It was divine intervention!
Our Parents
Although they are not canonized Saints, they are certainly responsible for instilling and nurturing our faith.  Matt's first mom is in heaven.  She passed away when Matt was in middle school.  Before her death she demonstrated great faith by attending and hosting prayer groups, and advocating for an adoration chapel in their parish.  We often feel she brings us help from above. Matt was given the gift of another Mom when his father remarried.  Both of them pray for us.  My parents pray for us.
Matt, Xavier and I pray a prayer that my parents taught us every night before dinner.  This prayer
Most Sacred Heart of Jesus, we ask you to bless our family wherever they may be; help us to live in peace and happiness.

May Your love enable us to strengthen and support each other in every need so that we may grow in Your love and our love for each other. Amen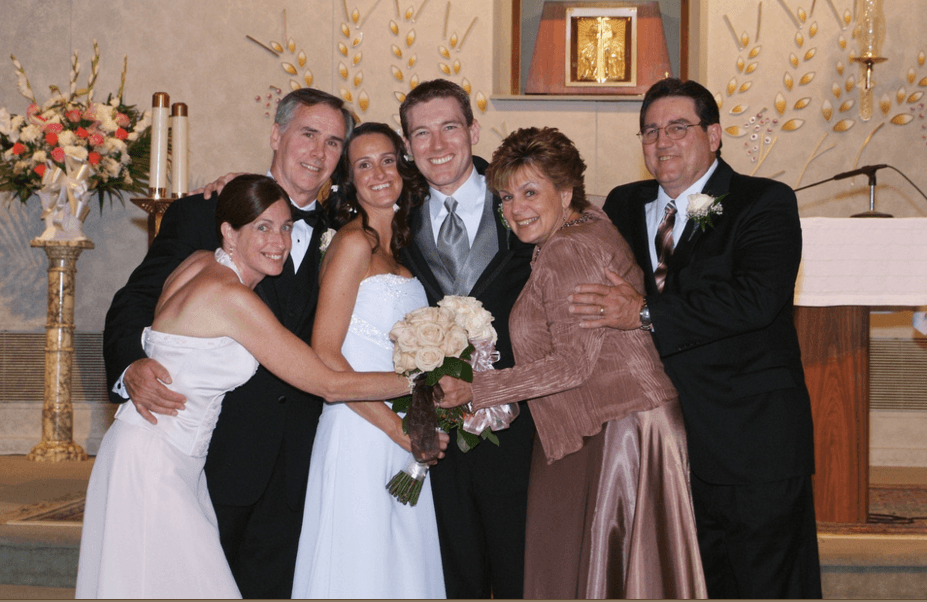 I thank the Lord for giving me the vocation of marriage and for allowing Matt to be my husband.  I pray the Lord gives us many more years together! Looking forward to and praying"for better, richer, and in health" years!  May God give us abundant laughter, more children and many, many happy moments!! I love you Matt!!!
*** Our wedding photographer was John Kellar; check out his website and plan a session – he's great!
<3 We are super excited to celebrate our anniversary at Peddlers' Village – stay tuned on a blog post all about that!!!